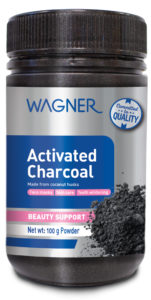 Activated Charcoal is an odourless and tasteless fine powder made from coconut shell. Activated charcoal helps to tackle stains on your teeth, leaving you with a whiter and healthier smile. Can also be used as a face mask to help support a healthy glow.
features
This formula:
■ Contains 100% activated Charcoal Powder
■ Made from coconut shell
■ For teeth whitening, skin care, face masks
■ No artificial flavours or colours.
Recommended Adult Dosage:
Adults only: To use as a natural teeth whitener: Wet toothbrush and dip into charcoal powder, brush teeth gently and rinse mouth as per normal.
To use as a face mask: In a small bowl mix 2 tsp of charcoal powder and 2 tsp of water to form a paste.
Spread evenly over face and neck avoiding contact with eyes. Leave on for 10 minutes and then follow your normal cleaning routine.
Precautions and contra-indications:
If symptoms persist, seek the advice of a healthcare professional. Always read the label. Take only as directed. Dietary supplements can only be of assistance if dietary intake is inadequate. If taking prescription medication or if in doubt, consult your healthcare professional.

Formulated without:
Gluten, wheat, yeast, dairy products, egg, artificial colours, artificial flavours, artificial sweeteners, preservatives.
Active Ingredients:
100% Activated Charcoal Powder (coconut origin)
Frequently asked questions:
Q1 What is activated charcoal?
A1 Activated charcoal is a fine powder made from coconut shells. It is different from charcoal that is used on a barbecue. Activated charcoal is processed at very high temperatures. This changes its structure and makes it more porous with
a greater surface area than regular charcoal.
Q2 How does it work on my teeth?
A2 Activated charcoal is abrasive. It is through the abrasive action that it may help remove stains from your teeth.
Q3 How does activated charcoal benefit my skin?
A3 It is believed that due to its porous structure, activated
charcoal can absorb and 'trap' bacteria and toxins that are present on the skin; and that for this reason an activated charcoal face mask can contribute to a glowing complexion.