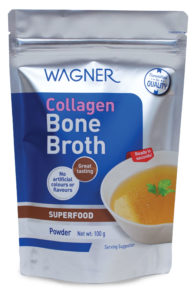 Collagen Bone Broth is supplied in powder providing a simple and convenient way to take to this ancient superfood that traditionally takes days to make. It's as easy as making a cup of tea, simply add to warm water and enjoy. Containing 4.3g of collagen per serve, Wagner Collagen Bone Broth is a rich and nourishing broth to help with vitality and wellbeing.
features
This formula:
■ Contains New Zealand grass fed bone broth powder
■ Provides a natural source of collagen
■ Provides a convenient way to get your superfood goodness
■ Contains no artificial flavours, colours or sweeteners
Serving Suggestion:
Add one teaspoon to a cup of hot water, and enjoy the goodness!
Precautions and contra-indications:
Always read the label. Take only as directed.

Formulated without:
Gluten, wheat, dairy products, egg, artificial flavours, artificial colours, artificial sweeteners.
Active Ingredients:
New Zealand Beef Bone Broth (92%), Salt, Flavour.
Frequently asked questions:
Q1 What is bone broth?
A1 Bone broth is made by simmering the bones and connective
tissue of animals, in this case beef. It dates back to
prehistoric times, when hunter-gatherers turned otherwise
inedible animal parts like bones into a broth they could drink.
Q2 Why should I drink bone broth?
A2 Bones are rich in vitamins, minerals and collagen. When
cooked, collagen turns into gelatine and yields several
important amino acids.1-4 People may not get enough of
these nutrients in their diet, so drinking bone broth is an
easy way to top up.
Q3 How does bone broth improve my wellbeing?
A3 The gelatine in bone broth can bind to water in your digestive
tract, which helps foods move through your gut more easily.5,6
Bone broth is typically low in calories but high in protein. This
can increase feelings of fullness.7-11