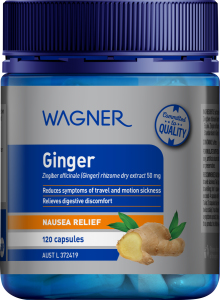 Reduces symptoms of travel and motion sickness
Relieves digestive discomfort such as indigestion
Reduces symptoms associated with mild osteoarthritis
Ginger is traditionally used in Western herbal medicine to relieve flatulence
features
Each capsule provides the equivalent of dry Ginger rhizome of 550 mg
Contains Ginger rhizome dry extract standardized to 2.5mg Gingerols per capsule
Ginger helps to relieve symptoms of travel/sea sickness, nausea, indigestion and supports healthy digestive function
Ginger helps to relieve mild joint aches and pain
Recommended Adult Dosage:
Adults: For nausea and travel sickness: Take 2 capsules half an hour before travelling, then 1 capsule every two hours as required. Do not exceed 4 capsules within 24 hours. For digestive support: Take 2 capsules daily. For mild joint pain: Take 2 capsules twice daily. Or as directed by your healthcare professional.
Precautions and contra-indications:
Always read the label and take only as directed
Do not use this product in children 6 years of age or less

Formulated without:
Gluten, wheat, dairy products, egg, soy, artificial colours, artificial flavours, artificial sweeteners or preservatives.
Active Ingredients:
Each capsule provides:
Zingiber officinale (Ginger) rhizome dry extract 50 mg
Equiv. Zingiber officinale rhizome dry 550 mg
Standardised to Gingerols 2.5 mg
Contains: Sulfites.
Frequently asked questions:
Q1 What is ginger?
A1 Ginger is a flowering plant that originated in Southeast
Asia. It is among the healthiest (and most delicious)
spices on the planet. It belongs to the Zingiberaceae
family, and it's closely related to turmeric, cardamom
and galangal. The rhizome (underground part of the
stem) is the part commonly used as a spice. It is often
called ginger root or, simply, ginger. Ginger has a very
long history of use as a medicinal herb, where it has
been used to aid digestion, reduce nausea, and support
joint health. Ginger is loaded with nutrients and bioactive
compounds that have powerful benefits for your body.
Q2 What is gingerol?
A2 The unique fragrance and flavour of ginger come from
its natural oils, the most important of which is gingerol.
Gingerol is the main bioactive compound in ginger. It is
responsible for much of ginger's medicinal properties.
Gingerol has powerful anti-inflammatory and antioxidant
effects, and it may help reduce oxidative stress, which is
the result of having an excess amount of free radicals in
the body.
Each capsule of Wagner Ginger is standardised to
contain 2.5 mg gingerols.
Q3 How does ginger support nausea relief?
A3 Ginger appears to be highly effective against nausea. It
may help relieve nausea associated with travel/motion
sickness, sea sickness and has been traditionally used to
help with morning sickness (pregnancy-related nausea).
Q4 How does ginger assist with digestive support?
A4 Ginger has been found to be helpful for digestive issues
such as indigestion/dyspepsia and flatulence. Indigestion
is characterized by pain and discomfort in the upper
part of the stomach. It is believed that delayed emptying
of the stomach can be a major driver of indigestion.
Interestingly, ginger appears to speed up emptying of
the stomach, which can be beneficial for people with
indigestion and related stomach discomfort. Ginger also
has carminative properties, which is why it has been
traditionally used in Western herbal medicine to help
relieve flatulence.
Q5 How does ginger assist with joint health?
A5 Ginger may help reduce the symptoms
associated with mild osteoarthritis. This
condition involves the degeneration of the
joints in the body, leading to symptoms such
as mild joint aches, pain and stiffness. The
presence of the active compounds called
gingerols provides anti-inflammatory and
antioxidant effects to support healthy joint
mobility.