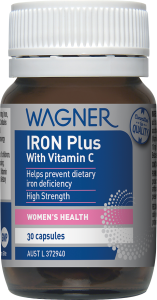 High strength formula containing 20 mg of elemental iron per capsule
Formulated to help prevent dietary iron deficiency
Supports healthy immune system function
Suitable for Vegans and Vegetarians
features
A comprehensive formula containing Iron, Vitamin C,
Vitamin B6 and Betacarotene
Vitamin B6 to support healthy energy levels
Iron to support blood health and healthy red blood cell production
Recommended Adult Dosage:
Take 1 capsule daily with food or as directed by your healthcare professional.
Precautions and contra-indications:
Not for iron deficiency medical conditions
Always read the label and take only as directed
Vitamin supplements should not replace a balanced diet

Formulated without:
Gluten, wheat, animal products, dairy products, egg, soy, artificial colours, artificial flavours, artificial sweeteners or preservatives.
Active Ingredients:
Each capsule provides:
Iron amino acid chelate 95.24 mg
Equiv. Iron 20 mg
Calcium ascorbate dehydrate 20.13 mg
Equiv. ascorbic acid (Vitamin C) 16.52 mg
Pyridoxine hydrochloride 10 mg
Equiv. Pyridoxine (Vitamin B6) 8.22 mg
Betacarotene 1 mg
Encapsulating aids.
Contains: Sulfites.
Frequently asked questions:
Q1 What is iron and why is it so important in the body?
A1 Iron is a mineral that's necessary for life. It plays a key
role in the making of red blood cells, which carry oxygen.
We can get iron from food and from dietary supplements.
If we don't have enough iron, we may develop anaemia, a
low level of red blood cells. If a customer suspects they
might have low iron levels, it's important to get a blood
test to confirm it before they start supplementing with
iron, as too much iron can be harmful.
Q2 Who is at risk of iron deficiency?
A2 Those who may be at risk for iron deficiency include
infants, young children, teenage girls, and pregnant
women, as well as people with certain chronic health
conditions. Iron supplements are also commonly
recommended for women of childbearing age to help
prevent deficiency. Strict vegetarians may also need to
take in higher levels of iron.
Q3 Can't we get enough iron naturally from foods?
A3 For most people, a good diet provides enough iron.
Natural food sources of iron include: Meat, fish and
poultry; vegetables like spinach, broccoli; dried fruits
and nuts and beans, lentils and peas. Iron from animal
sources is generally absorbed better by the body.
However, you can help your body absorb plant-based iron
by eating fruit or vegetables that are high in vitamin C
(such as kiwi fruit, citrus and capsicums) as this helps to
increase iron absorption.