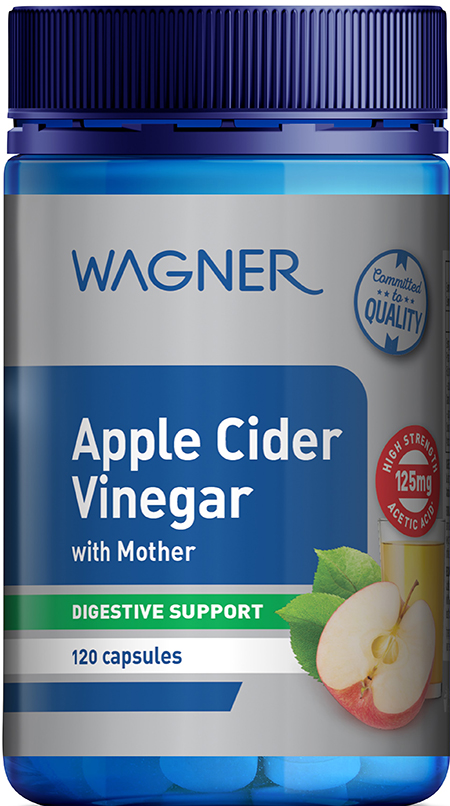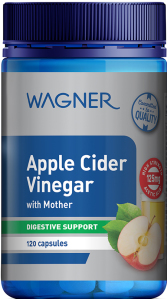 Formulated to support daily digestive vitality, this formula contains the essential 'mother', providing the equivalent 15ml per daily serve of naturally-fermented apple cider vinegar. This powder contain Acetic acid, the active component of Apple Cider Vinegar without the taste and odour, in a vegan-friendly capsule
Available in: 120 Capsules
– All the benefits of Apple Cider Vinegar without the taste and odour
– Vegan friendly, gluten free and non-GMO Apple Cider Vinegar
– Supports natural digestive wellbeing
Features
– Provides the equivalent of 15mL per daily serve of naturally-fermented apple cider vinegar
– Contains equivalent 125mg Acetic acid per recommended daily amount
– Uses quality processes to ensure the natural goodness and activity of the liquid are retained within the powder
Directions: Adults:
Take 1 capsule (serve) 3 times daily with food.
Precautions and contra-indications:
Not suitable for children, pregnant women or during breastfeeding
Formulated without:
Gluten, wheat, animal products, dairy products, egg, soy, artificial colour, artificial flavours, artificial sweeteners or preservatives.
Apple cider vinegar powder (58%), Vegetable capsule
(Hypromellose), Bulking agents (341, 460), Anti-stick
agents (470, 551).
Contains: Sulfites.
Servings per package: 120
Serving size: 1 capsule (712mg)
NUTRITION INFORMATION
Avg Qty per serving / Avg Qty per 100g
Energy 9kJ (2Cal) 1230kJ (295Cal)
Protein LESS THAN 1g 2.9g
Fat, total LESS THAN 1g 1.8g
– saturated LESS THAN 1g 1.3g
Carbohydrate 0.4g 59.4g
– sugars 0.0g 0.0g
Sodium 0.0mg 0.0mg
Acetic Acid 41.67mg 5.9g
Q1 What is 'The mother'?
A1 "The mother" is said to be responsible for most of the
health benefits in apple cider vinegar. The mother is
made up of strands of proteins, enzymes and friendly
bacteria that give the product a murky appearance that
you typically see in a good quality liquid apple cider
vinegar.
Q2 Why take apple cider vinegar capsules instead of the
liquid?
A2 The capsules have all the benefits of liquid apple
cider vinegar without the strong taste or smell that
many people are unable to tolerate. Capsules are also
a convenient way to take apple cider vinegar when
travelling or at work.