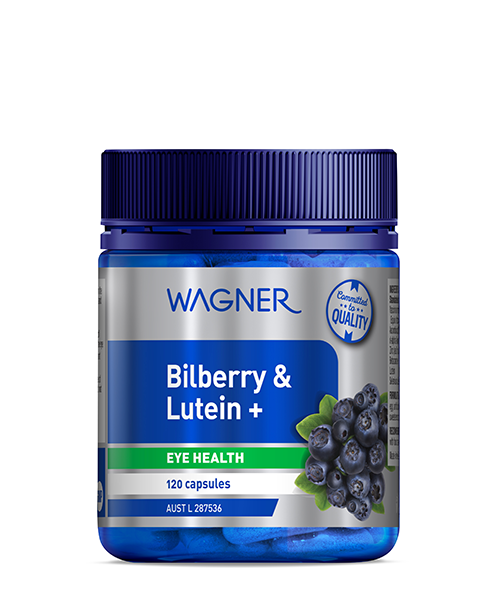 Contains Lutein to support the health and function of the macular area of the retina and lens of the eye and will help to protect the structures of the eye. Contains Bilberry, traditionally used in Western herbal medicine to support healthy eye function and vision.
Available in: 120 Capsules
Bilberry is traditionally used in Western herbal medicine to help maintain the macular area of the eye. Lutein is a major component of macular pigment and supplementation may support healthy macular pigment density.
This product provides comprehensive support for healthy eye function in just two convenient capsules a day.
Recommended Adult Dosage: Take 2
capsules daily with food or as directed by your
healthcare professional.
EYE HEALTH
Suggested Companion Products:
Wagner Grape Seed 12000: Grape seed extract,
has antioxidant activity and may therefore assist in
protecting the body from the damaging effect of free
radicals and oxidative damage.
Wagner Ginkgo Biloba 2000: Ginkgo has antioxidant
activity and may therefore assist in protecting the
body from the damaging effects of free radicals.
TAKE WITH FOOD
Precautions and contra-indications:
Always read the label; take only as directed, and if symptoms persist, consult your healthcare professional.
This product contains selenium which is toxic in high doses. A daily dose of 150 micrograms for adults of selenium from dietary supplements should not be exceeded.
Vitamin supplements should not replace a balanced diet.
Formulated without:
Gluten, wheat, dairy products, egg, artificial
colours, artificial flavours, artificial sweeteners or
preservatives.
Each capsule provides
Standardised herbal extract equiv. fresh
Vaccinium myrtillus (Bilberry) fruit 5g
Equiv. Anthocyanosides 18mg
Ascorbic acid (Vitamin C) 100mg
d-alpha-Tocopheryl acid succinate (Vitamin E) 41.3mg
Zinc (as Zinc sulfate monohydrate) 12.5mg
Betacarotene 1.5mg
Lutein 2.5mg
Selenium (as Selenomethionine) 12μg
Q1 What are bilberries and how can they support eye health?
A1 Bilberries are the fruit of the Bilberry plant, and are closely
related to the more familiar blueberries. And like blueberries,
bilberries are rich in natural antioxidants – particularly, in a
family of antioxidants called anthocyanosides.
It is these antioxidants that may be why Bilberries have been
used in traditional western herbal medicine to support healthy
eye function.
Q2 What is Lutein and how does it help to maintain healthy
vision?
A2 Lutein occurs naturally in many green vegetables, e.g. kale,
spinach, broccoli, peas and brussels sprouts. It's also found in
some yellow foods, e.g. corn, capsicums and egg yolks.
One of Lutein's key roles in your body is to help fi lter the blue
light that enters your eye. This wavelength of light can be
particularly damaging to the retina. By fi ltering the blue light
out, Lutein can help to protect your eye health.
Additionally, like Bilberry, Lutein has powerful antioxidant
properties, and can help to reduce oxidative damage to the
cells inside your eyes.
Q3 What are free radicals and how can antioxidants help protect
against them?
A3 Free radicals are highly reactive molecules that form in your
body and can interact with molecules in your cell membranes,
leading to a form of cellular damage called "oxidative stress".
The cells in the inner surfaces of your eyes – particularly in
your macular region and lens – are especially vulnerable to
this kind of damage.
Antioxidants are a group of nutrients or plant compounds that
are most often found in brightly coloured fruits and vegetables.
They work by helping to neutralise (sometimes called
"scavenging") the free radical molecules before oxidative
damage can occur.