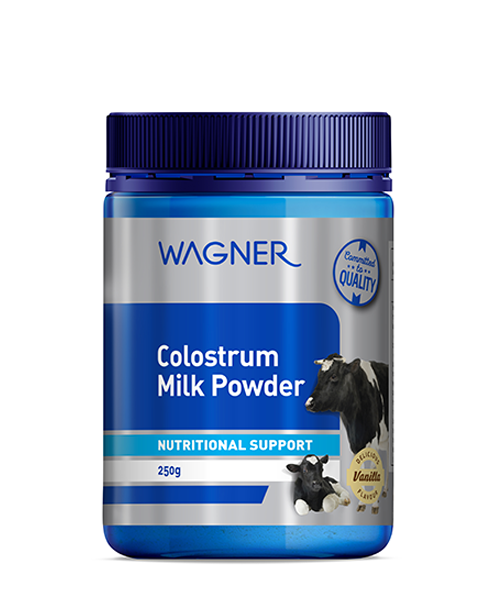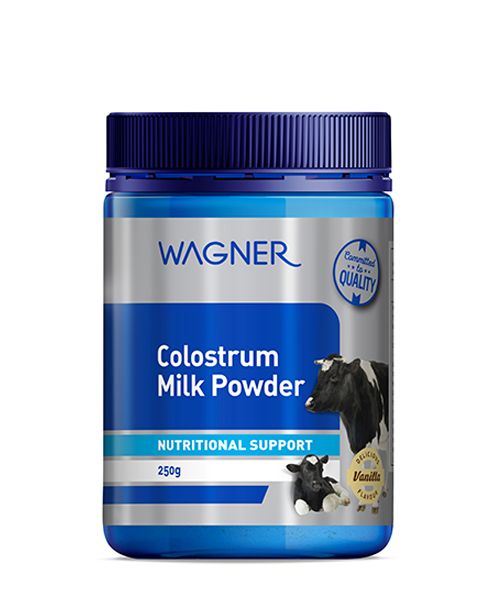 Natural colostrum drink. Contains IgG immunoglobulins. Each great-tasting serve of vanilla-flavoured Wagner. Colostrum Milk Powder provides 48mg of IgG immunoglobulins.
250g Powder
Wagner Colostrum Milk Powder is a delicious powder designed for dispersing into water or milk for a delicious drink.
Colostrum is the natural "first food" that cows produce for their new born calves.
This food contains no artificial colours, artificial sweeteners or artificial flavours.
Directions: Adults and children – mix 1 rounded
scoop (3g scoop) in milk or water.
NUTRITIONAL SUPPORT
Precautions and contra-indications:
Always read and the label; and take as directed.
Formulated without:
Gluten, wheat, egg, soy, artificial colours, artificial
sweeteners or artificial flavours.
NUTRITION INFORMATION
Serving per package: 83
Serving size: 3g (1 rounded scoop)
Average Quantity per Serving Average Quantity per 100g
Energy 47kJ (11Cal) 1580kJ (377Cal)
Protein 0.4g 14.4g
Fat, total 0.4g 12.4g
– saturated 0.1g 2.1g
Carbohydrate 1.3g 41.5g
– sugars 0.1g 2.8g
Sodium 0.3mg 9mg
Potassium 30mg 1010mg
Magnesium 15.9mg 529mg
Calcium 15.3mg 510mg
Phosphorus 30.6mg 1020mg
Iron 0.2mg 7mg
Zinc 0.1mg 3.7mg
Vitamin B1 50mcg 1.6mg
Vitamin B2 3mcg 0.1mg
Folic Acid 3.2mcg 105mcg
IgG 48mg 1600mg
Suggested Companion Product:
Wagner Kids' Milk Calcium Chew: These chews contain
natural milk calcium in a delicious vanilla-flavoured
chew that is free from artificial sweeteners.
Skim Milk Powder (75%)
Lactose, Colostrum Powder (8.8%)
Natural Flavours. Contains Milk.
Q1 What is Colostrum?
A1 Bovine Colostrum – usually just called "Colostrum" – is a
milk-like fluid that cows start to produce in preparation for
giving birth, and for a few days immediately afterward. It's the
first food that their calves receive, and it provides a wide range
of macronutrients (proteins, carbohydrates and fats), as well
as vitamins and minerals.
Additionally, Colostrum provides a broad spectrum of
immunity-supporting compounds called immunoglobulins
which can help support healthy immune function.
Q2 What are immunoglobulins?
A2 Immunoglobulins are compounds that help an animal's
immune system to help protect it against foreign
micro-organisms – and our human immune systems use them
in the same way.
Several kinds of immunoglobulins exist, and each performs a
specific immunity-supporting role.
Q3 How does Colostrum help to maintain immune system
health?
A3 The same nutrients and immunoglobulins that support a calf
during its first days are thought to support healthy immune
function in humans.