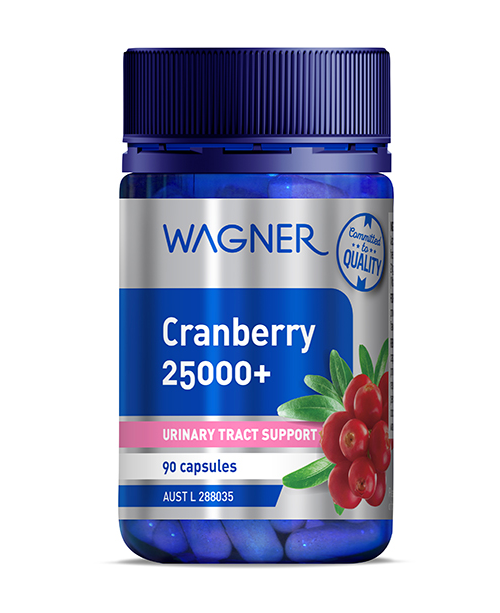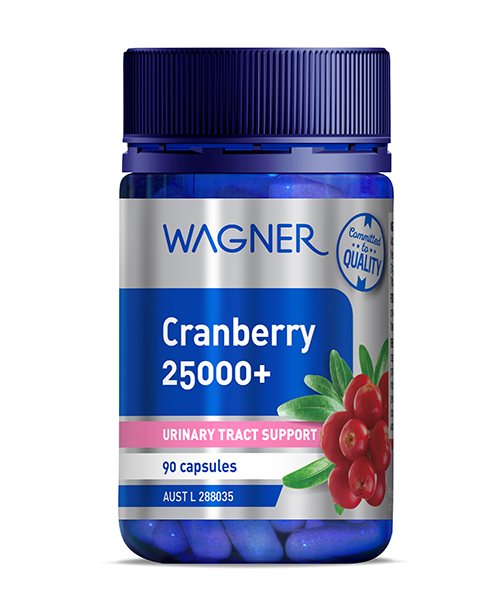 Maintains bladder and urinary tract health.
Contains Cranberry extract, which is traditionally used in Western herbal medicine to reduce the occurrence of cystitis.
Provides antioxidant protection and helps to maintain general wellbeing.
Features
Cranberries contain natural antioxidants, and have
traditionally been used in Western herbal medicine for
urinary tract health.
Cranberries also support and maintain the health of the
bladder.
This formula provides a one-a-day dose of Cranberry
extract in an easy-to-swallow capsule.
Recommended Adult Dosage: Take 1
capsule daily or as directed by your healthcare
professional.
Precautions and contra-indications:
Always read the label; take only as directed.
Vitamin supplements should not replace a
balanced diet.
If pain or irritation persists for more than 48 hours
– consult your doctor. The presence of blood in the
urine warrants immediate medical attention.
Formulated without:
Gluten, wheat, dairy products, egg, soy, artificial
colours, artificial flavours, artificial sweeteners or
preservatives.
Each capsule provides
Vaccinium macrocarpon (Cranberry) juice dry 160mg
Equiv. fruit fresh 4g
Vaccinium macrocarpon (Cranberry)
fruit ext equiv. fresh: 21g
Calcium ascorbate dihydrate 60.4mg
Equiv. Ascorbic acid (Vitamin C) 50mg
Q1 What are Urinary Tract Infections (eg: Cystitis), and who's likely to
get them?
A1 Cystitis is a type of urinary tract infection (UTI) that occurs when
bacteria like Escherichia coli, which normally live in your intestine, end
up in your bladder. These bacteria can enter your urinary tract through
your urethra. Then, once there, they cling to your bladder lining and
multiply; causing the stinging, burning pain during urination that is so
familiar to UTI sufferers.
Other UTI symptoms can include:
• A frequent, urgent need to urinate
• Cloudy or unusually strong-smelling urine
• Only being able to pass a small amount of urine at any one time
• Any of the above symptoms, plus lower back / abdominal pain
Cystitis and other UTIs are quite common. Some people that may have
a higher rate of developing UTIs are men with large prostate glands,
diabetics, the elderly and those with urinary catheters.
Finally, menopausal women may also develop cystitis and other UTIs.
Menopause can trigger changes that make the bladder lining thinner.
This may allow bacteria to gain enough of a foothold to create an
infection.
Q2 How do Cranberries help to maintain bladder and urinary tract
health?
A2 Cranberries are best known for their ability to support bladder and
urinary tract health. Western herbal medicine traditionally uses
Cranberry extract to reduce the incidence of cystitis and other urinary
tract infections. This effect is thought to be due to powerful natural
antioxidant compounds in the berries called proanthocyanidins.
It is believed that these compounds help assist in preventing the
adhesion of bacteria like E. coli to the lining of the bladder. If the
bacteria can't attach themselves, it's far easier to fl ush them out as
you urinate, which may help to prevent infection.
Q3 How long can I continue to take this formula?
A3 Although UTIs are quite common, it's still important not to ignore
them. If a bladder infection persists without treatment, it can begin to
spread to your kidneys, which may have serious health consequences.
We recommend taking this formula as soon as possible after you
notice any of the above UTI symptoms. Then, if your symptoms don't
begin to ease within two days of your fi rst dose, please speak to your
doctor.