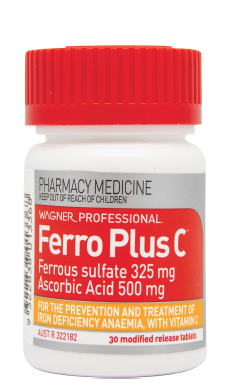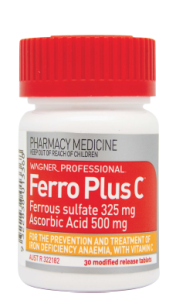 – For the prevention and treatment of iron deficiency anemia
– Iron and vitamin C supplementation which may help relieve fatigue where dietary intake of both nutrients is inadequate
– Modified release for better absorption over 8 hours
– Gentle on the stomach improving patient compliance resulting in better therapeutic outcomes
Recommended Adult Dosage:
– Delivers 105mg of elemental iron in the Fe2+ form which is the only form of inorganic iron absorbed by the body
– Therapeutic modified release iron tablet with approved indications for the prevention and treatment of iron deficiency anemia
– With Vitamin C to enhance the absorption of iron.
– Gentle on the stomach
Suggested Companion Products:
Do not take this medicine for longer than 12 months except on medical advice
Precautions and contra-indications:
Always read the label; take only as directed, and if symptoms persist, consult your healthcare professional.
This product contains selenium which is toxic in high doses. A daily dose of 150 micrograms for adults of selenium from dietary supplements should not be exceeded.
Vitamin supplements should not replace a balanced diet.
Formulated without:
– No gluten
– No preservatives
– No sugar
– No dairy
– Non GMO
– Free from animal products
– Suitable for vegans
– Suitable for vegetarians
Ferrous sulphate 325mg
Ascorbic acid 500mg