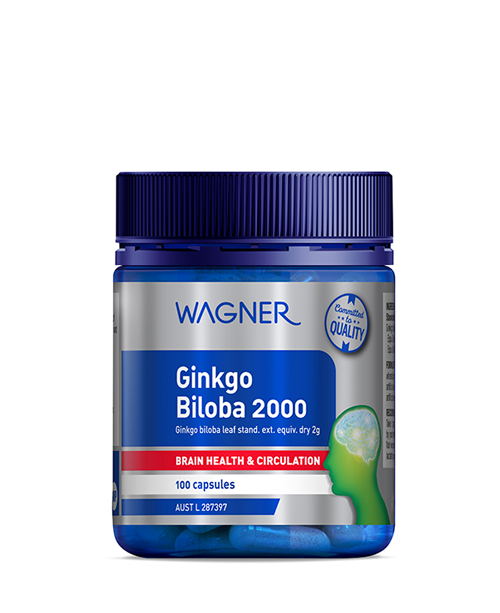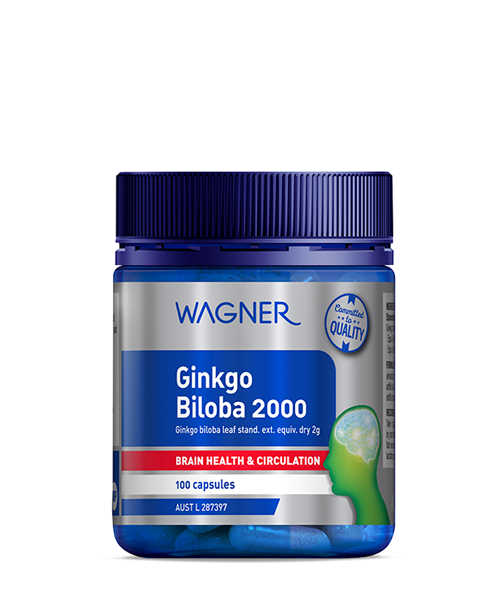 Supports healthy brain function. Assists with memory, concentration and mental alertness. Helps to maintain peripheral circulation and capillary health.
Ginkgo supports healthy circulation to the blood vessels of the brain and helps to maintain circulation to the peripheral areas of the body such as the hands and feet.
Ginkgo supports memory and concentration and aids mental alertness.
Ginkgo supports the health and function of the nervous system.
Recommended Adult Dosage: Take 1 capsule
3 times daily or as directed by your healthcare professional.
BRAIN HEALTH & CIRCULATION
Suggested Companion Products:
Wagner Women's/Men's MultiViteTM: Helps in the
maintenance of general well-being.
Wagner Fish Oil 1000: Supports the health of the
brain and normal cognitive function.
Precautions and contra-indications:
Always read the label; take only as directed.
Not recommended for use by pregnant and lactating women.
Formulated without:
Gluten, wheat, dairy products, egg, soy, corn,
artificial colours, artificial flavours, artificial
sweeteners or preservatives.
Each capsule provides
Standardised herbal extract equiv. dry
Ginkgo biloba (Ginkgo) leaf 2g
Equiv. Ginkgo flavonglycosides 9.8mg
Q1 What is Ginkgo and what does it do?
A1 Ginkgo biloba is one of the oldest living tree species, and has
been used in Traditional Chinese Medicine for hundreds of
years.
Its leaves contain antioxidants that include fl avonoids and
terpenoids. These antioxidants may help to protect cells
throughout your body from free radical damage.
Free radicals are highly reactive molecules that can interact
with molecules in your cell membranes and contribute to
cellular damage called "oxidative damage".
Q2 How does Ginkgo support circulation?
A2 Scientifi c studies suggest that Ginkgo supports healthy blood
circulation by helping to keep blood vessels open.
It has also been shown to help maintain circulation to the
peripheral areas of the body such as the hands, legs and feet.
Additionally, Ginkgo helps to maintain the health of the
capillaries.
Q3 How does Ginkgo support memory and concentration?
A3 In addition to assisting blood fl ow to your extremities, Ginkgo
has also been shown to support healthy circulation to the
blood vessels in your brain.
Studies show that Gingko can aid mental alertness, support
memory and concentration, and generally help to maintain
healthy cognitive function.