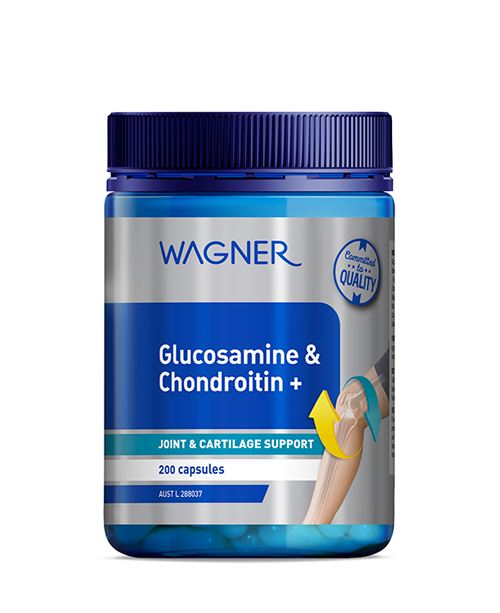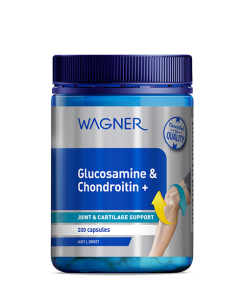 Contains Glucosamine which is naturally produced in the body, helping to maintain joint cartilage elasticity, strength and resilience, while supporting healthy joint
mobility (2 capsules daily). Contains Chondroitin, which helps to manage mild osteoarthritis, and may relieve mild osteoarthritic pain (4 capsules daily). Contains minerals, such as Zinc, Selenium and Manganese.
Available in: 200 Capsules
Mild osteoarthritis happens when joint cartilage – the tough springy tissue that cushions your joints – grows brittle and begins to wear thin.
Glucosamine and Chondroitin are naturally present in the body and are used by the body to assist in the maintenance of healthy joint cartilage.
Recommended Adult Dosage:
Take 2-4 capsules daily with food or as directed by your healthcare professional.
JOINT & CARTILAGE SUPPORT
Suggested Companion Products:
Wagner Vitamin C 500 Chew: Vitamin C supports the
development and maintenance of cartilage.
Wagner High Strength Zinc: High potency, one-a-day
dose of Zinc. Zinc plays a role in the maintenance of
normal, healthy bone.
Precautions and contra-indications:
Always read the label; take only as directed, and
if symptoms persist, consult your healthcare
professional.
DERIVED FROM SEAFOOD
Contains 97mg of potassium per capsule. If you
have kidney disease or are taking heart or blood
pressure medicines, consult your doctor or
pharmacist before use.
This product contains selenium which is toxic in
high doses. A daily dose of 150 micrograms for
adults of selenium from dietary supplements
should not be exceeded.
Formulated without:
Gluten, wheat, dairy products, egg, soy, corn, artificial
colours, artificial flavours, artificial sweeteners or
preservatives.
Each capsule provides
Glucosamine sulfate potassium chloride 750mg
Bovine sodium chondroitin sulphate 284mg
Equiv. Bovine chondroitin sulfate 250mg
Zinc (as Zinc oxide) 2mg
Manganese (as Manganese sulfate monohydrate) 1mg
Boron (as Borax) 500μg
Copper (as Copper gluconate) 166μg
Selenium (as Selenomethionine) 12.5μg
Frequently asked questions
Q1 What is cartilage, and what role does it play in healthy
joints?
A1 Cartilage is the tough, springy connective tissue that covers
the ends of the bones within your joints. It effectively provides
a "cushion" that keeps those bones from grinding against each
other when they move. This, in turn, allows you to move freely
and comfortably.
As you get older, however, natural wear and tear means that
your joint cartilage can begin to grow thinner. This can result in
joint discomfort and stiffness, and may eventually lead to mild
osteoarthritis.
Q2 What are Glucosamine and Chondroitin, and how can they
help?
A2 Your body normally rebuilds and repairs cartilage using
natural compounds that include Glucosamine and Chondroitin
as building blocks. Over time, however, the overall wear and
tear of cartilage can add up.
Boosting your body's levels of the building block compounds
can help to keep your cartilage strong and healthy. These
compounds may also help support cartilage repair and help to
relieve pain associated with mild osteoarthritis, plus support
joint mobility.
Q3 How can minerals help support joints?
A3 While Glucosamine and Chondroitin are important compounds
in supporting joint health, they're not the end of the story.
Minerals such as Copper and Manganese are also involved
in the growth, formation and maintenance of connective
tissues. Additionally, your body uses Manganese to create
proteoglycans, which are another essential building block of
healthy cartilage.
Antioxidant minerals such as Zinc, Manganese, Copper and
Selenium can also help to protect your cells against free
radicals.