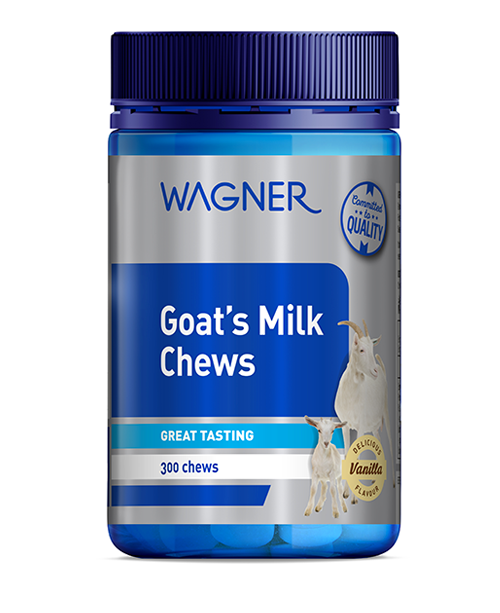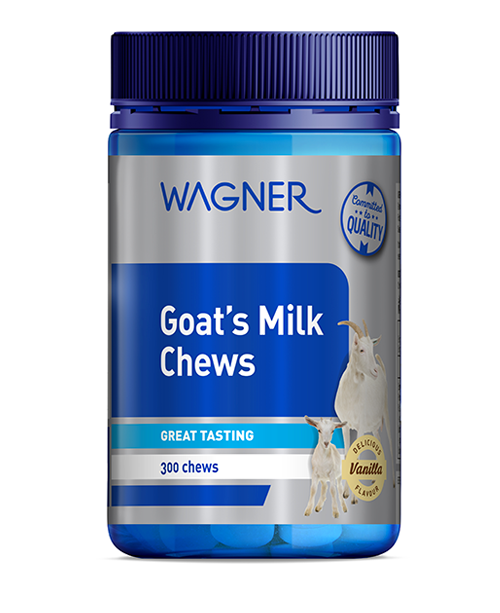 Contains Vitamin B12, which is an essential growth actor. Contains nutrients required for normal growth & development. Contains Vitamin C, which supports the development and maintenance of bones. Contains nutrients to support healthy immune function and maintenance of general wellbeing.
Available in: 90 Chewable Tablets
Dairy based foods are enjoyed by many as a delicious
treat, but not everyone can tolerate cow's milk.
Goat's milk is an ideal substitute for those who are
intolerant to cow's milk, but still want to enjoy the benefits
of dairy.

Directions: Chew 10 chewable tablets daily.
Not suitable for children 3 years and under.
GREAT TASTING
Precautions and contra-indications:
Always read the label; take only as directed.
Formulated without:
Artificial colours, artificial sweeteners or artificial
flavours.
NUTRITION INFORMATION
Serving per package: 30
Serving size: 7g (10 chews)
Average Quantity per Serving / Average Quantity per 100g
Energy 123kJ (29Cal) / 1760kJ (420Cal)
Protein 0.5g / 7.5g
Fat, total 0.7g / 9.7g
– saturated 0.5g / 6.7g
Carbohydrate 5.3g / 75.0g
– sugars 5.0g / 71.2g
Sodium 5mg / 76mg
CHEWABLE TABLET SIZE
Suggested Companion Product:
Wagner Kids' Milk Calcium Chew: These chews contain
natural milk calcium in a delicious vanilla-fl avoured chew
that is free from artifi cial sweeteners.
Goat's Milk Chews – Chocolate: Dextrose, Goat's Milk
Powder (29%), Fructose, Maltodextrin, Cocoa Powder (1%),
Natural Flavours, Magnesium Stearate. Contains Milk.
Goat's Milk Chews – Vanilla: Dextrose, Goat's Milk Powder
(29%), Fructose, Natural Flavour, Magnesium Stearate.
Contains Milk.
Q1 Why are some people unable to tolerate cows' milk?
A1 People who have an intolerance to cows' milk are often
reacting to a specifi c sugar in the milk called lactose.
This usually happens because they do not produce
enough lactase – the enzyme your body uses to break
down lactose.
Goats' milk has slightly lower levels of lactose than cows'
milk, so it is less likely to cause problems for those who
cannot tolerate cows' milk.
GREAT TASTING