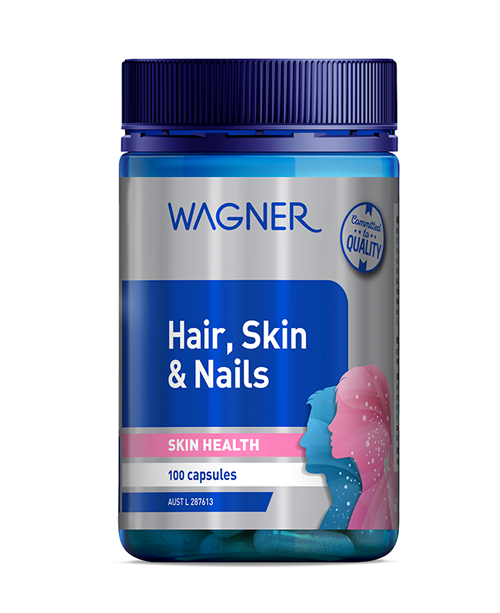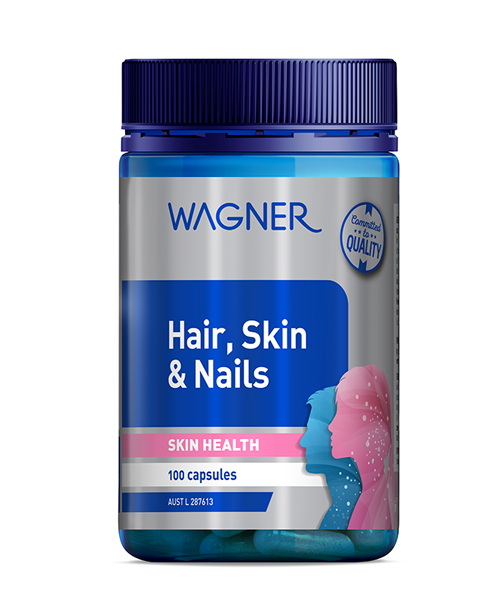 Contains Zinc, which helps to maintain healthy skin and supports healthy skin renewal processes Contains Vitamin C which assists with skin healing and repair and supports collagen production Contains Biotin, which may support healthy hair and maintain nail health.
Contains Vitamin C, which is necessary for the production of collagen in the body.
It also contains Betacarotene which is converted into Vitamin A, which plays a role in the maintenance of skin.
Includes Biotin which may support hair and nail health.
This formula also includes Horsetail which contains naturally occurring Silica.
Convenient, one-a-day capsule.
Recommended Adult Dosage:
Take 1 capsule daily or as directed by your healthcare professional.
Suggested Companion Products:
Wagner Squalene 1000: This formula provides a one-a-day dose of squalene in a convenient capsule.
Squalene is produced in the body and is one of the major components of skin surface lipids (sebum).
Wagner Fish Oil 1000: Contains Omega-3 essential fatty acids which are essential for normal growth and development.
Precautions and contra-indications:
Always read the label; take only as directed.
This product contains Selenium which is toxic in high doses.
A daily dose of 150 micrograms for adults of Selenium from dietary supplements should not be exceeded.
Vitamin supplements should not replace a balanced diet.
WARNING: May be dangerous if taken in large amounts or for a long period.
Formulated without:
Gluten, wheat, dairy products, egg, soy, artificial colours, artificial flavours, artificial sweeteners or preservatives.
Each capsule provides
Ascorbic acid (Vitamin C) 100mg
Biotin 1mg
Betacarotene 3mg
Iron (as Ferrous fumarate) 5mg
Selenium (as Selenomethionine) 50μg
Zinc (as Zinc glycinate) 30mg
Herbal extracts equiv. dry
Vitis vinifera (Grape) seed 5g
Equisetum arvense (Horsetail) stem 2g
Q1 What is Horsetail herb?
A1 Horsetail (Equisetum arvense) is a bushy plant that grows in
wet areas such as marshes, or beside streams and rivers.
It contains naturally occurring Silicon, commonly known as
Silica.
One of the ways your body uses Silicon is as a component of
collagen. Collagen is a protein found in skin and connective
tissue (tendons, cartilage and ligaments); and is what gives
these tissues their strength and structure.
Q2 What is Vitamin C, and how does it support skin health?
A2 Vitamin C is an antioxidant nutrient that plays a wide variety of
roles in your body. It's best known as "the immunity vitamin"
because it supports immune function. However, Vitamin C also
helps your body to create and maintain collagen.
This may be why this nutrient can assist your body to heal
minor wounds, support natural skin repair processes and
maintain healthy skin. Additionally, Vitamin C's powerful
antioxidant properties can help to protect cells against the
damaging effects of free radicals.
Q3 What is Zinc, and how does it support skin health?
A3 Zinc is an essential trace mineral and an antioxidant that
plays several roles in maintaining your health and wellbeing.
This mineral plays a role in the formation and maintenance of
connective tissues. It also helps to maintain healthy skin and
supports skin renewal processes.
This may be why Zinc often appears in skin support
formulations.