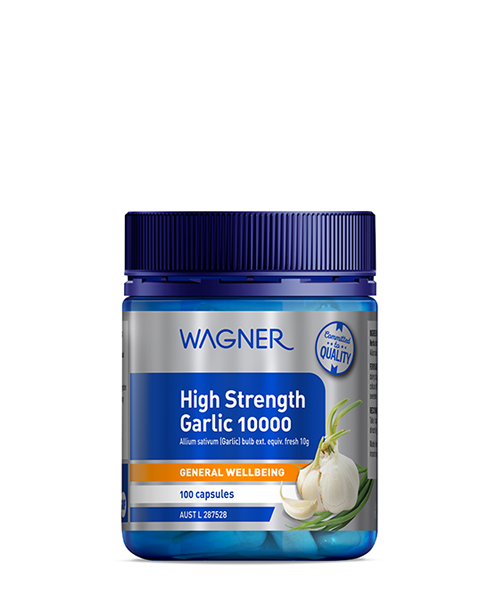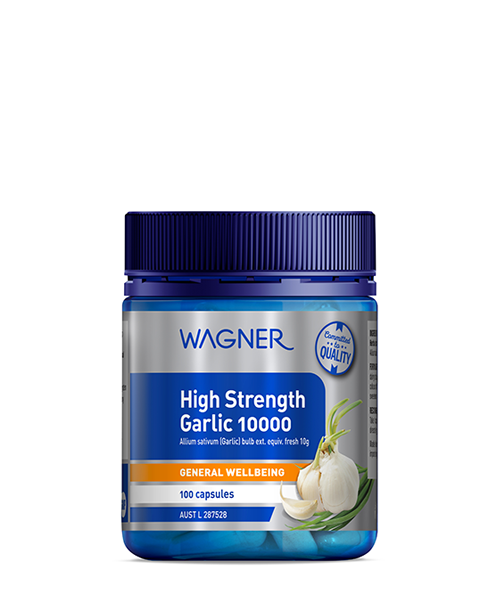 This formula contains Garlic, traditionally used in Western herbal medicine:
To assist with minor respiratory ailments
To help support circulation and the health of the cardiovascular system
As supportive therapy in the management of mild upper respiratory tract infections
For supportive management of the common cold
Available in: 100 Capsules
Garlic has been traditionally used in Western herbal medicine to help maintain cardiovascular health in adults. This supplement provides the equivalent of 10g of fresh Garlic bulb per capsule.
Recommended Adult Only Dosage:
Take 1 capsule daily with food, or as directed by your healthcare professional.
GENERAL WELLBEING
Suggested Companion Products:
Wagner High Strength Zinc: High strength,
one-a-day dose of Zinc, which is important for the
health and function of the immune system.
Wagner Vitamin C 1000 Chew: Vitamin C is well
known for its use in immune support and is essential
for the proper function of the immune system.
TAKE WITH FOOD
Precautions and contra-indications:
Always read the label; take only as directed.
Formulated without:
Gluten, wheat, dairy products, egg, soy, corn, artificial
colours, artificial flavours, artificial sweeteners or preservatives.
Each capsule provides
Herbal extract equiv. fresh
Allium sativum (Garlic) bulb 10g
Q1 What happens when someone gets a cold or mild upper
respiratory tract infection?
A1 The common cold can be caused by any of more than 200 types
of viruses that infect your upper respiratory tract (i.e. your
nose, sinuses and throat).
These viruses are usually transferred in tiny water droplets
when someone coughs or sneezes near you. Alternatively, you
can touch a surface with the virus on it, and then touch your
face. Once in your body, the virus triggers your immune system
to respond. This creates the familiar cold symptoms: a runny
or blocked nose, scratchy throat, frequent sneezing, headache
and cough.
Q2 What's the best way to recover from or avoid a cold?
A2 Having a healthy immune system is the best way to support
the maintenance of your general wellbeing which in turn will
help support your body's proper immune system function.
The stronger your immune system is, the faster your potential
recovery time may be. That means the best way to try and
avoid colds or recover from them quickly is to strengthen your
immune system.
Q3 How does garlic help to maintain healthy immunity?
A3 Ancient healers have been using Garlic for thousands of years
to help support people's health. The herb has also been used
for centuries in Western herbal medicine to help manage the
common cold and other mild upper respiratory tract infections.