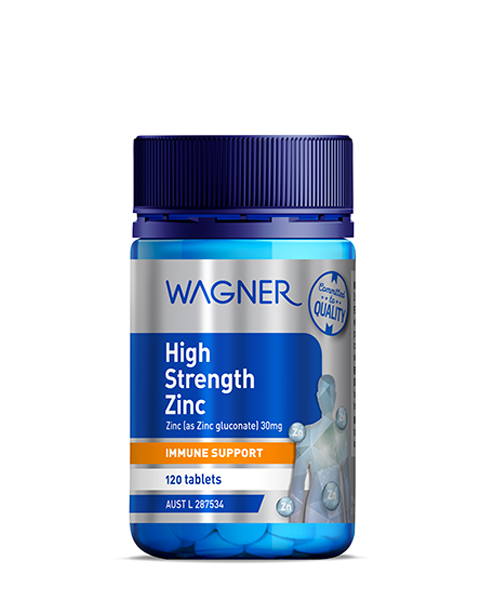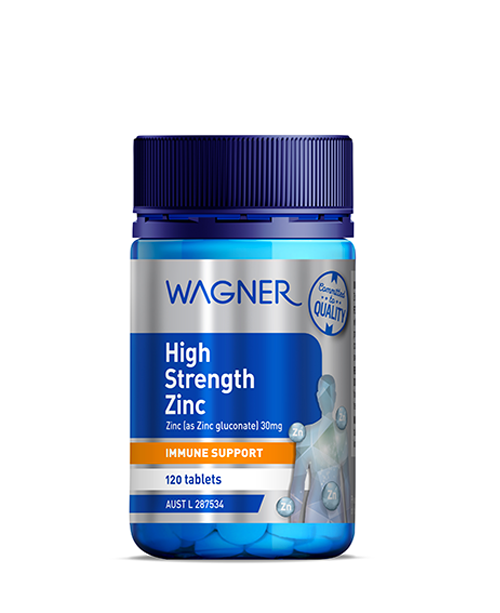 Helps to maintain healthy immune function
Helps maintain healthy skin
Supports normal eye function
Available in: 120 Tablets
Zinc has antioxidant activity, and is a component in over 200 enzymes in your body. Zinc is important for the health of the immune system and also supports normal skin renewal processes and healthy vision. This formula provides a high-strength, one-a-day dose of Zinc in a convenient tablet.
Recommended Adult Dosage:
Take 1 tablet daily with food or as directed by your healthcare professional.
IMMUNE SUPPORT
Suggested Companion Products:
Wagner Vitamin C 500 Chew: Vitamin C is well
known for its use in immune support and is
essential for the proper function of the immune
system.
Wagner High Strength Garlic 10,000: Garlic is
traditionally used in Western herbal medicine to
assist with minor respiratory ailments and for
supportive management of the common cold.
TAKE WITH FOOD
Precautions and contra-indications:
Always read the label; take only as directed.
WARNING: May be dangerous if taken in large
amounts or for a long period.
Formulated without:
Gluten, wheat, animal products, dairy products, egg,
soy, artificial colours, artificial flavours, artificial
sweeteners or preservatives.
Each tablet provides
Zinc (as Zinc gluconate) 30mg
Q1 What is your immune system and what role does it play in your
body?
A1 Your immune system is a complex network that helps defend
your body against invading microbes.
Your immune system is divided into two main lines of defence.
The fi rst is your skin and mucous membranes, which stop
harmful microbes from entering your body. The second are your
white blood cells.
A healthy immune system will support your body in its fi ght
against invading microbes. The healthier your immune system
the better chance it has of fi ghting off these microbes.
That means a good way to maintain your general wellbeing is to
help support your immune system.
Q2 How does Zinc support your immune system?
A2 Zinc is an essential trace mineral that is found in more than
200 separate enzymes in your body. It is involved in maintaining
the structure and integrity of cell membranes and is involved in
maintaining the skin health (your fi rst line of defence).
Zinc also plays a more direct role in helping to maintain immune
function. Your white blood cells (your second line of defence)
need Zinc to function normally. In fact, Zinc can support many
aspects of healthy immunity; and low levels may affect our
immune response.
Q3 What other roles does Zinc play in your body?
A3 In addition to its assistance with maintaining immunity, Zinc
supports your health and wellbeing in several ways. It is involved
in maintaining the structure and integrity of cell membranes and
also in supporting healthy skin renewal processes.
Beyond this, Zinc helps to maintain healthy visual function and
eye health; and also supports the metabolism of reproductive
hormones in both men and women. Zinc also plays a role in
ovulation and fertilisation; and in men it helps support healthy
testosterone levels.
Finally, Zinc helps your body to metabolise the macronutrients
(proteins, fats and carbohydrates).