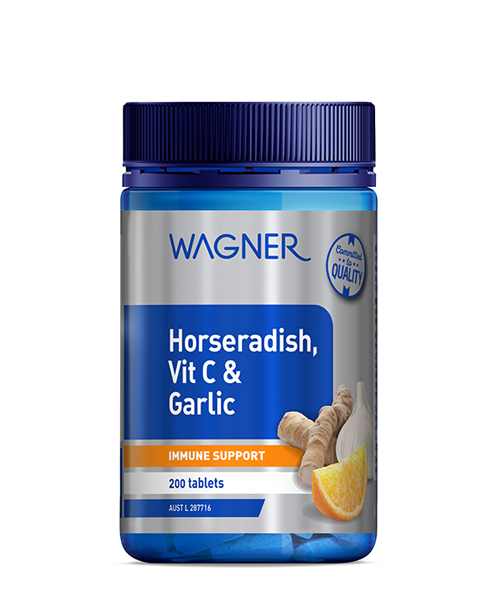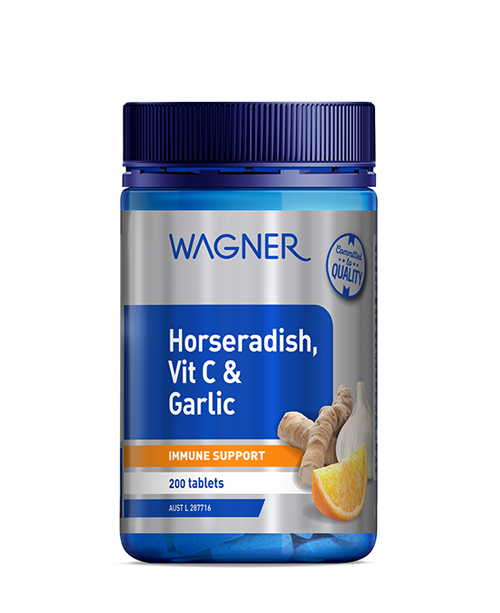 Contains Garlic, which is traditionally used in Western herbal medicine for the supportive management of the common cold. Contains Vitamin C to support healthy immune system function. Contains Garlic, which is traditionally used in Western herbal medicine for minor respiratory ailments and catarrhal conditions. Contains ingredients to assist in maintaining general wellbeing.
Available in: 200 Tablets
Minor upper respiratory system ailments can include the common cold and other catarrhal (mucous-producing) conditions.
Vitamin C is involved in many immune system mechanisms, while Garlic is traditionally used in Western herbal medicine, to help manage mild upper respiratory tract infections. This formula blends Garlic and Horseradish with Vitamin C to help maintain general wellbeing.
Recommended Adult Only Dosage:
Take 2 tablets twice daily with food or as directed by your healthcare professional.
Suggested Companion Products:
Wagner High Strength Zinc: One-a-day dose of Zinc,
which is important for the health and function of the
immune system.
Wagner Vitamin D3 1000 IU:
Contains Vitamin D which is mainly produced in our skin by a reaction
that requires sunlight. People who limit their
exposure to sunlight may have an increased need for
vitamin D supplementation.
Precautions and contra-indications:
Always read the label; take only as directed, and
if symptoms persist, consult your healthcare
professional.
Vitamin supplements should not replace a
balanced diet.
Formulated without:
Gluten, wheat, animal products, dairy products, egg,
soy, artificial colours, artificial flavours, artificial
sweeteners or preservatives.
Each tablet provides
Ascorbic acid (Vitamin C) 500mg
Herbal extracts equiv.
Armoracia rusticana (Horseradish) root dry 500mg
Allium sativum (Garlic) bulb fresh 1g
Q1 What happens when someone gets a cold or mild upper
respiratory tract infection?
A1 The common cold can be caused by microbes that infect your
upper respiratory tract (i.e. your nose, sinuses, throat and
ears).
These microbes can be transferred when someone coughs or
sneezes near you. Alternatively, they can be transferred when
you touch a surface with the microbe on it, and then touch
your face. Once in your body, your immune system is triggered
to respond. This can cause the familiar cold symptoms such
as a runny or blocked nose, sore throat, frequent sneezing,
headache and cough.
Q2 How can Garlic help to maintain wellbeing?
A2 Garlic has been used for centuries in Western herbal medicine
to help manage the common cold and other mild upper
respiratory tract infections.
Modern researchers have discovered that Garlic contains
compounds with anti-microbial properties. This may be why
Garlic has been used extensively in many traditional cultures
and why it is still well-known today.
Q3 How does Vitamin C help to maintain healthy immunity?
A3 Vitamin C is a nutrient with powerful antioxidant properties;
and one that plays a wide variety of roles in your body. It
assists collagen manufacture and can help to maintain healthy
skin and connective tissue. It also aids iron absorption.
However, Vitamin C is also often referred to as "the immunity
vitamin". It can support your immune system in several ways,
playing a vital role in a number of immune mechanisms. In
particular, Vitamin C supports your white blood cells (which
are responsible for fi ghting off microbes).