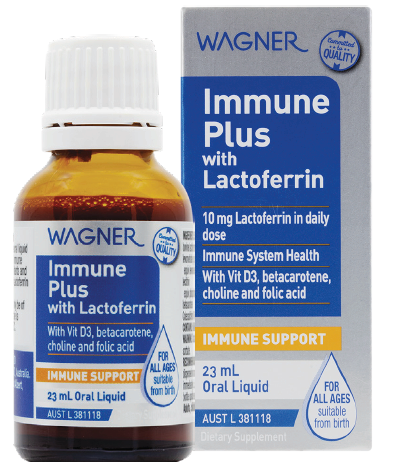 Features
Oral liquid to support immune health in infants and children
With beta-carotene, Vitamin D3, phosphatidyl choline and contains biologically active form of folate i.e. levomefolic acid
Supports normal bone mineralisation in healthy infants and children
Also Support healthy eyesight and RBC production
Key selling points
– Provides 10 mg of Lactoferrin in a daily dose
– For all ages, suitable from birth
– It is also formulated with vitamin D3 to support normal bone mineralisation
– Support healthy immune system function in infants and children
Precautions and contra-indications:
Contains Milk, sorbates, soy products and preservative. Vitamin and mineral supplements should not replace a balanced diet.
Warning:
Contains milk/milk products. Contains potassium sorbate.
No Added: Gluten, lactose, wheat, egg and artificial sweeteners or preservatives.
Ingredients:
Each 9 drops dosage provides: bovine lactoferrin 10.53 mg;
levomefolate glucosamine 181.5 microgram equiv. levomefolic acid 100.6
microgram; lecithin 3.87 mg equiv. phosphotidyl choline 890 microgram;
betacarotene 1.35 mg, colecalciferol (Vit D3 200 IU) 5 microgram
FAQ
Q1 Where is Lactoferrin derived from?
A1 Lactoferrin used in this product is derived from cows milk.
Q2 Can my child take this with milk?
A2 Yes, you can add 9 drops to the milk and let the child consume it immediately.
Q3 Can I take this if I am pregnant or breastfeeding?
A3 No- it is not recommended for pregnant or breastfeeding women. It contains betacarotene – which is converted to Vitamin A in body. The recommended daily amount of vitamin A from all sources is 700 micrograms retinol equivalents for women and 900 micrograms retinol equivalents for men.
Q4 How should I store it?
A4 Always store in refrigerator after opening. Shake well before use.
Q5 Where is lactoferrin found and what is it good for?
A5 Lactoferrin is a protein found naturally in the milk of humans, cows, and other mammals. In humans, the highest concentrations of lactoferrin can be found in colostrum, which is a very nutrient-dense first form of breastmilk produced soon after a baby is born. It helps supports baby's healthy immune system function.