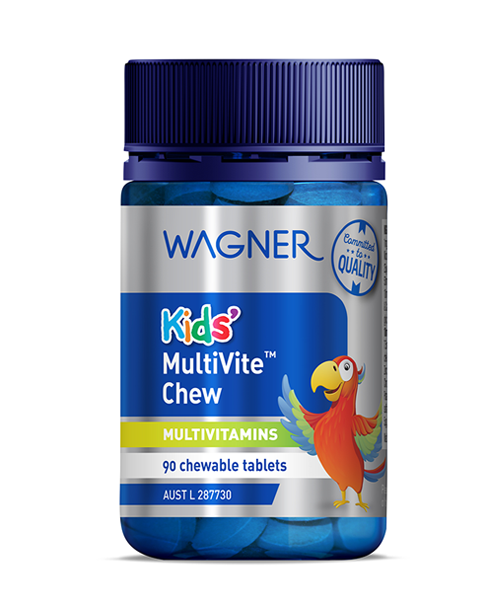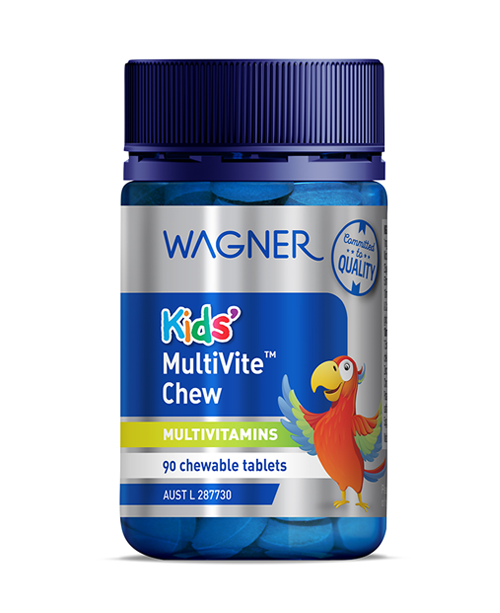 Contains Vitamin B12, which is an essential growth actor. Contains nutrients required for normal growth & development. Contains Vitamin C, which supports the development and maintenance of bones. Contains nutrients to support healthy immune function and maintenance of general wellbeing.
Available in: 90 Chewable Tablets
Contains Riboflavin, which contributes to the normal metabolism of iron.
Contains Thiamine, which is involved in the production of energy in the body.
Contains nutrients, which contribute to the maintenance of normal skin.
Available in a great tasting strawberry flavour chew.
Recommended Dosage:
Children 3-8 years: Chew 2 tablets daily with food.
Children 9+ years: Chew 2-3 tablets daily with food.
Or as directed by your healthcare professional.
Precautions and contra-indications:
Always read the label; take only as directed, and if
symptoms persist, consult your healthcare professional.
Vitamin supplements should not replace a balanced diet.
This product contains selenium which is toxic in high doses. A daily dose of 150 micrograms for adults of selenium from dietary supplements should not be exceeded.
Formulated without:
Gluten, wheat, egg, artificial colours, artificial flavours or artificial sweeteners.
MULTIVITAMINS CHEWABLE
Each chewable tablet provides Vitamins
Betacarotene 1mg
Thiamine nitrate (Vit. B1) 2mg
Riboflavine (Vit. B2) 2mg
Nicotinamide (Vit. B3) 4mg
Pyridoxine hydrochloride
(Vit. B6) 2mg
Biotin 25μg
Folic acid 20μg
Cyanocobalamin (Vit. B12) 3μg
Ascorbic acid (Vit. C) 50mg
Colecalciferol (Vit. D3) 2.5μg
dl-alpha-Tocopheryl acetate
(Vit. E) 10mg
Calcium pantothenate 4.37mg
Equiv. Pantothenic acid
(Vit. B5) 4mg
Equiv. Calcium 372μg
Minerals
Calcium (as Calcium
glycinate dihydrate) 9.63mg
Total Calcium 10mg
Magnesium
(as Magnesium citrate) 7.5mg
Manganese (as Manganese
amino acid chelate) 100μg
Iron (as Iron (III) glycinate) 1mg
Zinc (as Zinc glycinate) 1mg
Chromium (as Chromic
chloride hexahydrate) 10μg
Iodine (as Potassium iodide) 50μg
Potassium
(as Potassium sulfate) 4.7mg
Selenium
(as Selenomethionine) 5μg
Cofactor
Citrus bioflavonoids extract 5mg
Q1 How can a multivitamin and mineral supplement support
children's general wellbeing?
A1 Children's bodies require a wide range of nutrients to maintain
wellbeing and support normal growth, immunity, metabolism
and energy production. Certain nutrients, including vitamins and
minerals need to come from the foods children eat.
In an ideal world, children would obtain all the nutrients they need
from a perfect diet. However, some kids can be fussy eaters, with
strong likes and dislikes in their food.
So while good nutrition should always start with a balanced diet,
some children may also benefi t from topping up with a high-quality,
age-appropriate multivitamin supplement.
Q2 Why are specifi c children's multivitamin supplements available?
A2 This children's multivitamin is formulated with levels of vitamins and
minerals suitable for younger children's bodies. Children's growing
bodies may require nutrients in different proportions to other age
groups. That's why it can be useful for children to have supplements
that are formulated specifi cally for their needs.
Q3 How old do children need to be to take this product?
A3 As long as your child is chewing properly, you can give them this
product at age 3 or older.
Suggested Companion Products:
Wagner Kids' Vitamin C Chew: Vitamin C is essential
for proper immune system function. Vitamin C also
supports the development and maintenance of
bones and teeth.
Wagner Kids' Zinc+ Chew: This formula contains
Zinc, which helps maintain healthy immune function.