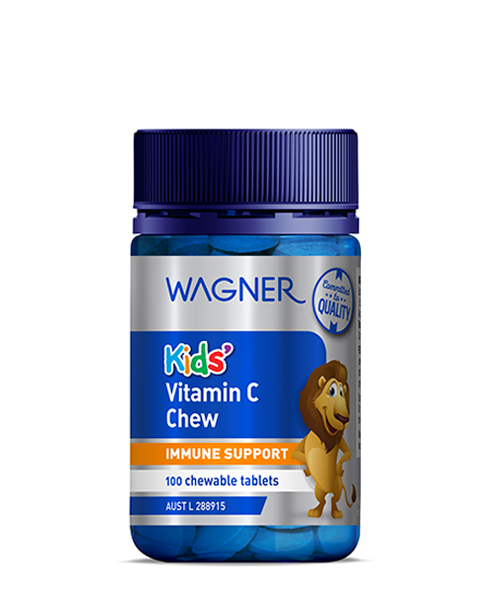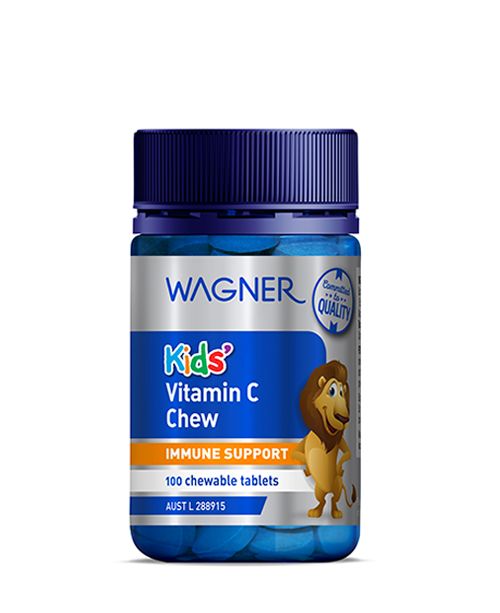 Contains Vitamin C, which supports a healthy immune system. Contains Vitamin C which is necessary for minor wound healing. Assists in the maintenance of general wellbeing.
Available in: 100 Chewable Tablets
Vitamin C plays a vital role in many immune mechanisms.
Vitamin C also supports the development and.
maintenance of bones and teeth.
Additionally, Vitamin C aids iron absorption.
Recommended Dosage:
Children 3 years +: Chew 1 tablet daily with food.
Children 1 – 3 years: Crush 1 tablet and mix with
food or liquid once daily. Or as directed by your
healthcare professional.
Precautions and contra-indications:
Always read the label; take only as directed.
Vitamin supplements should not replace a
balanced diet.
Formulated without:
Gluten, wheat, animal products, dairy products, egg, soy,
artificial flavours, artificial sweeteners or preservatives.
IMMUNE SUPPORT
Suggested Companion Products:
Wagner Kids' MultiViteTM Chew: Available in a
convenient great tasting strawberry flavour chew.
Wagner Kids' Zinc+ Chew: This formula contains
Zinc, which helps maintain healthy immune function.
CHEWABLE
Each chewable tablet provides
Sodium ascorbate 53.44mg
Equiv. Ascorbic acid (Vitamin C) 47.5mg
Ascorbic acid (Vitamin C) 52.6mg
Total Vitamin C 100mg
Contains Sugars.
requently asked questions
Q1 How can Vitamin C support children's immune systems?
A1 Vitamin C is a nutrient with powerful antioxidant properties;
and one that plays a wide variety of roles in our bodies.
However, it is best known for its immune-supporting
properties; and is often referred to as "the immunity vitamin"
with good reason.
Vitamin C helps to maintain healthy immune system function
in several ways, playing a vital role in a number of immune
mechanisms. In particular, our white blood cells (a key
component of our immune systems) rely on Vitamin C to
function normally.
For this reason, an immune supporting supplement can be
helpful for children, particularly during the winter months.
Q2 What other roles does Vitamin C play in children's bodies?
A2 In addition to helping to maintain healthy immune systems,
Vitamin C helps our bodies to form collagen: an important
component of connective tissue. Collagen is the protein that
helps to give connective tissue – including skin, tendons,
cartilage and ligaments – its strength and structure.
This may be why Vitamin C can assist in the healing and repair
of skin. It also aids iron absorption, and helps to protect the
body from the damaging effects of free radicals.
Q3 Why are specifi c children's immune support supplements
available?
A3 Children's growing bodies may require nutrients in different
proportions to other age groups. That's why it can be useful for
children to have supplements that are formulated specifi cally
for their needs.
This children's immune support supplement is formulated
with a level of vitamin C suitable for younger children