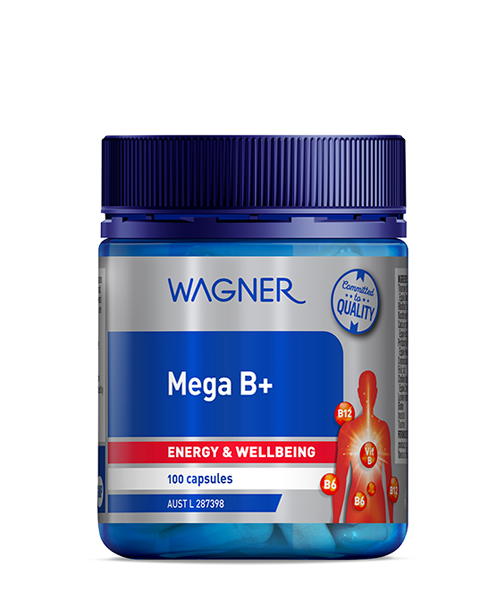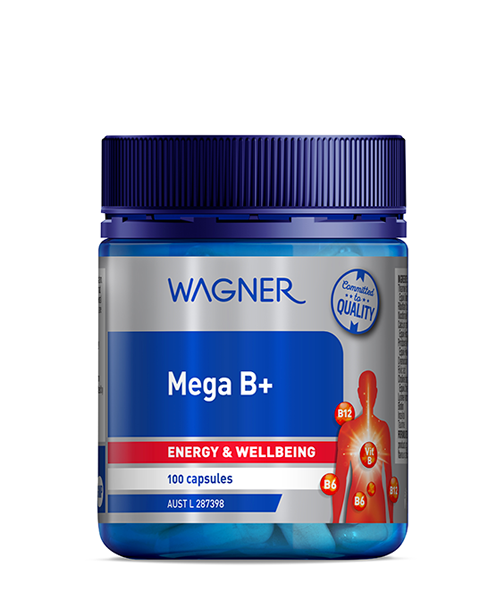 Contains Vitamins B1, B2, B3, B5, B6 and B12 which are involved in energy production in the body Contains Vitamin B5, which may be beneficial during times of stress. Contains nutrients to support the health and function of the nervous system.
Mega B+ contains B vitamins which support the health and function of the nervous system.
Vitamin B5 supports the adrenal glands in the making of adrenal hormones that counteract the stress response.
Vitamin B6 is involved in the synthesis of several neurotransmitters, such as serotonin, GABA and dopamine.
B Group vitamins are water soluble, so are not stored in the body and daily intake is necessary.
Recommended Adult Dosage: Take 1
capsule daily with food or as directed by your healthcare professional.
ENERGY & WELLBEING
Precautions and contra-indications:
Always read the label; take only as directed, and if symptoms persist, consult your healthcare
professional. Vitamin supplements should not replace a balanced diet.
Formulated without:
Gluten, wheat, dairy products, egg, soy, corn, artificial
colours, artificial flavours, artificial sweeteners or
preservatives.
Suggested Companion Products:
Wagner Women's/Men's MultiViteTM: Helps in the
maintenance of general wellbeing.
Wagner CoQ10 150: This formula contains CoQ10
which is essential for the production of energy in
the body.
Each capsule provides
Thiamine nitrate 50mg
Equiv. Thiamine (Vitamin B1) 40.5mg
Riboflavin (Vitamin B2) 20mg
Nicotinamide (Vitamin B3) 50mg
Calcium pantothenate 49.11mg
Equiv. Pantothenic acid (Vitamin B5) 45mg
Pyridoxine hydrochloride 60.79mg
Equiv. Pyridoxine (Vitamin B6) 50mg
Cyanocobalamin (Vitamin B12) 50μg
Folic acid 300μg
Choline bitartrate 100mg
Equiv. Choline 41.13mg
Lysine hydrochloride 25mg
Biotin 150μg
Inositol 50mg
Taurine 40mg
Q1 What are B vitamins and what do they do in the body?
A1 The B-complex vitamins are a group of eight related, water-soluble
nutrients that your body uses in a wide variety of ways.
Some, e.g. Vitamins B1, B2 and B6, assist your body in breaking
down macronutrients – proteins, carbohydrates and fats – into forms
your body can use. Others, like Vitamin B12, support healthy red
blood cell formation.
Additionally, many B-vitamins play multiple roles. For example,
Vitamin B1 supports nerve and heart function, and Vitamin B5
supports your body's stress response and energy production.
Q2 How do B vitamins assist with energy production?
A2 B-group vitamins help your body with the process of producing
energy both directly and indirectly. For example, Vitamin B12, directly
assits with the production of energy in the body.
Less directly, by helping your body to break down the macronutrients
in food, Vitamins B1, B2 and B6 enable you to extract the energy
from that food.
And your body relies on red blood cells to carry oxygen – which is
burned along with glucose for energy – to the cells that need it.
So by helping to form healthy red blood cells, Vitamin B12 also
indirectly support your energy levels.
Q3 How do B vitamins support nervous system health?
A3 Your nervous system is a complex network that starts with your
brain and spinal cord (your central nervous system). It then extends
out from there through every nerve in your body.
B-group vitamins each support different parts of your nervous
system. For example, Vitamin B1 is involved in in the maintenance
of nerve tissues in the body and plays a role in nerve function and
transmission.
Meanwhile, B5 supports the adrenal glands in the making of
cortisone and other adrenal hormones that counteract the stress
response. And B12 helps to maintain the integrity of the myelin
sheath that covers each nerve.