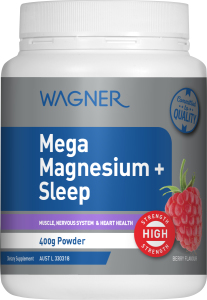 Delivers a high-strength, single daily dose in a pleasant tasting tropical or berry flavoured powder.
Suitable for vegans and vegetarians.
Magnesium plays a necessary role in more than 300 enzyme reactions in your body. It is involved in synthesising DNA and producing energy. It also helps your nerves and muscles to function properly.
features
• A high strength, multi action complex, formulated with organic magnesium glycinate – an easily absorbed form of magnesium
• This formula combines Magnesium glycinate combined with amino acids and Vitamin C to support muscle function, nervous system & cardiovascular system health and energy levels
• Contains Passion flower which is used in Traditional Western Herbal Medicine to reduce restless sleep and relieve nervous tension
Recommended Adult Dosage:
Mix one level scoop (filled level in line with the top of the scoop handle) in 200ml of water, take once daily with food, or as directly by your healthcare professional.
Ensure powder is mixed / shaken vigorously to avoid powder clumping
Precautions and contra-indications:
If symptoms persist consult your healthcare professional. Vitamin and supplements should not replace a balanced diet.

Formulated without:
Gluten, wheat, animal products, dairy products, egg, soy, artificial colour, artificial flavours, preservatives.
Active Ingredients:
Serves per day. 1 level scoop filled to the top of the scoop
handle. Serves per pack 40
Magnesium glycinate equiv. Magnesium 300mg
Ascorbic acid (Vitamin C) 300mg
Taurine 1.5g
Glutamine 1.5g
Passiflora incarnata (Passion flower) herb 60mg
Equiv. Passiflora incanata herb dry 300mg
Calcium pantothenate 50mg
Equiv. Pantothenic acid 45.81mg
Natural flavours, Natural colour, Sweeteners, Acidity
regulator.
Contains: Sucralose, sulfites, sugars.
Frequently asked questions:
Q1 What is magnesium and why is it important?
A1 Magnesium is the fourth most abundant mineral in the human body. The body stores most of its magnesium in the bones, with the remainder located in the muscles and soft tissue. Functionally, Magnesium is an essential component of over 300 essential enzyme reactions; and is an integral part of most biological processes. It assists with nerve function and also supports blood vessel wall tone; nerve, heart and muscle function; and healthy bone development.
Q2 How can magnesium support sleep?
A2 In order to sleep, your brain needs to feel relaxed and tired, so it naturally starts to wind things down near the end of the day, in preparation for sleep. Magnesium helps push this process along through its interactions with your melatonin levels. Magnesium regulates both neurotransmitters and melatonin. Neurotransmitters relay messages between your brain and your nervous system, and your melatonin levels control
your sleep-wake cycles. Magnesium can help to calm the nervous system by binding GABA receptors. GABA are neurotransmitters that are made in the brain that function to reduce nerve activity, thereby calming your nervous system in preparation for sleep.
Q3 What is Passion flower and why is it in this formula?
A3 Passion flower is one of the most popular and efficacious herbs used for helping people sleep. Traditionally it was used by the Native Americans as a mild sedative to help with insomnia. European Herbalists in the 16th century used it to help relieve conditions with a psychological component (e.g. stomach upsets caused by stress and worry). Today, practitioners often recommend it for people who are restless, tense or anxious, and it's gentle, calming, relaxing qualities can also help with disturbed sleep.