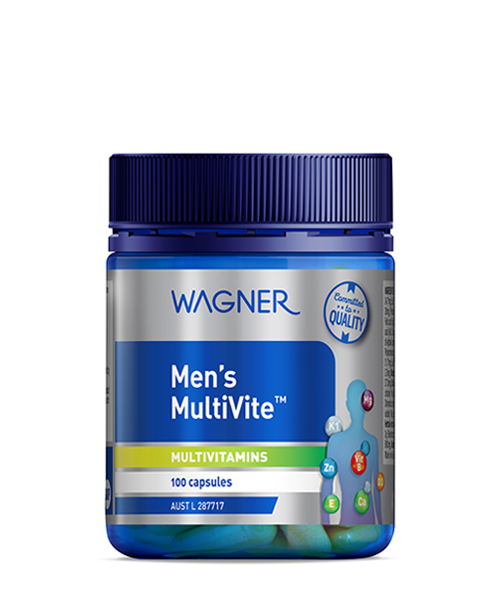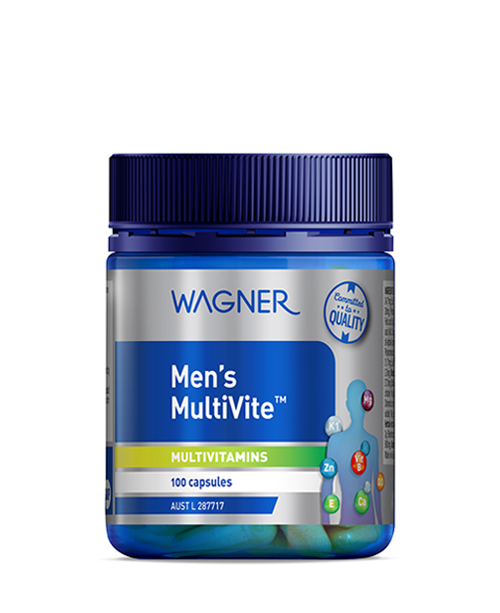 Contains B vitamins that support the production of energy in the body. Contains nutrients that support the health of the cardiovascular system. Contains Selenium which is required for testosterone synthesis and Zinc to support healthy testosterone levels in men. Includes Vitamin K and Vitamin D to support healthy bone mineral density.
Available in: 100 Capsules
Men's nutritional needs can be different to women's, so a specialised multivitamin and mineral formulation may often be helpful. This formula provides male support. It balances and supports normal male physiology and function. A multivitamin which can be used to support eye health
and maintain health of capillaries. May assist in the prevention of Vitamin C, D, E, K, B1, B2, B3, B5, B6, B12, Biotin and Folic acid deficiency when dietary intake is inadequate.
It also may assist in the prevention of Zinc, Selenium, Iodine, Potassium and Chromium deficiency when dietary intake is inadequate. Vitamin D helps calcium absorption and a diet deficient in calcium can lead to osteoporosis in later life.
Recommended Adult Dosage:
Take 1 capsule daily with food, or as directed by your healthcare professional.
MULTIVITAMINS
Precautions and contra-indications:
Always read the label; take only as directed, and if symptoms persist, consult your healthcare professional.
Vitamin supplements should not replace a balanced diet.
This product contains selenium which is toxic in high doses. A daily dose of 150 micrograms for adults of selenium from dietary supplements should not be exceeded.
Formulated without:
Gluten, wheat, dairy products, egg, soy, artificial colours, artificial flavours, artificial sweeteners or preservatives.
Suggested Companion Products:
Wagner Fish Oil 1000: Supports the health and function of the cardiovascular system. Supports the health of the brain and normal cognitive function.
Wagner High Strength Zinc: This formula provides a high-strength, one-a-day dose of Zinc in a convenient tablet.
Each capsule provides
Vitamins
Betacarotene 1.2mg
Thiamine nitrate 24.7mg
Equiv. Thiamine (Vit. B1) 20mg
Riboflavin (Vit. B2) 20mg
Nicotinamide (Vit. B3) 20mg
Pyridoxine hydrochloride 24.3mg
Equiv. Pyridoxine (Vit. B6) 20mg
Biotin 150μg
Folic acid 95μg
Cyanocobalamin (Vit. B12) 20μg
Ascorbic acid (Vit. C) 50mg
Colecalciferol (Vit. D3 200 IU) 5μg
dl-alpha-Tocopheryl acetate
(Vit. E 20 IU) 20mg
Phytomenadione (Vit. K1) 50μg
Calcium pantothenate 31.7mg
Equiv. Pantothenic acid
(Vit. B5) 29mg
Equiv. Calcium 2.7mg
Minerals
Calcium (as Calcium
hydrogen phosphate) 37.3mg
Total Calcium 40mg
Magnesium (asMagnesium citrate) 10mg
Zinc (as Zinc glycinate) 15mg
Chromium (as Chromic
chloride hexahydrate) 200μg
Iodine (as Potassium iodide) 150μg
Selenium
(as Selenomethionine) 50μg
Herbal extracts equiv. dry
Tribulus terrestris
(Tribulus) fruit 2g
Eleutherococcus senticosus
(Siberian ginseng) root 600mg
Cofactor
Citrus bioflavonoids extract 5mg
Q1 How can a multivitamin and mineral supplement support
general health?
A1 Your body requires a wide range of nutrients to maintain wellbeing
and support normal growth, immunity, metabolism and energy
production. Certain nutrients, including vitamins and minerals need
to come from the food you eat. In an ideal world, you would obtain all the nutrients you need from a
perfect diet. However, not everyone eats a perfect diet – and it can be
diffi cult to get the correct balance of nutrients from your diet each
day. This means that while good nutrition should always start with a
balanced diet, some people can also benefi t from topping up with a
high quality multivitamin supplement.
Q2 How do B-vitamins support healthy energy levels?
A2 B-group vitamins help your body with the process of producing
energy both directly and indirectly. For example, Vitamin B7 (Biotin)
directly assists with producing cellular energy in the mitochondria
(energy centres) of every cell in your body.
Less directly, by helping your body to break down the macronutrients
in food, Vitamins B1, B2 and B6 enable you to extract the energy
from that food.
Q3 Which nutrients and herbs in this formula specifi cally support
men's health?
A3 • Zinc, a trace mineral that plays a role in helping the body to
form testosterone. Zinc also has antioxidant properties that
help to protect cells against oxidative damage from free radical
molecules and supports healthy sperm.
• Selenium, another antioxidant trace mineral that plays a role in
helping to maintain healthy testosterone levels, protecting cells
from free radical damage and supporting healthy sperm.
Additionally, each capsule provides the extract equivalent of 2g of
Tribulus terrestris. Traditionally used in Ayurvedic (Indian) medicine
as an aphrodisiac, Tribulus is thought to support testosterone levels.