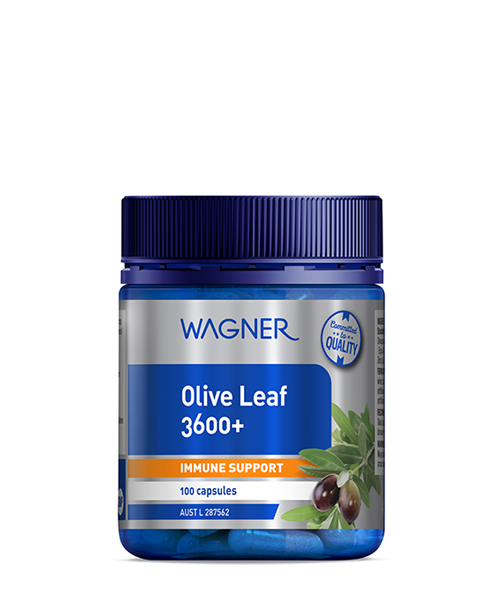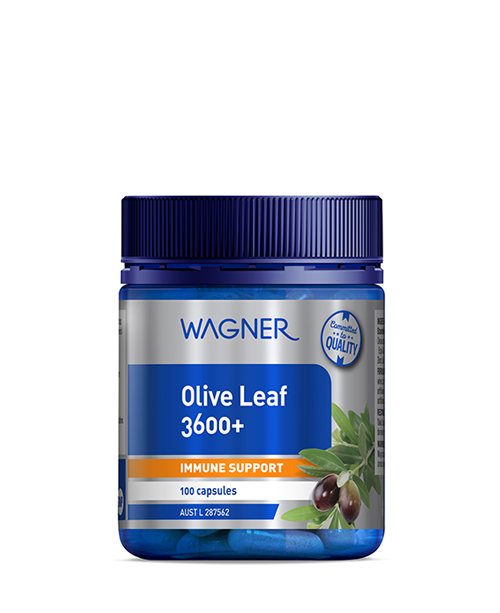 Contains Zinc, which is important for the health and function of the immune system. Provides antioxidant support Helps to maintain general wellbeing.
Available in: 100 Capsules
Olive Leaf contains the constituent oleuropein an antioxidant that helps to scavenge free radicals. Zinc is an essential trace mineral which plays a role in the visual, reproductive and immune systems. This formula blends Olive Leaf extract and Zinc in a convenient capsule.
Recommended Adult Dosage:
Take 2 capsules daily with food, or as directed by your healthcare professional.
IMMUNE SUPPORT
Suggested Companion Products:
Wagner High Strength Garlic 10000: Garlic is
traditionally used in Western herbal medicine to
assist with minor respiratory ailments and for
supportive management of the common cold.
Wagner Vitamin C 1000 Chew: Vitamin C is well
known for its use in immune support and is essential
for the proper function of the immune system.
TAKE WITH FOOD
Precautions and contra-indications:
Always read the label; take only as directed.
WARNING: May be dangerous if taken in large
amounts or for a long period.
Formulated without:
Gluten, wheat, dairy products, egg, soy, corn, artificial
colours, artificial flavours, artificial sweeteners or
preservatives.
Each capsule provides
Standardised herbal extract equiv. dry
Olea europaea (Olive) leaf 3.6g
Equiv. Oleuropein 80mg
Zinc (as Zinc oxide) 15mg
Q1 What is your immune system and what role does it play in
your body?
A1 Your immune system is a complex network of organs, cells
and processes that all work together to help defend your body
against invading microbes. Some of these microbes can be
responsible for colds and minor respiratory ailments.
Your immune system is divided into two main lines of defence.
The first is your skin and mucous membranes, which can
help prevent microbes from entering your body. The second
includes various kinds of white blood cells, which can identify
microbes that get past the fi rst line.
A healthy immune system will recognise any microbe that
you've encountered before and respond to it before it gets a
foothold in your body. If you haven't previously encountered
that particular microbe, your immune system will identify how
to fi ght it.
This means it is important to support your immune system.
Q2 How can Olive Leaf extract support your immune system?
A2 Ancient herbalists might not have understood exactly how
our immune systems work, but they were familiar with herbs
that supported immune function. For example, herbalists
traditionally used Olive leaves for their immune-supporting
properties.
More recently, researchers have identifi ed several antioxidant
compounds called fl avonoids within Olive leaves. In particular,
the unique compound Oleuropein appears to support immune
system function.
Q3 How does Zinc support your immune system?
A3 Zinc is an essential trace mineral that plays a role in more
than 100 separate enzyme reactions in your body. It also helps
to maintain the integrity of your skin and mucous membranes
(your fi rst line of defence).
Zinc also plays a more direct role in helping to maintain
immune function. Your white blood cells (your second line of
defence) need Zinc to function normally. In fact, Zinc supports
many aspects of healthy immunity; and low levels may affect
components of your immune system.