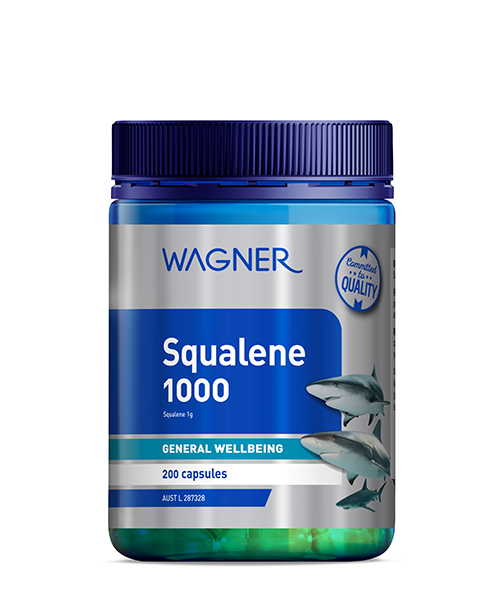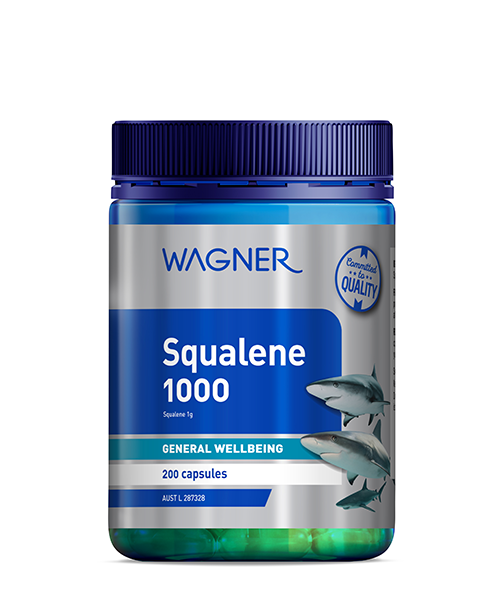 Helps to maintain general wellbeing. Provides antioxidant support. Squalene provides antioxidant support that may reduce the oxidative damage that your skin experiences from free radicals.
Available in: 200 Capsule
Squalene is produced in your body, and is one of the
major components of skin surface lipids (sebum).
This formula provides a one-a-day dose of squalene in a
convenient, easy-to-swallow capsule.
Recommended Adult Dosage:
Take 1 capsule daily with food or as directed by your healthcare professional.
GENERAL WELLBEING
Suggested Companion Products:
Wagner Lecithin 1200: Lecithin is a complex mixture
of phospholipids. It plays a role in the maintenance
of cell membrane integrity, which is vital to all basic
biological processes.
Wagner Triple Strength Omega-3 Fish Oil: This
formula provides a concentrated, dose of Omega-3
essential fatty acids to support the health and
function of the cardiovascular system, the health of
the brain, normal cognitive function and the function
of the nervous system.
Precautions and contra-indications:
Always read the label; take only as directed.
Formulated without:
Gluten, wheat, dairy products, egg, soy, corn, artificial
colours, artificial flavours or artificial sweeteners.
TAKE WITH FOOD
Each capsule provides
Squalene 1g (1000mg)
Frequently asked questions
Q1 What is Squalene and what role does it play in skin health?
A1 Squalene is an oil that your body naturally produces and uses
to form a compound called sebum in tiny glands known as
"sebaceous glands". Around 12% of your sebum consists of Squalene.
Sebum combines with moisture and other compounds on the
surface of your skin to form a protective barrier between your
skin cells and the environment. This barrier helps to reduce
water loss and keep your skin cells hydrated.
Additionally, your skin cells can be vulnerable to oxidative
damage from unstable free radical molecules. Squalene has
natural antioxidant properties that can help to protect your
skin cell membranes against this oxidative damage.
Q2 What other roles does Squalene play in our bodies?
A2 Your body also uses Squalene to support several other
processes and systems. Squalene is needed by the body to
synthesize cholesterol and vitamin D. This is why this oil can
help to maintain general health and wellbeing, as well as
exerting its antioxidant activity to help reduce free radical
oxidative damage to the skin.
Q3 Where does the Squalene in this formula come from?
A3 All plants and animals produce some levels of Squalene.
Mid to deep water sharks contain a higher concentration of
squalene in their oil and it is from these sharks that Wagner
Squalene 1000 sources its squalene from.