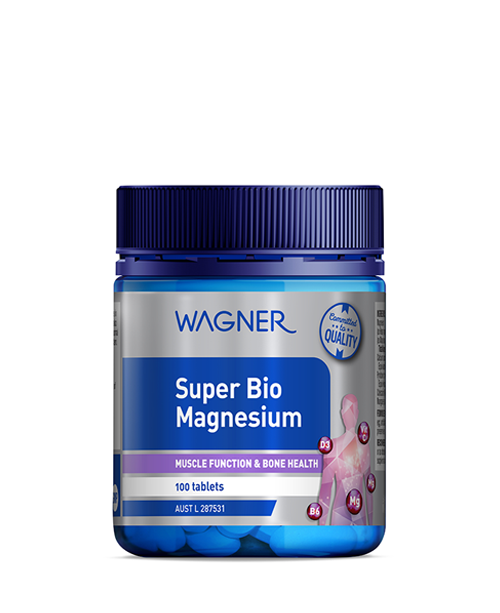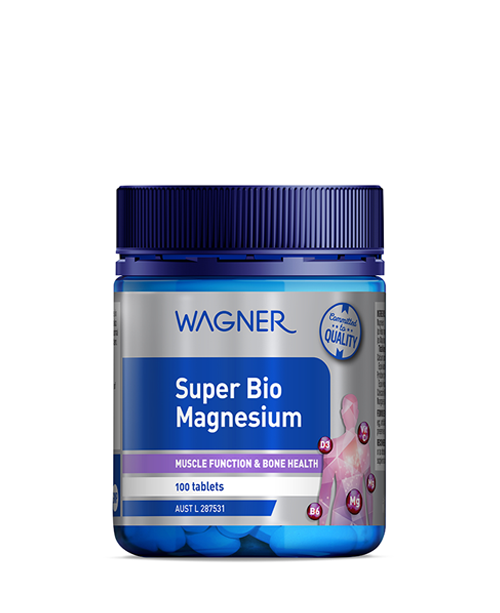 Contains Magnesium to support proper muscle and nerve function and it plays a role in muscle contraction. Contains Vitamin D which is necessary for the normal development of bones and teeth and for supporting healthy bone mineral density. Contains Vitamin C which is necessary for the manufacture of collagen in the body.
Available in: 100 Tablets
Magnesium plays a necessary role in more than 300 enzyme reactions in your body. It is involved in synthesising DNA and producing energy. Magnesium also helps your nerves and muscles to function properly. Magnesium, plays a role in muscle contraction. It is also important for normal bone structure and may help to maintain a healthy cardiovascular system.
Recommended Adult Dosage:
Take 1 tablet daily as directed by your healthcare professional.
Formulated without:
Gluten, wheat, dairy products, egg, artificial flavours, artificial sweeteners or preservatives.
Suggested Companion Products:
Wagner Mega B+: Contains B vitamins which support the health and function of the nervous system.
Wagner Calcium + Vit D + K: Contains nutrients which support healthy bone mineralisation and density.
Precautions and contra-indications:
Always read the label; take only as directed. Vitamin supplements should not replace a balanced diet.
MUSCLE FUNCTION & BONE HEALTH
Each tablet provides Magnesium
(as Heavy magnesium oxide) 440mg
(as Magnesium phosphate pentahydrate) 60mg
Total Magnesium 500mg
Calcium ascorbate dihydrate 60.7mg
Equiv. Ascorbic acid (Vitamin C) 50mg
Pyridoxine hydrochloride 50mg
Equiv. Pyridoxine (Vitamin B6) 41mg
Colecalciferol (Vitamin D3) 2.5μg
Manganese (as Manganese amino acid chelate) 4mg