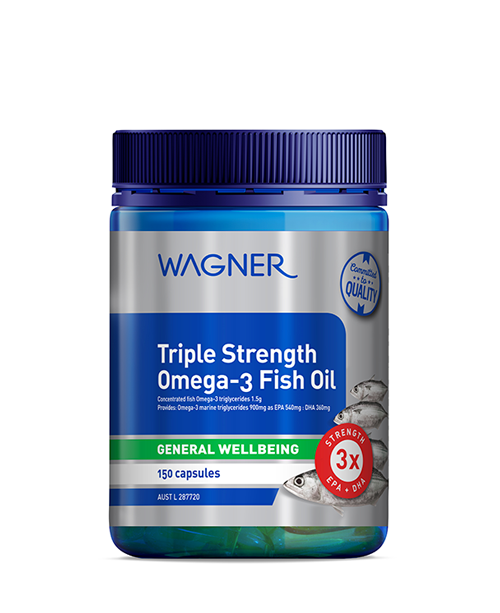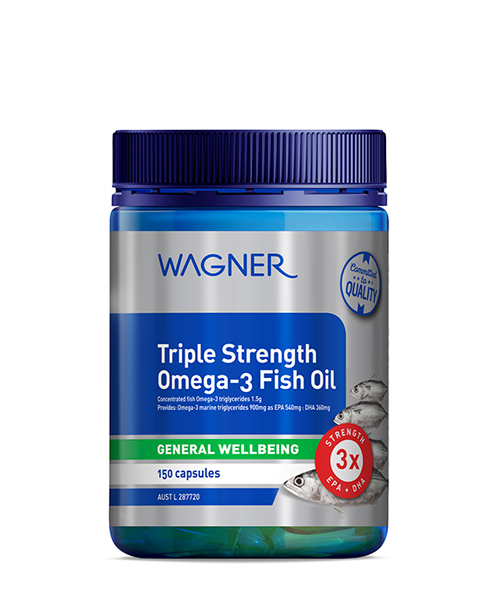 This formula contains Fish Oil which:
Supports the health and function of the cardiovascular system
Supports the health of the brain and normal cognitive function
Supports the health and function of the nervous system
Supports the health and function of the eyes
May assist in the relief of dry eye syndrome
Available in: 150 Capsules
Omega-3 fatty acids are important as the body cannot produce them and therefore they can only be obtained from the diet. One of the richest natural sources of Omega-3 essential fatty acids (EFAs) is the oil extracted from cold-water fish. This triple-strength Omega-3 formula provides a concentrated dose of Omega-3 fatty acids which are essential for normal growth and development.
Recommended Adult Dosage:
Take 3 capsules daily with food and a glass of cold water or as directed by your healthcare professional.
GENERAL WELLBEING
TAKE WITH FOOD
Precautions and contra-indications:
Always read the label; take only as directed, and
if symptoms persist, consult your healthcare
professional.
Formulated without:
Gluten, wheat, dairy products, egg, soy, corn, artificial
colours, artificial flavours, artificial sweeteners.
Suggested Companion Products:
Wagner Women's/Men's MultiViteTM: Helps in the
maintenance of general wellbeing.
Wagner Vitamin C 1000 Chew: Vitamin C is an
antioxidant. It aids collagen production and supports
healthy skin and connective tissue formation.
Each capsule provides
Concentrated fish Omega-3 triglycerides 1.5g
Provides: Omega-3 marine triglycerides 900mg
Equiv. Eicosapentaenoic acid (EPA) 540mg
Equiv. Docosahexaenoic acid (DHA) 360mg