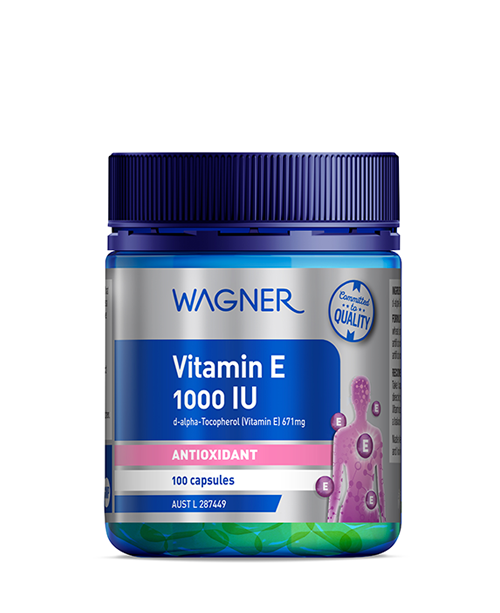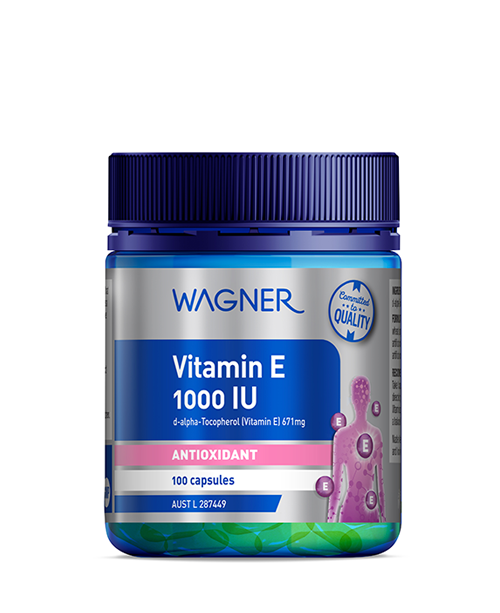 Contains the antioxidant Vitamin E, which may help to protect your body against the effects of free radical damage.
Supports cardiovascular and immune system health.
Helps to maintain general wellbeing.
Vitamin E is a fat-soluble nutrient, with antioxidant properties that may help to protect the body against free radical damage.
Vitamin E also supports normal immune system function, and the health of the cardiovascular system.
Recommended Adult Dosage: Take 1 capsule
daily with food or as directed by your healthcare professional.
ANTIOXIDANT
Suggested Companion Products:
Wagner Hair, Skin & Nails: This formula includes Zinc and Biotin as well as Horsetail stem extract, which contains naturally occurring silica. It also provides Vitamin C to support collagen production, and assist with skin healing and repair.
Wagner Grape Seed 12000: May help to protect the body against free radical damage.
TAKE WITH FOOD
Precautions and contra-indications:
Always read the label; take only as directed.
Vitamin supplements should not replace a balanced diet.
Formulated without:
Gluten, wheat, dairy products, egg, corn, artificial
colours, artificial flavours or artificial sweeteners.
Each capsule provides
d-alpha-Tocopherol (Vitamin E 1000 IU) 671mg
Q1 What is Vitamin E, and how does it support general
wellbeing?
A1 Vitamin E is a fat soluble nutrient with powerful antioxidant
properties. These properties mean that it can help to protect
the cells throughout your body from free radical damage.
Free radicals are highly reactive molecules that form in
your body during exposure to sunlight, computer screens,
pollution, cigarette smoke, stress, and sometimes just natural
metabolic processes. They interact with molecules in your cell
membranes, resulting in oxidative damage.
Q2 How does Vitamin E support immunity?
A2 Researchers have long known that Vitamin E plays a role in
supporting the health and function of the immune system.
However, they are still investigating exactly how it does this.
Clinical trials suggests that Vitamin E supplementation in
elderly individuals may enhance the immune response. 1,2