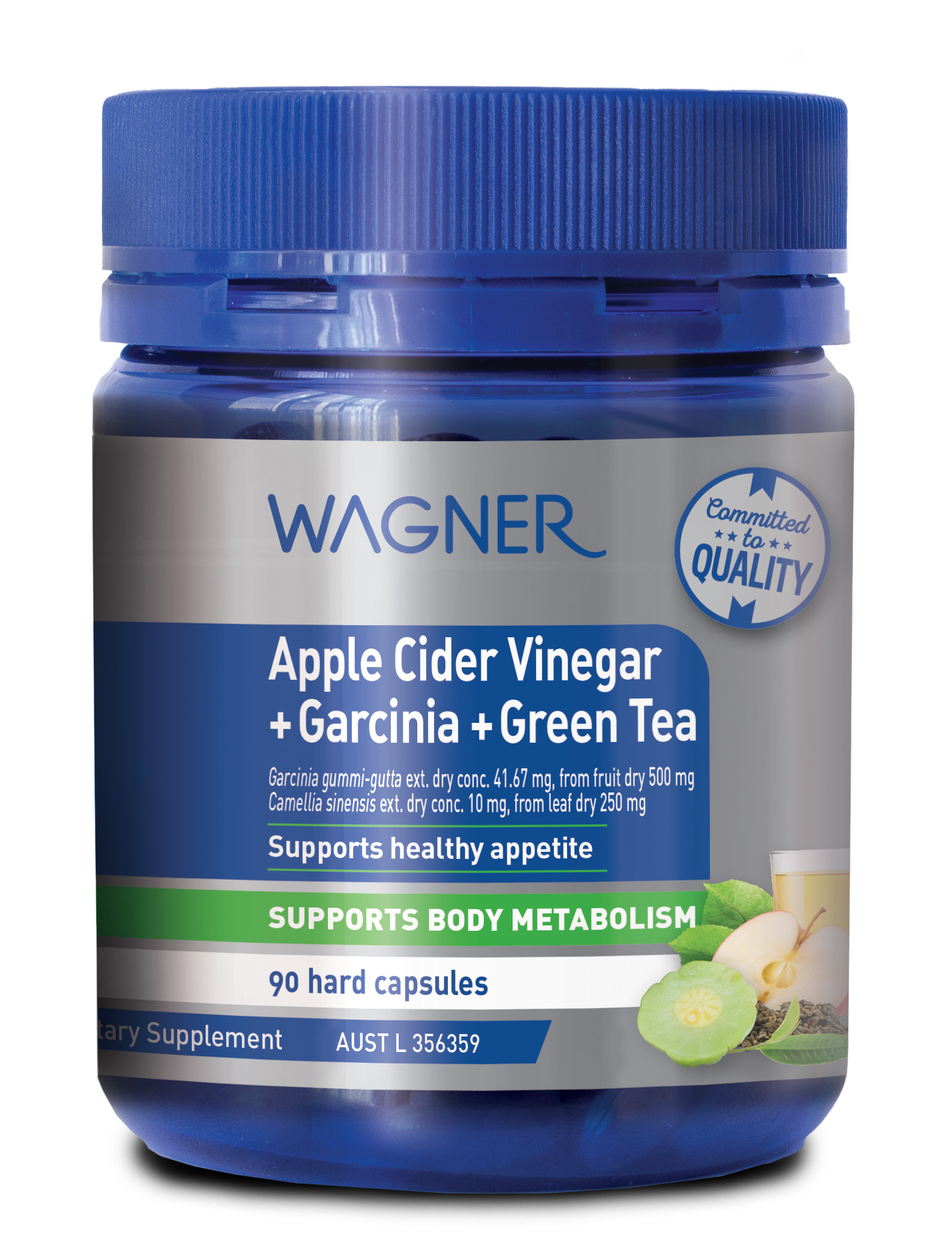 This product contains a combination of Garcinia, Green Tea and naturally fermented Apple Cider Vinegar. Garcinia helps in the maintenance of a healthy body weight after exercise in healthy individuals, supports healthy body metabolism and supports healthy appetite. Wagner Apple Cider Vinegar + Garcinia + Green Tea is supplied in the convenience of capsules.
features
■ Helps in the maintenance of a healthy body weight after exercise in healthy individuals
■ Helps support healthy body metabolism
■ Supports healthy appetite
Recommended Adult Dosage:
Adults only: Take 2 hard capsules with water, 3 times daily. Or as directed by your healthcare professional.
Precautions and contra-indications:
Should be used in conjunction with a program of reduced intake of dietary calories and increased physical activity. Not suitable for use in children under the age of 12 years or pregnant women except on the advice of a healthcare professional. Always read the label. Take only as directed. Dietary supplements can only be of assistance if dietary intake is inadequate. If taking prescription medication or if in doubt, consult your healthcare professional.
Contains: Sulfites.
Formulated without: Gluten, wheat, yeast, dairy products, egg, artificial flavours, artificial sweeteners.
Active Ingredients:
Garcinia gummi-gutta (Garcinia) ext. dry conc. 41.67 mg
from fruit dry 500 mg
Camellia sinensis (Green Tea) ext. dry conc. 10 mg
from leaf dry 250 mg
Contains: Apple Cider Vinegar powder, encapsulating aids.
Frequently asked questions:
Q1 What are the health benefits of Green Tea?
A1 Green tea is high in antioxidants such as Epigallocatechin
gallate (EGCG) and caffeine. Both ECGC and caffeine
are believed to assist with fat burning and help with
weight loss.1-3
Q2 What are the health benefits of Garcinia?
A2 The rind of Garcinia contains a chemical called hydroxycitric
acid (HCA). Research suggests that HCA can inhibit an
enzyme called adenosine triphosphatase-citrate-lyase.
This enzyme plays a vital role in the production of fat
in the body. By inhibiting citrate lyase, HCA is believed
to slow or block fat production in the body4 and for this
reason it may assist in short-term weight loss.5
HCA is also believed to reduce appetite by increasing
the availability of serotonin in the brain. Serotonin is a
neurotransmitter (chemical messenger in the body) that
is known to suppress the appetite. Higher blood levels
of serotonin may help a person feel less hungry, and as
a result they might be satisfied with smaller food serves
which may lead to weight loss.6,7
Q3 What are the benefits of apple cider vinegar?
A3 The main active ingredient in apple cider vinegar is acetic
acid. Acetic acid is believed to have several health benefits,
including suppressing appetite to decrease food intake,8-10
increasing the body's ability to burn fat,11,12 and reducing fat
storage which may lead to reduced belly fat.13,14
For these reasons, apple cider vinegar is often a popular
addition to weight management programs.
Q4 How long should I take this before I see results?
A4 Research shows that using Garcinia and Apple Cider Vinegar
for 12-16 weeks can lead to a reduction in visceral fat and
overall body fat, when combined with a healthy diet.15-18