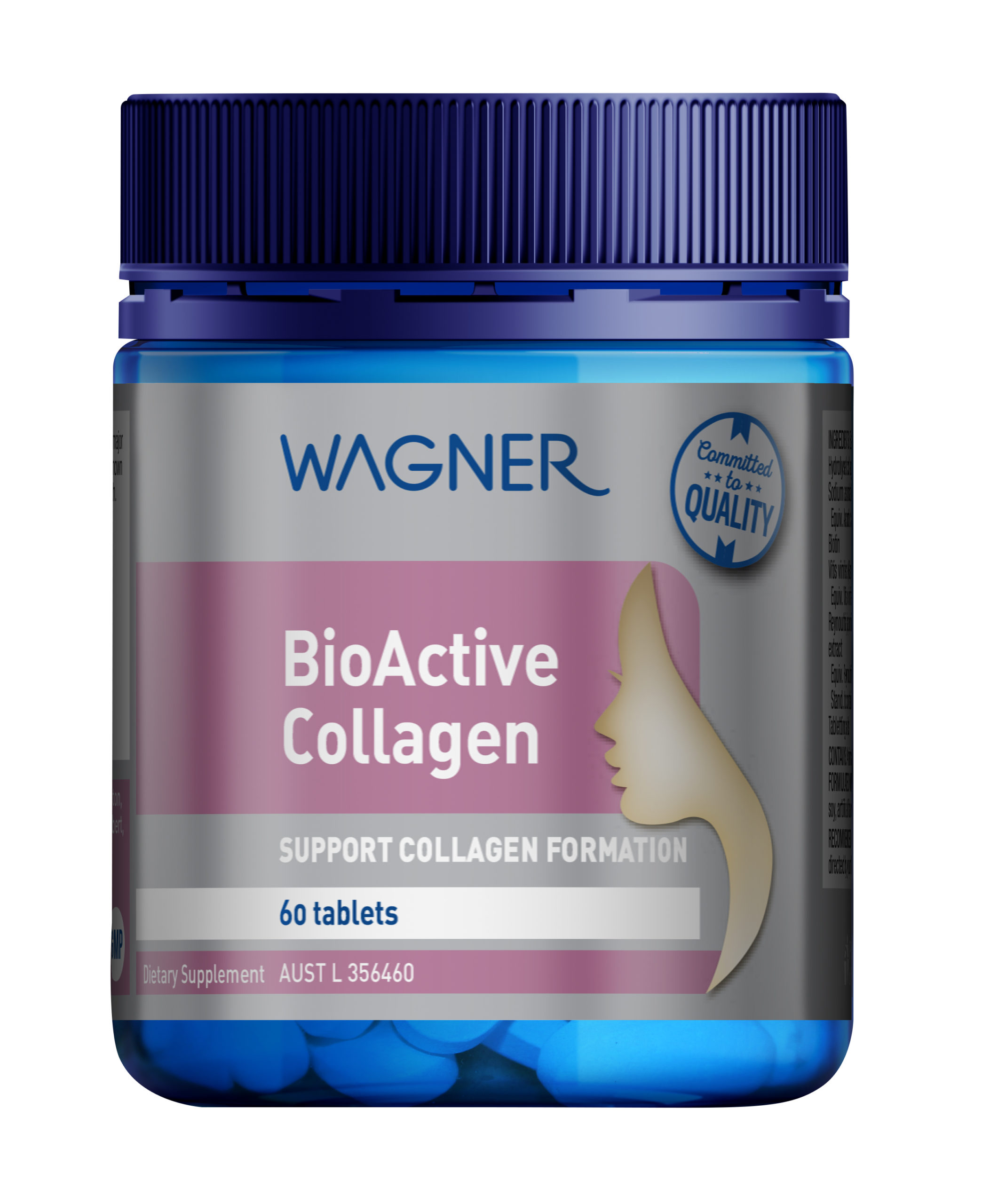 Features
Contains Hydrolysed collagen which supports skin elasticity and firmness
Formulated with Vitamin C to support connective tissue production
Contains Grape seed and Resveratrol which contain antioxidants to help protect the body against free radical damage to the cells in the body
Key selling points
– Supports skin elasticity and hydration
– Supports collagen production and overall skin health
– Contains Biotin to support healthy nails
Precautions and contra-indications:
Always read the label and take only as directed
Vitamin supplements should not replace a balanced diet
Formulated without:
Gluten, wheat, dairy products, egg, soy, artificial
flavours, artificial sweeteners or preservatives.
Contains: Animal products.
Recommended Adult Dosage:
Take 3 tablets daily, or as directed by your healthcare professional.
Ingredients:
Each capsule provides
Hydrolysed collagen 833mg
Sodium ascorbate 17.1mg
Equiv. Ascorbic acid (Vitamin C) 15.2mg
Biotin 12micrograms
Vitis vinifera (Grape) seed extract 16.7mg
Equiv. Vitis vinifera seed dry 2g
Reynoutria japonica root dry stand. extract 300micrograms
Equiv. Reynoutria japonica root dry 4.5mg
Stand. to contain Resveratrol 60micrograms
Tabletting aids.
FAQ
Q1 What is collagen?
A1 Collagen is a naturally-occurring protein needed for the support and structure of the skin. It is an essential component of tendons, ligaments and cartilage. Collagen is also vital for healthy skin where it supports elasticity and hydration. The breakdown of collagen leads to wrinkles and thin skin associated with the ageing process.
Collagen is comprised of amino acids which make up connective tissue that aids skin firmness, suppleness and maintenance of the dermal layers. Wagner BioActive Collagen provides important nutrients that support skin repair from the inside out. This helps to maintain radiant, smooth, younger-looking skin.
Q2 What is hydrolysed collagen?
A2 Hydrolysed collagen, also known as collagen peptide or collagen hydrolysate, is a type of collagen that can be easily absorbed into the bloodstream when taken in supplemental form.
Q3 How does Grape seed and Resveratrol assist healthy skin?
A3 Grape seed is a rich source of a type of antioxidant called
Oligomeric Proanthocyanidins, or OPCs. These powerful OPCs are known for their free radical scavenging abilities. Grape seed extract has been used to support skin health by supporting circulation and assisting the strength of collagen fibres.
Resveratrol is a naturally occurring antioxidant primarily found in red wine and grapes. Antioxidants help to protect the body against free radical damage that is often associated with premature ageing.
Q4 Why has Vitamin C and Biotin and been added to this formula?
A4 Vitamin C is an important antioxidant. It aids collagen production and supports healthy skin and connective tissue formation. Biotin aids in the metabolism of protein-building amino acids that are essential for healthy skin, hair and nail growth.