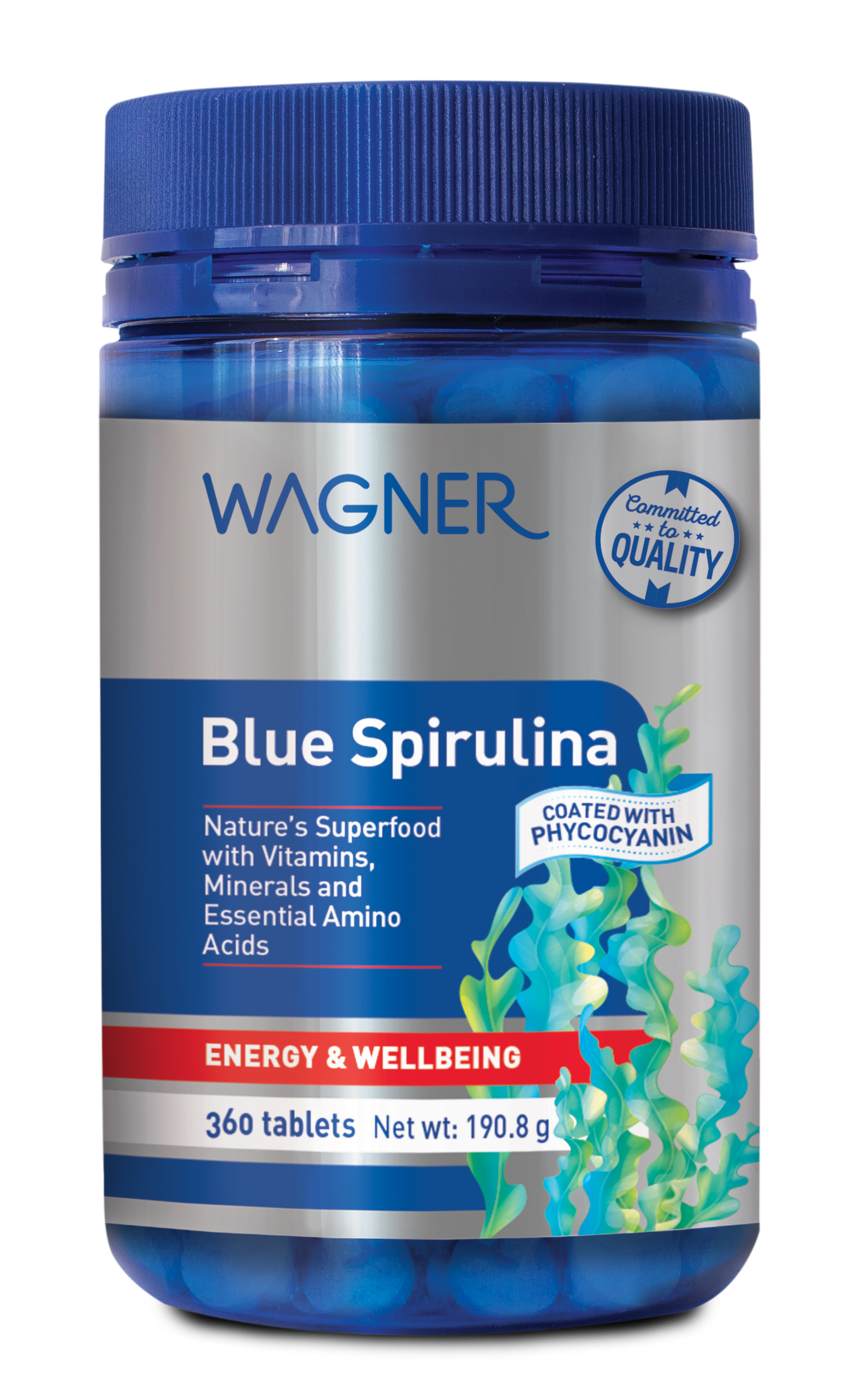 Nature's Superfood with Vitamins, Minerals and Essential Amino Acids
Wagner Blue Spirulina is a powerful natural algal super food rich in vitamins, minerals, antioxidants and essential amino acids. This unique bioavailable combination with phycocyanin, makes it the perfect spirulina designed for those who need optimum nutritional support.
Recommended Adult Dosage:
Adults only: 6 tablets (3 g) daily. Increased amounts of up to 18 tablets daily can be taken as advised by your healthcare professional.
Formulated without:
Gluten, wheat, yeast, dairy, egg, artificial colours, artificial flavours, artificial sweeteners.
Storage Information:
Store below 30°C in a dry place. Keep out of reach of children. Do not use if cap ring or seal under cap is broken or missing
Active Ingredients:
Each tablet contains:
Spirulina powder 500mg, Phycocyanin powder E18 10mg
(Spirulina extract), PVP40, Magnesium stearate, HPMC E15,
Titanium Dioxide, PEG 8000
NUTRITION INFORMATION
Servings per packaging: 60
Serving size: 3.2 g (6 tablets)
Quantity per Serving* / Quantity per 100 g*
Energy 48 kJ 1509 kJ
Protein 1.82 g 57.0 g
Fat, total 0.23 g 7.2 g
Saturated fat 0.16 g 5.1 g
Carbohydrate 0.52 g 16.1 g
Sugars 0.02 g 0.5 g
Sodium 20.2 mg 630.0 mg
Vitamin B2 0.11 mg 3.4mg
Iron 0.90 mg 28.0 mg
Frequently asked questions:
Q1 Why is spirulina a superfood?
Spirulina is rich in vitamins, minerals, antioxidants and
essential amino acids including protein, Vitamin B2 and iron.
On a weight for weight basis, Spirulina is one of nature's
richest sources of nutrition.
Q2 What is Phycocyanin?
Phycocyanin is also known as Blue Spirulina. It is extracted
from green spirulina and is the substances that gives the
powder its vivid blue colour.
Q3 How much protein is in spirulina?
Each serve Wagner Blue Spirulina contains 1.82 grams
protein. On a weight for weight basis, this is almost double
the amount of protein that's in a chicken breast and 3x as
much protein as in beef.
Q4 Does Spirulina contain iron?
One hundred gram spirulina contains 28mg iron. This is 10x
more iron than a similar serve of spinach or 15x more than
lean beef.
Q5 Do you have any serving suggestions?
Wagner Blue Spirulina is a versatile food. The tablets can be
crushed or dissolved and made into a Spirulina Latte or a
smoothie, mixed into a lemonade or other cold sparkling
drink, and in summer make a refreshing popsicle. It can also
be used in baking to give homemade pancakes, snack bars,
bliss balls etc. a fun blue colour.