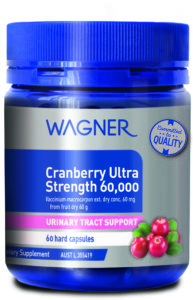 Cranberry supports urinary tract health and provides antioxidant support. Wagner Cranberry Ultra Strength 60,000 is supplied in the convenience of a one-a-day dose.
Recommended Adult Dosage:
Take 1 hard capsule with water, once daily. Or as directed by your healthcare professional.
Precautions and contra-indications:
If symptoms persist, talk to your health professional. Always read the label. Take only as directed. Dietary supplements can only be of assistance if dietary intake is inadequate. If taking prescription medication or if in doubt, consult your healthcare professional.
Contains: Sulfites.
Formulated without:
Gluten, wheat, yeast, dairy products, egg, artificial flavours, artificial sweeteners.
Active Ingredients:
Each hard capsule contains:
Vaccinium macrocarpon (Cranberry) ext. dry conc. 60 mg
from fruit dry 60 g
Contains encapsulating aids.
Frequently asked questions:
Q1 Why are women more prone to urinary tract infections than men?
A1 Urinary tract infections are approximately 50 times more
common in women than in men. It is estimated that nearly
33% of women has a urinary tract infection before they are
24 years old, and that 50% experiences at least one UTI
during their lifetime.1
This is primarily because in men, the urethra is about
20 cm long, while in women, it is only about 4 cm long.
With a shorter route to travel, it is easier for bacteria
to reach the bladder in women than it is in men.
In addition to this, the site where the urinary tract exits
the body is in women located very close to the anus, which
is a common source of bacteria. Therefore, bacteria can
easily migrate across the perineum (the narrow band of
flesh between the anus and the vagina) to the urethra.
This is not the case in men.
Q2 How does cranberry support urinary tract health?
A2 Cranberries can inhibit bacterial growth in the urine.
Several clinical trials have shown that cranberries
can also inhibit the adhesion of bacteria to the mucous
membranes of the bladder. This is how it can help support
urinary tract health.2,4.
Additionally, research has shown that cranberry can
help decrease the number of UTIs over a 12-month
period, particularly for women with recurrent UTIs.3