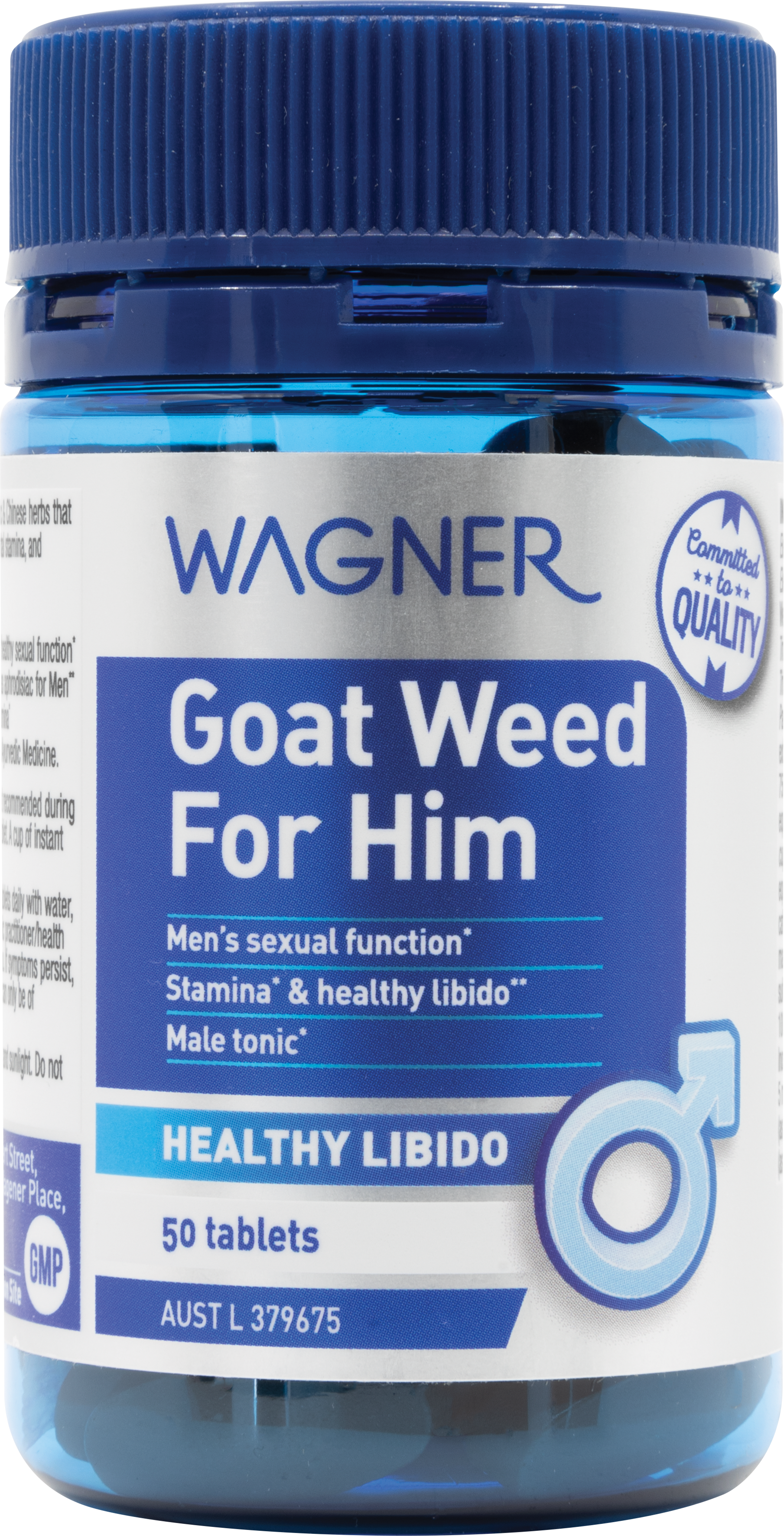 Used in Traditional Chinese & Ayurvedic Medicine to:
Support stamina & endurance
Enhance healthy libido
Maintain healthy sexual function
Features
Contains Horny Goat weed traditionally used in Chinese medicine as yang tonic and support healthy sexual function.
Contains Tribulus terrestris traditionally used in Ayurvedic medicine to enhance healthy libido, and as aphrodisiac for men.
Contains Korean ginseng traditionally used in Chinese medicine to support mental & physical stamina.
Wagner Goat Weed For Him contains combination of Ayurvedic & Chinese herbs that are known to enhance healthy libido, support physical and mental stamina, and maintain healthy sexual function.
Recommended Adult Dosage:
Adults Only: Take 2-3 tablets daily with water, or as directed by your health professional. Talk to a Ayurvedic practitioner/health professional if you are unsure if this medicine is right for you.
Precautions and contra-indications:
Always read the label and follow directions for use. If symptoms persist, talk to your healthcare professional.
WARNING:
Caffeine intake more than 200 mg per day is not recommended during pregnancy or breastfeeding. Contains 15 mg caffeine per tablet. A cup of instant coffee contains approximately 80 mg of caffeine.
Formulated without:
Gluten, wheat, animal products, dairy products, egg, soy, artificial flavours, artificial sweeteners or preservatives.
Ingredients:
Each tablet provides: Citrus bioflavonoids extract 25 mg,
Eleutherococcus senticosus (Siberian Ginseng) root dry extract 50 mg
equiv. Eleutherococcus senticosus root dry 500 mg, Epimedium sagittatum
(horny Goat Weed) herb top extract 150 mg equiv. Epimedium sagittatum
herb top dry 3 g, Tribulus terrestris fruit dry extract 30 mg equiv. Tribulus
terrestris fruit dry 1.5 g, Tribulus terrestris root dry extract 30 mg equiv.
Tribulus terrestris root dry 1.5 g, Panax ginseng (Korean Ginseng) root dry
extract 250 mg equiv. Panax ginseng root dry 750 mg, Ginkgo biloba leaf
dry extract 10 mg equiv. Ginkgo biloba leaf dry 500 mg, Paullinia cupana
(Guarana) seed dry extract 100 mg equiv. Paullinia cupana seed dry 500
mg equiv. caffeine 14 mg, Magnesium (as heavy magnesium oxide) 25
mg, Copper (as cupric sulfate) 50.2 microgram, Cyanocobalamin 100
microgram, Folic acid 50 microgram, Inositol 5 mg, Nicotinamide 10
mg, Riboflavin 5 mg, Zinc (as Zinc oxide) 2 mg, Pyridoxine (as pyridoxine
hydrochloride) 8.2 mg, Thiamine (as thiamine nitrate) 1.62 mg.
Frequently asked questions:
Q1 What is goat weed?
Goat weed is a traditional Chinese medicinal herb known
as epimedium or yin yang huo. It comes from a flowering
shrub native to China and has been used in traditional
Chinese medicine to treat fatigue and low libido for
thousands of years. The active ingredient is icariin, an
extract of the Epimedium plant that's reported to benefit
people for healthy libido.
Q2 What Does Horny Goat Weed Do?
As its names implies, horny goat weed has long been
used to boost sexual activity in men and women. Both
men and women have erectile tissue that respond to a
compound in horny goat weed called icariin. Icariin has
been found to act like a phosphodiesterase-5 inhibitor.
Icariin can therefore help support circulation to sexual
organs.