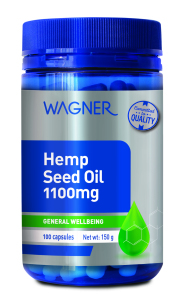 Hemp Seed oil provides a balanced source of omega essential fatty acids. This formula contains extra virgin, cold pressed, organic Hemp Seed oil supplied in the convenience of a capsule.
Features
This formula:
■ Contains extra virgin, cold pressed, organic Hemp Seed oil
■ Provides a balanced source of omegas 3, 6 and 9
Serving Suggestion:
Adults: Take 1-3 capsules daily, best taken with food.
Precautions and contra-indications:
Always read the label. Take only as directed.
If taking prescription medication or if in doubt, talk to your health professional.
Contains: Soya bean products and sulfites.
Formulated without:
Gluten, wheat, yeast, dairy products, egg, artificial
colours, artificial flavours, artificial sweeteners.
Suggested Companion Products:
■ Cod Liver Oil 1000: to support skin health
Each capsule contains:
Organic Hemp Seed Oil 1.1 g
Hemp Seed Oil (73%), Gelatin, Glycerol,
Water, Antioxidant (d-alpha tocopherol).
NUTRITION INFORMATION
Servings per packaging: 100
Serving size: 1.501 g (One Capsule)
Quantity per Serving* / Quantity per 100 g*
Energy 47 kJ / 3100 kJ
Protein 0.20 g / 13.6 g
Fat, total 1.10 g / 73.4 g
– saturated 0.12 g / 8.1 g
– polyunsaturated 0.84 g / 55.7 g
– omega 3 (ALA) 0.19 g / 12.8 g
– omega 6 (LA) 0.61 g / 41.0 g
– omega 6 (GLA) 0.02 g / 1.5 g
– monounsaturated 0.14 g / 9.5 g
– omega 9 0.14 g / 9.3 g
Carbohydrate 0.00 g / 0.0 g
Sodium 1 mg / 80 mg
Q1 What is hemp seed oil?
A1 Hemp seed oil is made from cold-pressed hemp seeds.
It is rich in three essential fatty acids: omega 3 (alpha
linolenic acid), omega 6 (Linoleic acid and Gamma Linolenic
acid) and omega 9 (Oleic acid). They are called 'essential'
because the body cannot make them, but it needs them
as they have been linked to several health benefits.
Q2 Who would benefit from taking hemp seed oil?
A2 Studies have shown that omega 3 and omega 6 essential
fatty acids in hemp seed oil may help relieve dry skin
and improve itchy skin, e.g. in dermatitis or eczema.
Researchers have found that supplementing with omega 3
and omega 6 essential fatty acids for 20 weeks helped
improve skin dryness and itchiness in those with atopic
dermatitis, and that those suffering with eczema could
decrease the use of medicated creams after that period
of time.1 Due to the anti-inflammatory effects of the
essential fatty acids, hemp seed oil might also beneficial
in acne.7
Q3 What else does it do?
A3 Gamma-linolenic acid (GLA), one of the omega 6s found
in hemp seeds, may help improve PMS symptoms such
as breast swelling and tenderness, fluid retention and
bloating.2
Whilst PMS can have many different causes, sensitivity
to the hormone prolactin is thought to play a role.3 The
GLA found in hemp seed can reduce the effects of prolactin
and may thus help relieve PMS symptoms.3
Research on women with PMS has found that taking
1 gram of essential fatty acids — including GLA — per
day for 6 months resulted in a significant decrease in
PMS symptoms.4
Other studies have found that supplementing with GLA
can help relieve mood swings during menopause.5,6
Q4 Will hemp seed oil show up in a drug test?
A4 Whilst hemp seeds come from the same species as cannabis
(marijuana), they come from a different plant variety and
contain little or no THC, the psychoactive compound in
marijuana. You will not get 'high' on hemp seed oil and it
will not show in drug tests.
Storage Information:
Store in a cool dry place below 30°C. Keep out
of reach of children. Do not use if seal under cap
is broken or missing.