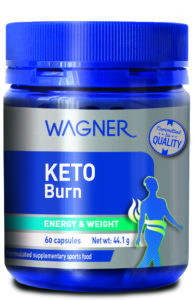 A combination of Coconut MCT's, Guarana, Cayenne Pepper, Green Coffee and L-Carnitine to support energy levels and support healthy body weight. Keto Burn supports a ketogenic lifestyle and exercise routine, and is supplied in easy to take capsule format.
Serving Suggestion:
Adults: Take 1-2 hard capsules with water, once daily.
Precautions and contra-indications:
WARNING: Formulated supplementary sports food. Contains caffeine (7.4 mg per capsule) and is not recommended for children under 15 years of age, pregnant or lactating women, or individuals sensitive to caffeine. Should only be used under medical or diatetic supervision. Not a sole source of nutrition and should be consumed in conjunction with a nutritious diet and an appropriate physical training or exercise program. Always read the label. Do not exceed daily dose.
Contains: Sulfites.
Formulated without:
Gluten, wheat, yeast, dairy products, egg, artificial flavours, artificial sweeteners.
Active Ingredients:
Each capsule contains:
MCT oil powder, Green coffee bean extract, Gelatin
capsule, LevoCarnitine Tartrate, Guarana fruit extract,
Calcium hydrogen phosphate dihydrate, Silica, Cayenne
pepper extract, Magnesium stearate, Potassium Iodide.
Frequently asked questions:
Q1 What is a ketogenic lifestyle?
A1 A ketogenic lifestyle includes a diet that is low in
carbohydrates but high in fats. Following a ketogenic diet
is a popular way to lose weight, as it increases the breakdown
of fat in the body. Many studies have shown a ketogenic diet
can lead to short- and long-term weight loss, in conjunction
with a healthy diet and exercise.1-3
Q2 What are the benefits of caffeine in this formula?
A2 Both Guarana and Coffee contain caffeine, which can boost
the metabolism by up to 10% over a 12-hour period. This
means that more calories are burned at rest, which may
assist weight management.15
Caffeine can also help boost energy levels. It works by
blocking a compound called adenosine that helps the
brain relax, and thus reduce physical and mental fatigue.13,14
Q3 What is carnitine and what does it do?
A3 Carnitine is an amino acid that plays an important role in
transporting fats into the cells, where they can be burned
for energy production.9-11 It is also believed that carnitine
may assist in weight management.12
Q4 Why does this formula contain Cayenne pepper?
A4 The main active ingredient in cayenne pepper is capsaicin,
a substance that may help speed up the metabolism and
encourage the body to burn energy instead of storing it
as fat.16-18
Cayenne can also help reduce the appetite. It is believed
to reduce the production of the hormone ghrelin. With lower
levels of ghrelin, you feel less hungry and feel full for longer,
both of which can assist in weight management.19-23
Q5 What are MCTs and what are their benefits?
A5 MCT stands for Medium Chain Triglycerides, a type of fat.1
MCTs are shorter in length and easier to digest than the
Long-Chain Triglycerides (LCTs) found in fats and oils such
as fish oil.
Medium Chain Triglycerides can help speed up the
metabolism and increase energy production.2-4 They may
help the body burn calories faster than LCTs by helping
the body stay in a fat-burning state known as 'ketosis'.5-7
Research also suggests that they may encourage the body
to burn abdominal fat or 'belly fat'.8