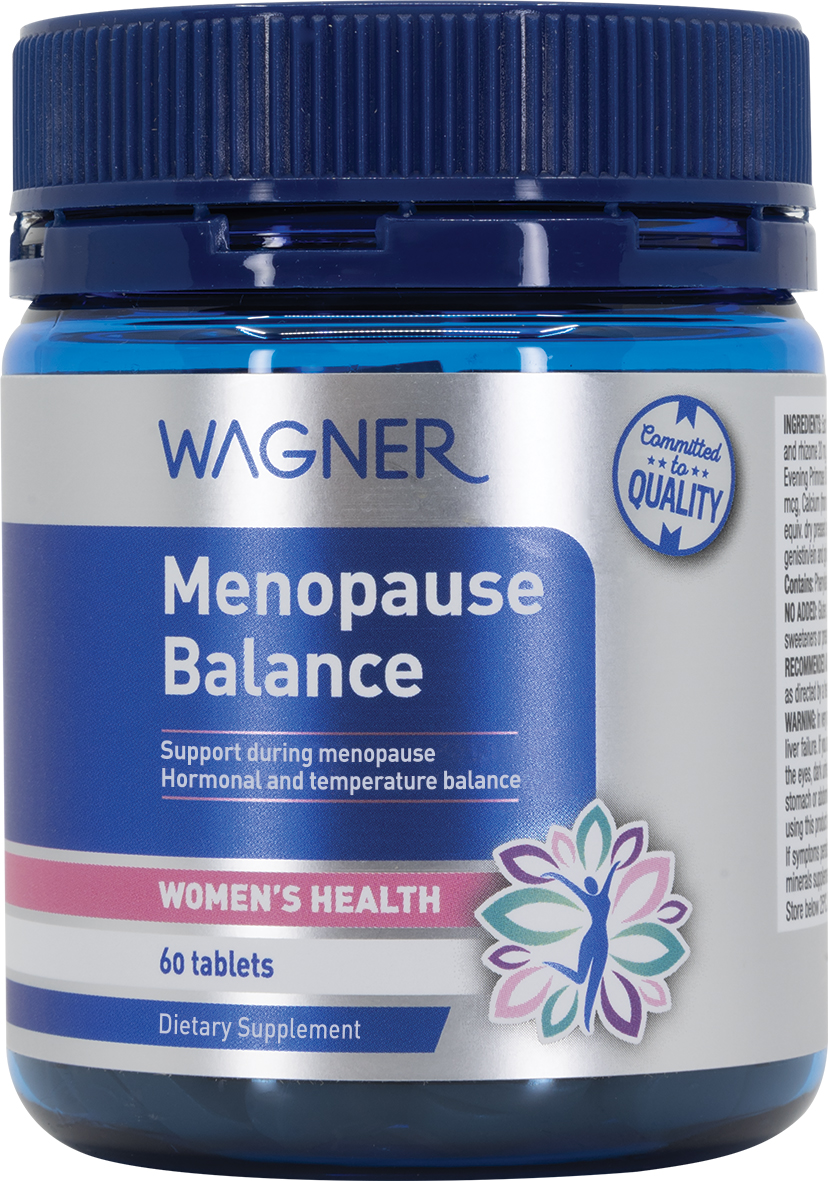 Blend of high quality herbs and ingredients that help reduce symptoms of menopause
Black Cohosh help reduce hot flushes and sleeplessness
Soy and sage helps relieve night sweats and hot flushes associated with menopause
Also contains Calcium and Vit D3 to support bone health
Key selling points
Formulated with Black cohosh, Sage, and Soy
Relieve night sweats and hot flushes associated with menopause
Reduces symptoms associated with menopause
Relieve sleeplessness
Also Supports bone health and strength
Relieve unrest in peri-menopausal women*
*Traditionally used in western herbal medicine
Recommended Dosage:
2 Tablets daily with meal or as directed by healthcare professional.
Precautions and contra-indications:
Contains Phenylalanine, soyabean products, sugars and sulfites.If symptoms persist, talk to your health professional. Vitamin and mineral supplements should not replace a balanced diet.
Warning:
In very rare cases, black cohosh has been associated with liver failure. If you are experiencing yellowing of the skin or whites of the eyes, dark urine, nausea, vomiting, unusual tiredness, weakness, stomach or abdominal pain, and/or loss of appetite, you should stop using this product and see your doctor.
No Added:
Gluten, lactose, wheat, dairy, egg and artificial sweeteners or preservatives.
Ingredients:
Each tablet provides:
Black Cohosh (Actaea racemosa extract 4
mg) equiv. dry root and rhizome 20 mg, Garden Sage (Salvia officinalis
extract 236.36 mg) equiv. dry leaf 1.3 g, Evening Primrose Oil 25 mg
equiv. gamma-linolenic acid 2.5 mg, Vitamin D3 (colecalciferol) 12.5
mcg, Calcium (from calcium citrate tetrahydrate) 162.5 mg, Soy Bean
(Glycine max ext. 86.25 mg) equiv. dry pressed seed cake min. 13.8
g, standardised to contain Isoflavones calculated as genistin/ein and
glycitin/ein 34.5 mg.
Frequently asked questions:
Q1 How long should I take the tablets?
A1 You should be able to see results in few days, however,
for best results tablets should be taken minimum 3 to 6
months. It can be taken for as long as required, provided
your health professional has been advised regarding any
other medication that you may be taking. If symptoms
persist or worsen, consult your healthcare professional
Q2 Can I take this with hormone therapy or other medications?
A2 Always consult your doctor before taking this medicine if
you are on other medication or therapy, or if you have any
other health conditions
Q3 Can I take this if I am pregnant or breastfeeding?
A3 No, we do not recommend the use of this medicine during pregnancy and/or lactation.
Q4 When and what is best way to take this?
A4 For best results, take with meals in evening, and 2 hours
away from any pharmaceutical medication.