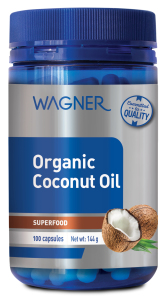 Coconut oil contains the goodness of medium-chain fatty acids, which is utilized by the body as an energy source. This formula contains unrefined, cold pressed, organic Coconut oil, supplied in the convenience of a capsule.
Features
This formula:
■ Provides all the goodness of coconut oil in convenient capsules
■ Contains unrefined, cold pressed, organic coconut oil
■ Provides a source of MCT's
Serving Suggestion:
Take 1-3 capsules daily, best taken with food.
Precautions and contra-indications:
Always read the label. Take only as directed.
If taking prescription medication or if in doubt,
talk to your health professional.
Contains: Sulfites.
Formulated without:
Gluten, wheat, yeast, dairy products, egg, artificial
flavours, artificial sweeteners.
Suggested Companion Products:
■ Apple Cider Vinegar + Garcinia
■ Apple Cider Vinegar + Garcinia + Green Tea
Each capsule contains:
Organic Coconut Oil 1 g
Organic Coconut oil (69%), Gelatin, Glycerol,
Purified Water, Colour (Titanium Dioxide).
NUTRITION INFORMATION
Servings per packaging: 100
Serving size: 1.44 g (One Capsule)
Quantity per Serving* / Quantity per 100 g*
Energy 41 kJ / 2850 kJ
Protein 0.22 g / 15.6 g
Fat, total 1.00 g / 69.5 g
– saturated 0.00 g / 64.7 g
Carbohydrate 0.00 g / 0.0 g
– sugars 0.00 g / 0.0 g
Sodium 1 mg / 92 mg