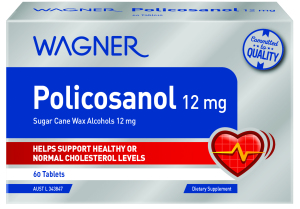 Key selling points
– May help maintain healthy or normal cholesterol levels
– Helps in the maintenance of healthy blood lipids
– Maintains the health of capillaries
– Helps maintain blood circulation to the peripheral areas
Features
Sugar cane wax alcohols 12 mg
Derived from Sugare Cane Wax
Safe for use with diabetics
Australian made
Two month supply
GMO Free
Halal
100% Vegetarian
100% Vegan
Recommended Adult Dosage:
Take 1 tablet daily in the evening, or as directed by your healthcare professional.
Precautions and contra-indications:
Always read the label.
Not recommended for use by pregnant and lactating
women. If pregnant or breastfeeding, seek medical
advice before use.
Keep out of reach of children.
Do not use if cap seal is broken or missing.
Store in a cool dry place below 30ºC.
Formulated without:
Dairy products, sulfites, animal products.
Suggested Companion Products:
Wagner Men's/Women's MultiVite™: Helps in the maintenance of general wellbeing.
Wagner Vitamin C 1000 Chew: Vitamin C is an antioxidant. Vitamin C can regenerate oxidised Vitamin E in the body.
Each Tablet contains:
Sugar cane wax alcohols 12 mg
Q1 Why should I take Policosanol over CoQ10?
A1 The two are products are quite dierent, I would
normally suggest someone taking statins
supplement with a CoQ10 product as statins are
known to deplete the body of CoQ10.
Q2 Why is it important to maintain healthy cholesterol
levels in the body?
A2 It is important to maintain healthy cholesterol levels
to reduce the risk of heart related health issues and
the build up of cholesterol in the vascular system.