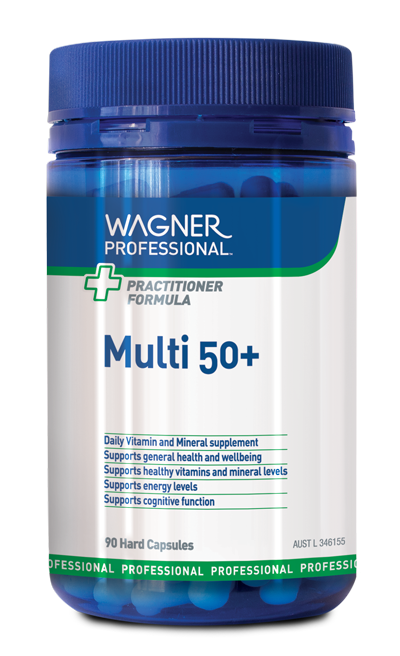 Customer Profile
✚ Men and women over the age of 50
✚ Men and women over 50 feeling tired
✚ Men and women over 50 with an active lifestyle
Product Benefits
✚ Contains 26 ingredients specifically selected for those over the age of 50
✚ Contains the biologically active form of Vitamin B2, B3, B6 and B12
✚ Convenient 1-a-day dose
✚ Capsule for convenience and easy absorption
Why a multi for 50+?
Data from the Australian Bureau of Statistics shows that only 8% of those over 65 eat the recommended 5 serves of vegetables and 2 serves of fruit per day. They are at high risk of not getting enough essential vitamins and minerals through their diet.1
In addition to this, nutritional needs change with age. Nutrients such as calcium and the vitamins D, K and B12 become more important. Unfortunately, the body's ability to absorb these nutrients from the diet declines with age. It is estimated that 20% of the older population have low stomach acid, which affects the absorption of vitamin B12, calcium, iron and magnesium2, and that up to 30% of those over 50 have a reduced ability to absorb vitamin B12 from their diet3 while up to 40% of the elder population have low or deficient levels of Vitamin B1.4
Vitamin B5 to support cognitive function and energy levels system
As part of Coenzyme-A (CoA), Vitamin B5 is involved in the synthesis of the neurotransmitter acetylcholine. The brain uses acetylcholine for a number of cognitive processes, including memory encoding, increased neuroplasticity, and increased levels of concentration.13,14
Vitamin B5 also plays an important role in energy production by helping extract energy from starches, sugars,
and fats.15-17
Support healthy bones
People over 50 years of age have an increased need for calcium, vitamin D3 and vitamin K2 to help maintain healthy bones18, but studies show that absorption of calcium in the digestive tract declines with age.19,20 Aging can make the skin thinner, which reduces its ability to make vitamin D3.21 Vitamin D helps the body absorb calcium. Vitamin K2 (Menaquinone 7) activates osteocalcin proteins which help move calcium into bone, and matrix Gla proteins (MGP) which bind excess calcium to prevent deposit in the arteries and circulatory system.
While it is well-established that 1 in 4 women over the age of 50 is at risk of developing osteoporosis, it is little known that 25% of all fractures in those over 50 occur in men.22,23
Calcium citrate used in this formula is significantly better absorbed than calcium carbonate.24
Vitamin C to reduce free radicals formed in the body
As people age, free radical damage increases. Those over 50 years of age need higher levels of antioxidants to bring their free radical levels back to normal. Free radical damage plays a role in the development of many degenerative diseases, including diabetes, atherosclerosis, cardiovascular diseases, inflammation and neurodegenerative diseases.25 Vitamin C is a water-soluble free radical scavenger that can help reduce oxidative damage resulting from the reactive oxygen species (ROS), and it also regenerates vitamin E in cell membranes in combination with Glutathione.26,27
Support for those over the age of 50
Data shows that stress affects more than half (52%) of those over 65, with serious illness and the death of a loved one the most common stressors.5 Chronic stress can potentially lead to anxiety and depression. Clinical studies show that supplementing with B-vitamins may have a positive impact on mental health in older adults and that optimizing B-vitamin status could help reduce depression in this age group.6 This formula contains Vitamin B2, Vitamin B3, Vitamin B6 and Vitamin B12 in the biologically active forms Riboflavin sodium phosphate, Nicotinamide, Pyridoxal 5´ phosphate and Mecobalamin (co-methylcobalamin) to ensure it is well utilized and not affected by metabolic defects.
The risk at cardiovascular disease increases rapidly with age and is about 13 times as high in those over 75 (13%) than it is in those between 45-55 (1%). According to ABS data, 26% of those over 75 are at risk of developing heart disease, stroke or vascular disease.7
Increasing evidence links thiamine (Vitamin B1) deficiency with many cardiovascular diseases and risk factors8,9 and studies suggest that taking thiamine supplements may help improve heart health in the elderly population. Taking a daily multivitamin should provide sufficient thiamine.10
As the eyes change as we age, conditions such as Age-related Macular Degeneration (AMD) become more common. AMD is a disease that gradually destroys sharp, central vision. Central vision is needed for seeing objects clearly and for common daily tasks such as reading and driving.11
Betacarotene, vitamin E, vitamin C, copper and zinc have all been identified as nutrients that support eye health in the ground-breaking AREDS and AREDS2 studies, and have been included in this formula to support eye health and vision.12
Summarised
✚ This formula contains 26 specially selected ingredients to support those over the age of 50
✚ Contains Vitamin B2, B3, B6 and B12 in the biologically active form
✚ Contains Vitamin B5 to support cognition and memory
✚ Contains Calcium, Vitamin D and Vitamin K to support bone health
Companion Products
✚ Wagner Professional Ultra Magnesium Sleep Powder if the customer has problems falling or staying asleep
✚ Wagner Professional Turmeric 17,500 if the customer has painful, swollen joints
✚ Wagner Professional Ultra Omega to for additional cognitive function and brain function support
Storage Information
Store below 30ºC, in a dry place. Keep out of reach of children.
Approved Label Claim
Multi 50+ provides a comprehensive range of vitamins, minerals, antioxidants and nutrients. Multi 50+ has been specifically formulated to provide support for people 50 years and over, and is supplied in the convenience of an easy to take one capsule daily dose.
This formula contains:
– 26 specially selected ingredients
– Support for those over the age of 50
– Vitamin D3 to assist with Calcium absorption, and a diet deficient in Calcium can lead to osteoporosis in later life
– Vitamin B5 to support cognitive function and support energy levels
– Vitamin C to reduce free radicals formed in the body
Dose
WARNING: If you are pregnant – or considering becoming pregnant
– do not take Vitamin A supplements without consulting your doctor
or pharmacist. When taken in excess of 3000 micrograms retinol
equivalents – Vitamin A can cause birth defects. This medicine
contains selenium which is toxic in high doses. A daily dose of 150
micrograms for adults of selenium from dietary supplements should
not be exceeded. Adults: Take 1 hard capsule with water, once daily.
Or as directed by your healthcare professional.
CAUTIONS/CONTRAINDICATIONS
Vitamins and minerals can only be of assistance if dietary intake is
inadequate. Do not use if cap seal or if inner seal is missing, torn or
broken. Contains soya bean products and sulfites.
Medicine interactions
If taking prescription medication or if in doubt consult your
healthcare professional.
Contains no Added
Wheat, gluten, yeast, dairy products, egg, artificial flavours.
ACTIVE INGREDIENTS: Each hard capsule contains:
Vitamin A (as Retinyl Acetate) 430 micrograms
equiv. to 375 micrograms retinol equivalents
Betacarotene 4 mg
Thiamine hydrochloride 50 mg
equiv. to thiamine (Vitamin B1) 39.34 mg
Riboflavin sodium phosphate 15 mg
equiv. to riboflavin (Vitamin B2) 11.8 mg
Nicotinamide 50 mg
Calcium panthothenate 50 mg
equiv. to pantothenic acid (Vitamin B5) 45.8 mg
Pyridoxal-5-Phosphate monohydrate 15 mg
equiv. to pyridoxine (Vitamin B6) 9.57 mg
Mecobalamin (co-methylcobalamin) 40 micrograms
Menaquinone 7 50 micrograms
Biotin 100 micrograms
Inositol 50 mg
Choline bitartrate 50 mg
Colecalciferol (Vitamin D3 600IU) 15 micrograms
Calcium ascorbate dihydrate 60.52 mg
equiv. to Ascorbic acid (Vitamin C) 50 mg
Potassium iodide 157 micrograms
equiv. to iodine 100 micrograms
d-alpha-tocopheryl acid succinate 82.64 mg
equiv. to Vitamin E 100 IU
Vitis vinifera (Grape) ext. dry conc 20 mg
from dry seed 2.4 g
Calcium citrate tetrahydrate 118.6 mg
equiv. to Calcium 25 mg
Copper gluconate 1.43 mg
equiv. to Copper 200 micrograms
Magnesium
(from Magnesium amino acid chelate) 25 mg
Manganese
(from Manganese amino acid chelate) 1 mg
Selenium (from Selenomethionine) 26 micrograms
Zinc (from Zinc gluconate) 10 mg
Tagetes erecta (Marigold) ext. dry conc 30 mg
from fresh flower 2.4 g
Soy phosphatidylserine-enriched
soy lecithin powder 14.28 mg
equiv. to phosphatidylserine 10 mg
Curcuma longa (Turmeric) ext. dry conc 10 mg
from dry rhizome 350 mg