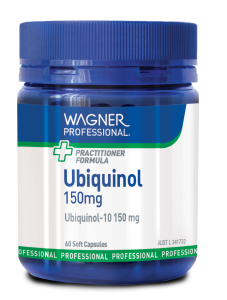 Customer Profile
✚ Low energy levels
✚ Elevated cholesterol levels
✚ Experiencing side effects of statin medication
✚ Mature-aged customer, over 40 years of age
Product Benefits
✚ Ubiquinol is the active form of Coenzyme Q10
✚ Ubiquinol is better absorbed than Ubidecarenone
✚ Supplied in oil-base to improve absorption
Ubiquinol is the active form of Coenzyme Q10. Unlike Ubidecarenone, it can be absorbed and utilized by the body immediately without needing to undergo conversion. A 2014 study showed that Ubiquinol was significantly better absorbed in the body than Ubidecarenone.1
Supports energy levels
Ubiquinol is best known for its role in energy production, where it helps to convert glucose and fatty acids to ATP inside the mitochondria of each cell.2 The highest concentrations of ubiquinol are found in the heart and the liver.3
As we age, ubiquinol production within the body declines. Production starts to decline from the age of 20 onward, with a sharp drop after 40 years of age. At the same time, the body's capacity to convert ubidecarenone into ubiquinol reduces. This may result in low levels of ubiquinol in the body, and can lead to feeling tired or fatigued as we grow older.4-5
Supports heart health
1.2 million (6%) Australians adults over 18 years of age have one or more conditions related to cardiovascular disease (CVD).6 There are many causes for CVD, including arterial plaque formation caused by oxidized LDL particles adhering to the arterial walls. Studies have shown that ubiquinol can inhibit the oxidation of LDL particles, and can thus be beneficial to support heart health.7
Helps maintain healthy cholesterol
Research shows that taking Coenzyme Q10 supplements can increase HDL levels, even in those taking statin drugs.8
In 2015 almost 30 million scripts for statins were issued in Australia9. Statins stop the production of cholesterol in the body by blocking the enzyme HMG-CoA. Unfortunately, this also hinders CoQ10 production in the body.10
This can result in fatigue and muscle or bone pain for those on statin medication. Studies show that 15 – 25% of those on statin medication experience muscle pain, and that up to 60% of statin users who experience these side effects stop statin therapy. This is associated with worse cardiovascular outcomes for the patient.11
Research shows that supplementing with Ubiquinol may help reduce muscle pain and fatigue as a result of statin use. Therefore, recommending Ubiquinol may help with customer compliance, and help them achieve better health outcomes.12-14
Summarised
– Ubiquinol is the active form of Coenzyme Q10
– It is better absorbed in the body that Ubidecarenone
– It is needed for energy production in every single cell of the body
– Ubiquinol can support heart health and maintain healthy cholesterol levels
– Ubiquinol may help reduce side-effects associated with statin use, such as fatigue and muscle pain.
Approved Label Claim
Ubiquinol 150mg contains Ubiquinol-10, the reduced active form of co-enzyme Q10.
Ubiquinol supports energy levels and heart health, and helps in the maintenance of healthy
blood lipids and healthy cholesterol. As an antioxidant, ubiquinol helps reduce free radical
damage to body cells. Supplementing with Ubiquinol 150 mg maintains and supports co-enzyme Q10 levels in the body.
This formula contains:
– Ubiquinol-10, the reduced active form of co-enzyme q10
– Ubiquinol-10 to support energy levels
– Ubiquinol-10 to support heart health and help maintain healthy blood lipids
– Ubiquinol-10 to help reduce free radical damage to body cells
Dose
Adults: Take 1 soft capsule daily, or for antioxidant, heart health
and cardiovascular system support take 2 soft capsules daily.
Or as directed by your healthcare professional.
CAUTIONS/CONTRAINDICATIONS
WARNING: Do not take while on warfarin therapy without medical
advice. Vitamins and minerals can only be of assistance if dietary
intake is inadequate. Do not use if cap seal or if inner seal is missing,
torn or broken. Contains soya bean products and sulfites.
Medicine interactions
If taking prescription medication or if in doubt consult your healthcare professional.
Contains no Added
Wheat, gluten, dairy products, egg, artificial flavours.
Companion Products
– Wagner Professional Multi 50+ for additional energy support for the mature-aged customer
– Wagner Professional Ultra Omega for additional cardiovascular support
Storage Information
Store below 30ºC, in a dry place. Keep out of reach of children.
ACTIVE INGREDIENTS: Each hard capsule contains:
Ubiquinol-10 150 mg