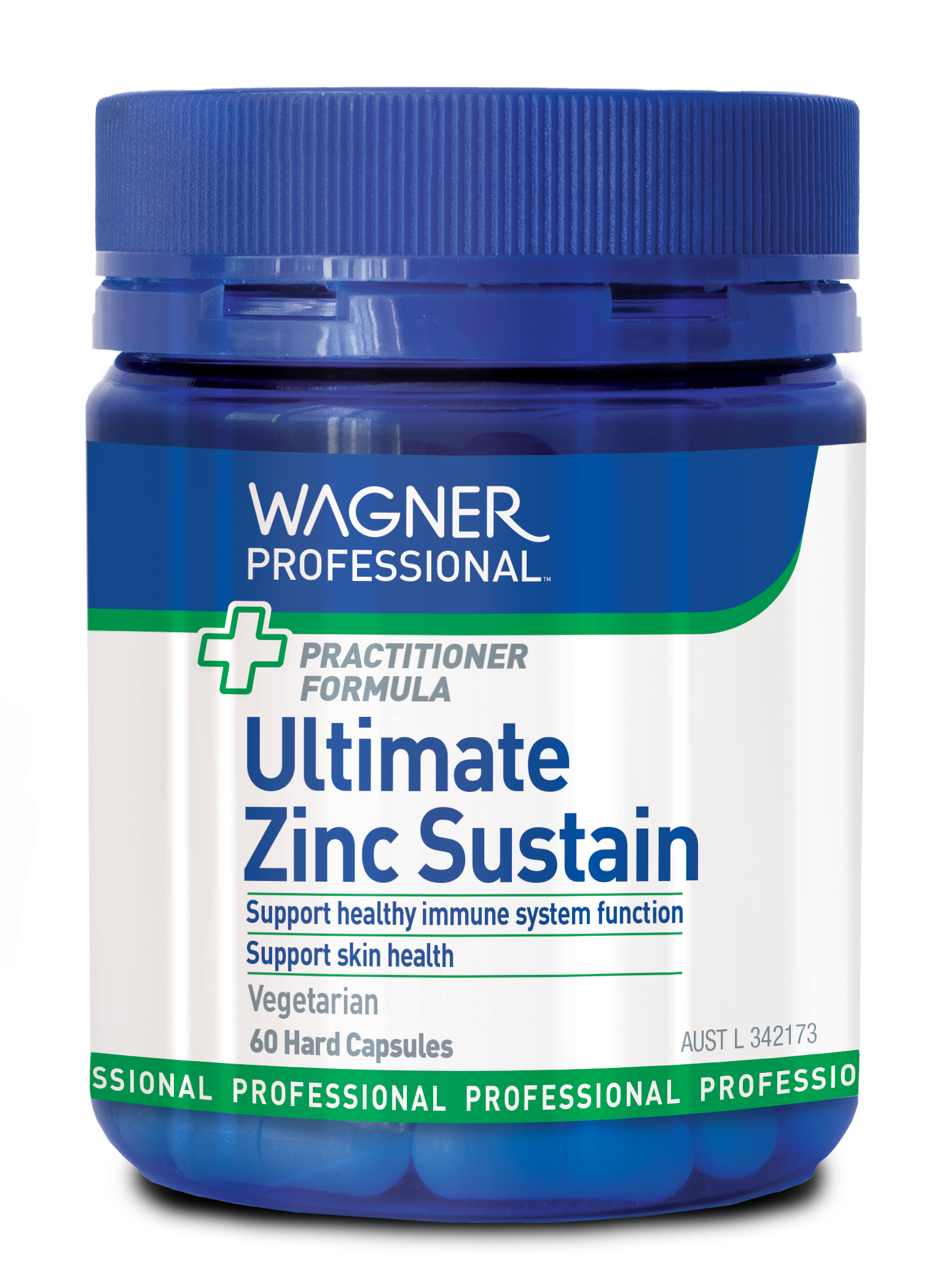 Customer Profile
✚ Acne sufferers
✚ Poor wound healing, e.g. chronic wounds and ulcers
✚ Experiencing symptoms of the common cold
✚ Poor immunity
✚ Men
✚ Men planning to start a family
Product Benefits
✚ High strength formula
✚ Convenient 1-a-day dose
✚ Vegetarian capsules
✚ Suitable for vegetarians and vegans
In Australia, 37% of men and 9% of women have an inadequate zinc intake, but this number increases with age, when 2 in 3 men older than 71 have below optimal zinc levels.1
Maintain a healthy immune system function
Zinc deficiency can impair the immune system and increase susceptibility to viruses and bacteria2. Zinc can help reduce the symptoms of the common cold by stopping the rhinovirus from binding to cells and replicating. This shortens the duration of a runny or blocked nose, a scratchy or sore throat and cough significantly.3-5
Research shows that magnesium affects innate and adaptive immunity. It acts as a co-factor for immunoglobulin synthesis, antibody-dependent cytolysis, macrophage response and proliferation, and function of lymphocytes.6 Additionally, magnesium is involved apoptosis
and thymocyte-gene expression.7
The immune system needs Vitamin B6 to produce white blood cells and to combat infection and inflammation.8-10
Vitamin A is involved in the production and function of white blood cells. Low levels of Vitamin A can increase susceptibility to infections and delay recovery.11,12
Taurine and taurine halo-amines are components of innate immunity.13 Taurine is believed to have anti-microbial and anti-inflammatory properties.24
Supports skin health
Zinc plays a role in maintaining skin integrity and structure. Zinc deficiency slows epithelialisation and results in delayed wound healing.14 Research shows that people with chronic wounds or ulcers often have lower zinc levels; and that supplementing with zinc can help improve their wound healing.15,16
Zinc can also help improve the skin of those suffering with acne. Several studies have found that taking a zinc supplement for 12 weeks can help improve acne significantly.17-19
Vitamin A stimulates wound healing by increasing epidermal turnover, the rate of re-epithelialization, and restoring epithelial structures. Retinoic acid has also been demonstrated to enhance production collagen type I and fibronectin. Plus, it increases proliferation of keratinocytes and fibroblasts, and decrease levels of degrading matrix metalloproteinases.20-21
Supports healthy reproductive hormones in males
Zinc plays a role in prostate health, sperm quality and motility;22 with research showing that men who take a zinc supplement have a higher sperm count than those who don't.23
Summarised
– Zinc can help reduce the duration and severity of the common cold
– Contains additional nutrients that support a healthy immune system
– Zinc and Vitamin A support a healthy skin and may help improve wound healing and acne
– Zinc helps support male fertility
Approved Label Claim
Ultimate Zinc Sustain contains a high strength 35 mg of elemental zinc, in an easy to
take one capsule daily dose. Zinc maintains healthy immune system function, maintains
skin health and supports healthy reproductive hormones in males. Supplementing with
Ultimate Zinc Sustain will maintain zinc levels in the body.
This formula contains:
– 35 mg of elemental Zinc
– Convenience of a one capsule daily dose
– Zinc to maintain healthy immune system function
– Zinc to maintain skin health
– Zinc to support healthy reproductive hormones in males
Dose
RECOMMENDED DOSAGE: WARNING: If you are pregnant –
or considering becoming pregnant – do not take Vitamin A
supplements without consulting your doctor or pharmacist. When
taken in excess of 3000 micrograms retinol equivalents – Vitamin A
can cause birth defects. Adults: Take 1 hard capsule with water,
once daily. Or as directed by your healthcare professional.
CAUTIONS/CONTRAINDICATIONS
WARNING: The recommended daily amount of Vitamin A from all
sources is 700 micrograms retinol equivalents for women and
900 micrograms retinol equivalents for men. Contains Zinc which
may be dangerous if taken in large amounts or for a long period of
time. Vitamins and minerals can only be of assistance if dietary
intake is inadequate. Do not use if cap seal or if inner seal is
missing, torn or broken.
Medicine interactions
If taking prescription medication or if in doubt consult your healthcare professional.
Contains no Added
Wheat, gluten, yeast, dairy products, egg, artificial flavours or preservatives.
Companion Products
– Wagner Professional Immunity Force for additional immune support
– Wagner Vitamin C 1000 Chew for additional immune support
– Wagner Professional Probiotic for additional immune support
– Wagner Professional Ultra Omega for additional skin support
Storage Information
Store below 30ºC, in a dry place. Keep out of reach of children.
ACTIVE INGREDIENTS: Each hard capsule contains:
Zinc glycinate 115.5 mg
equiv. to Zinc 35 mg
Calcium ascorbate dihydrate 121.7 mg
equiv. to Ascorbic acid (Vitamin C) 100 mg
Vitamin A (2,500IU) equiv. to Retinol acetate
750 micrograms retinol equivalents
Magnesium amino acid chelate 100 mg
equiv. to Magnesium 20 mg
Pyridoxine hydrochloride 35 mg
equiv. to Pyridoxine (Vitamin B6) 28.8 mg
Taurine 50 mg