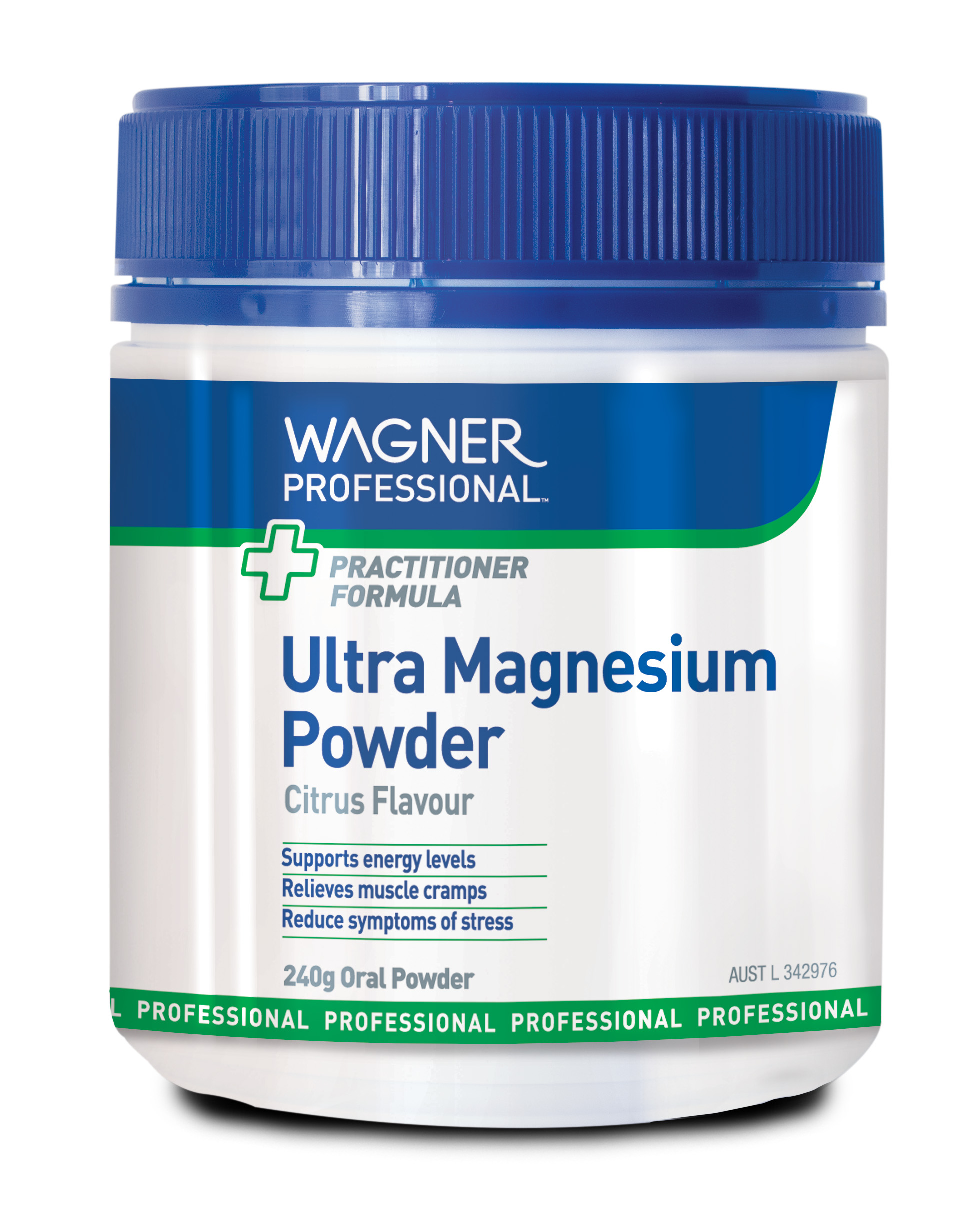 Customer Profile
✚ Has a busy lifestyle
✚ Feels tired
✚ Exercises regularly or intensively
✚ Experiences muscle cramps and spasms
✚ Has mild anxiety or low moods
Product Benefits
✚ Two forms of magnesium that are well absorbed and tolerated
✚ High strength
✚ Contains additional nutrients to support with energy production and to relieve muscle cramps
✚ Suitable for vegetarians
✚ Natural flavour
Maintain energy levels
Magnesium plays an essential role in the energy production in the mitochondria of each cell in the body. If levels are below optimal, the cell has an impaired capacity to produce energy.1,2 The amino acids Taurine and Glutamine are involved in energy production due to the role they play in the Krebs cycle.3,4 It is well established that B-vitamins play an important role in energy production by helping convert dietary energy into ATP, the form of energy our bodies use.5
Helps relieve muscle cramps
A lack of magnesium can cause muscles to over-contract, leading to spasms or twitches. Low levels of magnesium can also create a build-up of lactic acid which can cause muscular tension.6 This is why supplementing with magnesium may be beneficial for those suffering from muscle cramps.7,8 Low calcium levels may cause neuromuscular irritability and cause muscles to cramp or spasm. Low potassium levels can have the same effect.9
Glutamine acts as a building block for protein. It helps repair and regenerate muscles, and reduces their breakdown. Supplementing with glutamine can result in a decrease in muscle cramps and muscular pains during exercises, and reduced muscle soreness and improved muscle recovery after exercise.10,11
The amino acid taurine protects muscles against damage and helps to remove waste products that lead to fatigue and cause muscles cramps.12 Studies show that it can help reduce muscle soreness and cramps during and after exercise.13-15
Relieve symptoms of stress
Magnesium works in many ways to relieve the symptoms of stress. During stressful times, the body produces more stress hormones such as cortisol. Elevated levels of cortisol can create feelings of anxiety, memory loss, 'brain fog' and mood disorders such as depression.16,17
Magnesium can restrict the release of stress hormones such as cortisol18 and thus help relieve the symptoms associated with stress.
Magnesium also plays a role in the production of the neurotransmitters acetylcholine and serotonin. Low levels of acetylcholine are associated with aggression, poor learning and impaired memory, symptoms often experienced during times of stress.19
Increasing acetylcholine production by supplementing with magnesium can help decrease feelings of anger, and improve learning and memory.
Low levels of serotonin can lead to low moods, depression and anxiety, symptoms often seen during times of stress.20,21 Clinical studies show that taking a magnesium supplement for as little as 2 weeks can already help improve moods, though it is highly recommended to supplement for longer than that.22
Studies have shown that supplementing with B-vitamins can lead to a reduction in stress symptoms, with reduced the level of anxiety and stress and improving psychological well-being.23,24
The amino acid taurine is involved in nervous system function where it acts as a neurotransmitter and can help improve depression.25,26,32 Glutamine plays a role in the production of GABA, a neurotransmitter that can help reduce anxiety. Several studies show that when concentrations of glutamine in the body are diminished, this can result in anxiety, sleeplessness and lack of concentration. However, if there is sufficient glutamine available, GABA can be produced and this has a positive impact on moods, improved concentration and restorative sleep.27-29 Inositol is believed to stimulate the production of serotonin and may help relieve anxiety.30,31
Summarised
– Support energy production
– Helps relieve muscle cramps and spasms
– May help with recovery during and after exercise
– Can bring relief during times of stress by supporting energy levels and moods
Approved Label Claim
Ultra Magnesium Powder relieves muscle cramps, supports energy levels and relieves symptoms of stress. Supplied in a great tasting citrus flavour and in the convenience of a powder format, making it ideal for those who find it difficult to swallow tablets or capsules.
This formula contains:
– 280 mg of elemental Magnesium per scoop dose
– Magnesium to relieve muscle cramps
– Magnesium and Vitamin B5 to maintain energy levels and relieve symptoms of stress
– Natural flavours
Dose
Adults: Mix 7.5 g powder (1 scoop) into 200 mL of water and
consume immediately, twice daily or as directed by your health
professional.
CAUTIONS/CONTRAINDICATIONS
WARNING: Stop taking this medication if you experience tingling,
burning or numbness and see your healthcare practitioner as soon
as possible (contains Vitamin B6). Vitamins and minerals can only be
of assistance if the dietary intake is inadequate. If symptoms persist,
talk to your health professional. Do not use if cap seal or if inner seal
is missing, torn or broken. Contains sucralose and sulfites.
Medicine interactions
If taking prescription medication or if in doubt consult your healthcare professional.
Contains no Added
Wheat, gluten, yeast, dairy products, egg, artificial flavours or colours.
Companion Products
✚ Wagner Professional Everyday Multi for general health and wellbeing
Storage Information
Store below 30ºC, in a dry place. Keep out of reach of children.
ACTIVE INGREDIENTS: Each 205 mL prepared dose contains:
Magnesium (from Magnesium amino acid chelate) 170 mg
Magnesium (from Magnesium citrate) 110 mg
Total Elemental Magnesium 280 mg
Calcium panthothenate 27.29 mg
equiv. to Panthothenic acid (Vitamin B5) 25 mg
Taurine 500 mg
Glutamine 500 mg
Thiamine hydrochloride 25 mg
equiv. to Thiamine (Vitamin B1) 19.67 mg
Riboflavin 5 mg
Nicotinamide 20 mg
Pyridoxine hydrochloride 50 mg
equiv. to Pyridoxine (Vitamin B6) 41.14 mg
Folic acid 150 micrograms
Cyanocobalamin 20 micrograms
Calcium hydrogen phosphate dihydrate 85.87 mg
equiv. to Calcium 20 mg
Potassium citrate 55.25 mg
equiv. to Potassium 20 mg
Inositol 50 mg