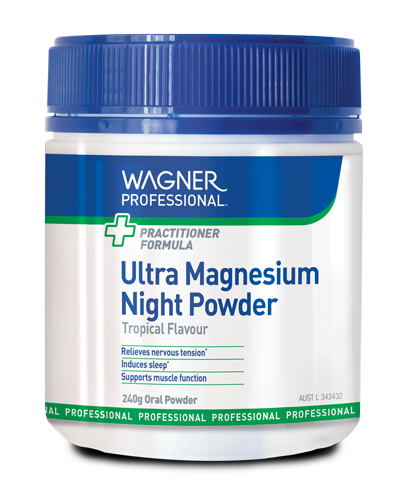 Customer Profile
✚ Difficulty falling asleep
✚ Difficulty staying asleep, frequent waking
✚ Feeling unrefreshed on waking
✚ Nervous tension
Product Benefits
✚ High dose of elemental magnesium
✚ Well absorbed and utilized forms of magnesium
✚ Contains Passionflower to help promote sleep
✚ Suitable for vegetarians and vegans
✚ Natural flavour
Magnesium
For a healthy, restful sleep, the body and mind need to relax. Magnesium can assist with relaxation by activating the parasympathetic nervous system and regulating melatonin, the hormone that guides the circadian cycle.1
Research shows that magnesium can bind to GABA receptors and increase GABA levels. As low GABA levels can hinder relaxation, supplementing with magnesium can help induce relaxation and relieve nervous tension.2,3
Several clinical studies have shown that supplementing with magnesium can help promote a restful, deep sleep and increase melatonin levels.4-6
Glutamine
Glutamine plays a role in the production of GABA. It can help induce feelings of calm and relaxation; and thus help improve sleep. Research shows that GABA can help people fall asleep faster, and encourage non-REM sleep for a deep, restful sleep.7-8 Several studies have established that when concentrations of glutamine in the body are diminished, this can result in sleeplessness. However, when glutamine levels are sufficient, GABA can be produced and this can result in a healthy, restorative sleep.9-11
Calcium
Calcium can be beneficial to help improve problems falling and staying asleep because it helps the brain use the amino acid tryptophan to produce melatonin. The hormone melatonin regulates the circadian rhythm and is responsible for a restful, restorative sleep.12
Research shows that low calcium levels are associated with disturbed sleep patterns, including the lack of a deep REM sleep phase.13,14 When levels of calcium are inadequate, people may wake up soon after falling asleep and have difficulty getting back to sleep.
Potassium
Low levels of potassium can result in a lack of deep REM sleep.15 Supplementing with potassium can help reduce the time it takes to fall asleep, reduce episodes of waking after falling asleep and improve the quality of sleep.16
Passionflower
Passionflower has a long traditional use to help promote a restful sleep. Research shows that it can significantly improve non-REM sleep and inhibit REM sleep. It is believed that the active ingredients in Passionflower bind to GABA receptors to reduce brain activity, promote relaxation and induce sleep;17 and that is also affects dopamine and 5-HT levels to help improve sleep patterns.18
Summarised
✚ Magnesium and calcium can help promote a restful, restorative sleep
✚ Glutamine can help promote calm and relaxation
✚ Passionflower and potassium can help induce sleep
Approved Label Claim
Ultra Magnesium Night Powder contains a combination of ingredients, including
Magnesium to support muscle function, nervous system health and healthy immune
system function, as well as the herb Passionflower, which is traditionally used in
Western Herbal Medicine as a nervous system relaxant, relieving nervous tension
and unrest, and relieving disturbed, restless sleep. Supplied in a great tasting tropical
flavour and in the convenience of a powder format, making it ideal for those who find
it difficult to swallow tablets or capsules.
This formula contains:
– 280 mg of elemental Magnesium per scoop dose
– Magnesium to support muscle function and nervous system health
– Passionflower, traditionally used in Western Herbal Medicine to induce sleep
– Natural flavour
Dose
RECOMMENDED DOSAGE: Adults: mix 7.5 g powder (1 scoop) into
200 mL of water and consume immediately, once daily in the evening,
or as directed by your health professional.
CAUTIONS/CONTRAINDICATIONS
Vitamins and minerals can only be of assistance if the dietary intake
is inadequate. If symptoms persist, talk to your health professional.
Do not use if cap seal or if inner seal is missing, torn or broken.
Contains sucralose and sulfites.
Medicine interactions
If taking prescription medication or if in doubt consult your
healthcare professional.
Contains no Added
Wheat, gluten, yeast, dairy products, egg, artificial flavours or colours.
Storage Information
Store below 30ºC, in a dry place. Keep out of reach of children.
ACTIVE INGREDIENTS: Each 205 mL prepared dose contains:
Magnesium (from Magnesium amino acid chelate) 170 mg
Magnesium (from Magnesium citrate) 110 mg
Total Elemental Magnesium 280 mg
Glutamine 500 mg
Calcium hydrogen phosphate dihydrate 85.9 mg
equiv. to Calcium 20 mg
Potassium citrate 55.3 mg
equiv. to Potassium 20 mg
Ascorbic acid (Vitamin C) 300 mg
Passiflora incarnata (Passionflower) ext. dry conc 50 mg
from dry herb 200 mg