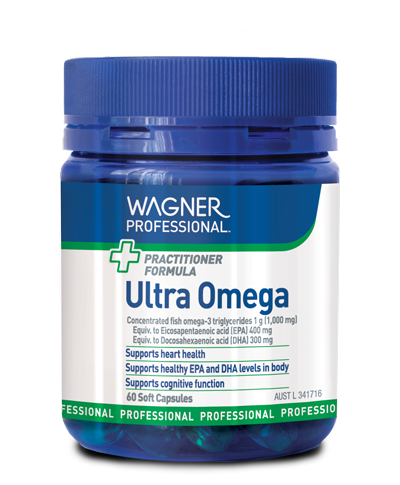 Customer Profile
✚ Painful and swollen joints
✚ Osteoarthritis
✚ Elevated cholesterol levels
✚ Pregnant women
✚ Preconception
Product Benefits
✚ Fish oil produced without solvents
✚ Low odour
✚ Concentrated fish oil
This product uses concentrated fish oil that is produced without the use of solvents during a patented process, and is deodorized with steam to ensure a premium quality fish oil with low odour.
May relieve inflammation and mild joint pain
Fish oil may help improve inflammation due to its ability to reduce the production of the cytokines TNF-α, IL-1β IL-6 1,2 and increase the peripheral concentration of anti-inflammatory pro-resolving mediators (SPMs)3 It is through these actions that fish oil can bring relief to those suffering with osteoarthritis and rheumatoid arthritis and are experiencing mild joint pain and swelling.4
Research shows that people with joint pain noticed an improvement in their pain levels when
they took an omega-3 fish oil supplement for 2-4 months.5,6
Support heart health
Scientific evidence shows that omega-3 fatty acids can reduce blood triglyceride levels and
help improve HDL levels and thus support heart health.7,8.
Omega-3 fatty acids may help prevent arterial plaque, as well as make existing arterial plaques
more stable.9,10 Research shows that taking fish oil supplements can lead to modest reductions
in blood pressure.11
Note: research suggests that omega-3 fatty acids need to be taken for at least 6 months before cardiovascular results are noticeable.
Supports brain function and cognitive function
The human brain consists of nearly 60% fat.12 The omega-3 fatty acids EPA and DHA are
critical for normal brain function and development throughout all stages of life.
Several studies show that when pregnant women consume fish oil, their children have
higher scores on tests of intelligence and brain function in early childhood.13,14 Lower levels
of DHA have been associated with smaller brain size and with impaired cognitive function.15
Numerous clinical trials have shown that supplementing with the omega-3 fatty acid DHA
can help improve cognition in people of all ages, ranging from infants to elderly.16-18
Supports healthy foetal development
In the third trimester of pregnancy, omega-3 fatty acids are selectively transferred to the
foetus to meet the demands of rapid brain growth.19 They are essential for early growth
and development of the baby's brain and retina of the eyes, and help improve hand-eye
coordination in infants.20-22 DHA accounts for 50-60% of the fatty acids used in the retina
of the foetus' eye, and omega-3 fatty acids comprise approximately 15 to 30% of the foetal
brain's dry weight.23
Studies show that supplementing with omega-3 fatty acids during pregnancy may result
in improvements in birth weight, length, and gestational age24 and with higher IQ scores at
4 years of age.25
Summarised
✚ Contains concentrated fish oil that is produced without solvents
✚ Fish oil can help relieve inflammation and the symptoms of mild arthritis
✚ Fish oil may support heart health
✚ Fish oil is essential for brain development and cognitive function in all ages
✚ Fish oil can help support healthy foetal development
Approved Label Claim
Ultra Omega contains a concentrated source of eicosapentaenoic acid (EPA) and
docosahexaenoic acid (DHA), supplied in the same size capsule as a regular 1,000 mg
fish oil. Both EPA and DHA are essential omega-3 fatty acids that help to relieve
inflammation and symptoms of mild arthritis. EPA and DHA support heart health and
help in the maintenance of healthy blood lipids. EPA and DHA maintain cognitive function
and support brain function, plus support healthy foetal development. Supplementing with
Ultra Omega maintains EPA and DHA levels in the body.
Ultra Omega contains:
– A concentrated source of marine omega-3 fatty acids EPA and DHA
– EPA and DHA to relieve inflammation and symptoms of mild arthritis
– EPA and DHA to support heart health
– EPA and DHA to maintain cognitive function and brain function
– EPA and DHA to support healthy foetal development
Dose
RECOMMENDED DOSAGE: Adults: Take 1-4 soft capsules daily with
a meal. For heart health take 1 soft capsule daily. For inflammation
take 2 soft capsules daily. For healthy brain and cognitive function
take 3 soft capsules. For supporting healthy foetal development, take
4 soft capsules. Or as directed by your healthcare professional.
CAUTIONS/CONTRAINDICATIONS
WARNING: Advise your doctor of any medicine you take during
pregnancy, particularly in your first trimester. Vitamins and minerals
can only be of assistance if dietary intake is inadequate. If symptoms
persist, talk to your health professional. Do not use if cap seal or if
inner seal is missing, torn or broken. Contains fish products, soya
bean products and sulfites.
Medicine interactions
If taking prescription medication or if in doubt consult your healthcare professional.
Contains no Added
Wheat, gluten, yeast, dairy products, egg, artificial flavours or colours.
Companion Products
✚ Wagner Professional Turmeric 17,500mg for additional support in joint pain
Storage Information
Store below 30ºC, in a dry place. Keep out of reach of children.
ACTIVE INGREDIENTS: Each soft capsule contains:
Concentrated fish omega-3 triglycerides 1 g (1,000 mg)
equiv. to Eicosapentaenoic acid (EPA) 400 mg
equiv. to Docosahexaenoic acid (DHA) 300 mg