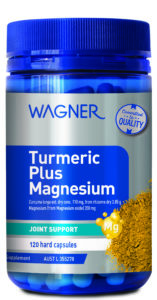 A dual action formula containing Turmeric and Magnesium. Turmeric supports joint health and provides antioxidant support. Magnesium supports muscle function, bone health, nervous system health plus supports energy production. Wagner Turmeric Plus Magnesium is supplied in the convenience of capsules.
features
This formula:
■ Contains Turmeric to support joint health
■ Contains Turmeric which provides antioxidant support
■ Contains Magnesium to support muscle function and energy production
■ Supports general health and wellbeing
Available in: 120 Hard Capsules
Barcode: 9345156211230
Recommended Adult Dosage:
Take 1-3 hard capsules with water, once daily. Or as directed by your healthcare professional.
Precautions and contra-indications:
If symptoms persist, talk to your health professional. Always read the label. Take only as directed. Dietary supplements can only be of assistance if dietary intake is inadequate. If taking prescription medication or if in doubt, consult your healthcare professional.
Contains: Sulfites.
Formulated without:
Gluten, wheat, yeast, dairy products, egg, artificial flavours, artificial sweeteners.
Active Ingredients:
Each hard capsule contains:
Curcuma longa (Turmeric) ext. dry conc. 110 mg
from rhizome dry 3.85 g
Magnesium (from Magnesium oxide) 350 mg
Contains encapsulating aids.
Frequently asked questions:
Q1 How does this formula support joint health?
A1 Clinical studies have found that those who suffer from
painful and swollen joints (e.g. as seen in osteoarthritis)
and take a turmeric supplement daily, notice a significant
decrease in knee pain after 3 months of taking the
supplement1,2 as well as long-term improvement in pain
and function in the knee.3
Further research has found that turmeric can also help
improve morning stiffness, walking time and joint swelling
in those with rheumatoid arthritis.4 This is due to the fact
that the active ingredient curcumin has anti-inflammatory
properties, and can reduce levels of inflammatory substances
in the body such as TNF-x and CRP.5
Other studies have shown that low magnesium levels are
associated with increased levels of inflammatory substances
(CRP, IL-6, TNFx) and increased cartilage damage inside the
joint while higher magnesium levels significantly improved
cartilage health.6-10
Interestingly, magnesium may also help relieve chronic pain
by preventing central sensitization (the more pain you have,
the longer you have it, the worse the pain is felt).11
Q2 Can magnesium help with muscle relaxation?
A2 Magnesium plays an important role in muscle relaxation.
It counters the effects of calcium, the mineral that causes
muscle fibres to contract.15,16 If magnesium levels are
below optimal, muscles contract too much and this can
cause cramps and spasm. This is why magnesium
supplementation may be beneficial for those suffering
from muscle cramps such as leg cramps.12,13
Q3 What else does magnesium do?
A3 As well as supporting muscle relaxation, magnesium plays
an essential role in the production of energy. Each single
cell in the body has a structure called 'mitochondria' where
energy is produced. If magnesium levels are below optimal,
the cell has a reduced capacity to produce energy.14
Magnesium can also support the nervous system. During
times of stress, the body produces more stress hormones,
including cortisol. This can cause feelings of anxiety, memory
loss, 'brain fog' and mood disorders such as depression.17,18
Magnesium can restrict the release of stress hormones
such as cortisol19 and thus help relieve any of the above
symptoms associated with stress.