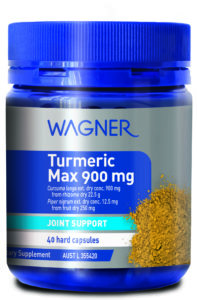 Turmeric provides antioxidant support, joint health support and supports general health and wellbeing. Wagner Turmeric Max 900mg is supplied in the convenience of a one-a-day capsule.
features
This formula contains Turmeric which:
■ Supports joint health
■ Provides antioxidant support
■ Supports general health and wellbeing
Recommended Adult Dosage:
Take 1 hard capsule with water, once daily. Or as directed by your healthcare professional.
Precautions and contra-indications:
If symptoms persist, talk to your health professional. Always read the label. Take only as directed. Dietary supplements can only be of assistance if dietary intake is inadequate. If taking prescription medication or if in doubt, consult your healthcare professional.
Contains: Sulfites.
Formulated without:
Gluten, wheat, yeast, dairy products, egg, artificial colours, artificial flavours, artificial sweeteners.
Active Ingredients:
Each hard capsule contains:
Curcuma longa (Turmeric) ext. dry conc. 900 mg
from rhizome dry 22.5 g
Piper nigrum (Black Pepper) ext. dry conc. 12.5 mg
from fruit dry 250 mg
Contains encapsulating aids.
Frequently asked questions:
Q1 How can turmeric help support joint health?
A1 Turmeric has a long traditional use in Chinese and
Indian medicine to support joint health by reducing joint
pain and inflammation. Curcumin is the active ingredient
in turmeric. Several studies have shown that curcumin
has anti-inflammatory properties, due to its ability to
reduce levels of inflammatory substances in the body
such as TNF-x and CRP.4 It is believed that it is just as
effective as some anti-inflammatory drugs, but without
the side effects.6-9
Clinical studies have found that those who suffer from
osteoarthritis and take a curcumin supplement daily, notice
a significant decrease in knee pain after 3 months of taking
the supplement,1,4 as well as long-term improvement in pain
and function in the knee.2 Further research has found that
curcumin can also help improve morning stiffness, walking
time and joint swelling in those with rheumatoid arthritis.3
Q2 Why do I need antioxidants?
A2 Oxidative damage is believed to be one of the
mechanisms behind aging and many diseases. It is
caused by free radicals — highly reactive molecules that
react with many important structures in the body and thus
cause damage. Antioxidants such as curcumin help protect
the body against free radicals by scavenging them and
stimulating the body's own defences. Reducing free radical
damage supports general health and wellbeing.10-14
Q3 Why does this product contain black pepper?
A3 Curcumin is poorly absorbed from the digestive tract into
the blood stream. Research has shown that by adding black
pepper to curcumin, this improves the absorption of curcumin
by 2000%.5