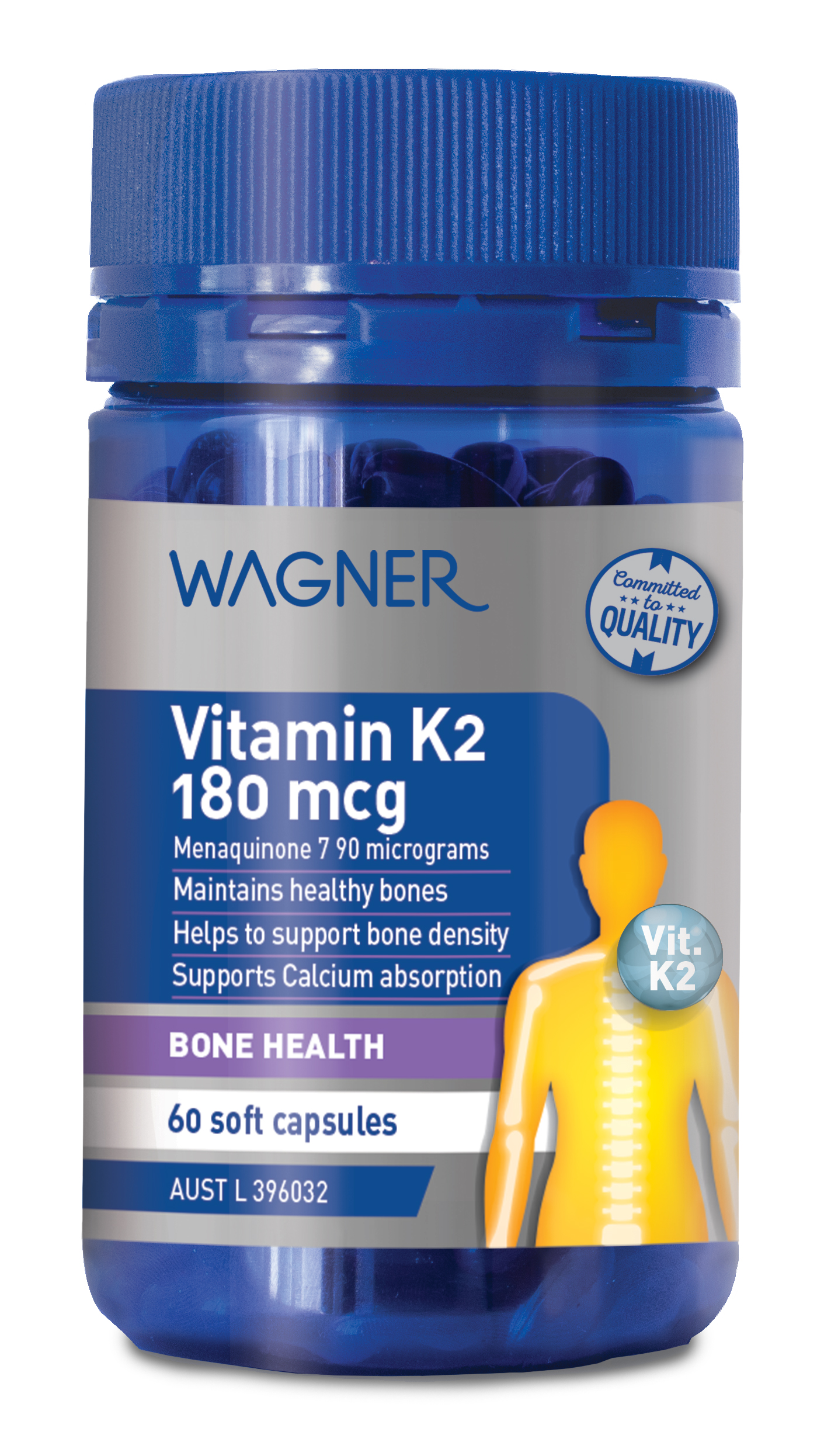 Wagner Vitamin K2 180mcg contains Vitamin K2 (Menaquinone 7) which supports bone health and helps maintain bone mineralisation. Vitamin K2 helps prevent dietary Vitamin K2 deficiency, and regulates the function of calcium in bone turnover and mineralisation.
Features
This formula:
■ Supports bone mineralisation
■ Vitamin K2 supplied as Menaquinone 7
■ Vitamin K2 (Menaquinone 7) supports bone health
■ Supports blood health
Recommended Dosage:
Take 2 soft capsules daily with food, or as directed by your healthcare professional.
Precautions and contra-indications:
Vitamins and minerals can only be of assistance if dietary intake is inadequate.
Contains: Sulfites.
Formulated without:
Wheat, gluten, yeast, dairy products, egg, artificial flavours or sweeteners.
Storage Information:
Store below 30°C in a dry place. Keep out of reach of children. Do not use if cap ring or seal under cap is broken or missing.
Active Ingredients:
Each soft capsule contains:
Menaquinone 7 90 micrograms (Vitamin K2)
Frequently asked questions:
Q1 What are the benefits of Vitamin K2?
A1 Vitamin K2 plays an essential role in several functions
in the body, including supporting strong, healthy bones.
Although discovered almost a century ago in 1929, until
recently it has remained quite unknown.
Q2 How does Vitamin K2 support bone health?
A2 It has now been established that Vitamin K2 plays an equally
important role in maintaining strong, healthy bones. It does
this by making sure calcium stays in the bones and doesn't
leak back into the blood stream through the effect it has on
the osteocalcin – a protein that binds calcium.
Q3 How does Vitamin K2 support bones during menopause?
A3 Vitamin K2 supplementation has been shown to improve the
bone turnover and improve bone health2, to slow down the
rate of bone weakening after menopause and to decrease
the number of fractures in women with osteoporosis.
Studies have demonstrated that Vitamin K2 can help improve
bone mineral density in people with osteoporosis, and also
can help reduce fracture rates1. Vitamin K2 insufficiency
is associated with low bone mineral density and increased
fractures.