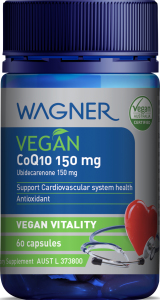 Contains Co-Enzyme Q10 which supports normal production of energy in the body
Supports cardiovascular system health
Helps to maintain a healthy immune system function
Is created for Vegans and Vegetarians
features
Co-Enzyme Q10 (CoQ10) occurs naturally in the body but
levels decline as we age. CoQ10 levels are also lower in
people with certain health conditions and those who take
certain medications. Supplementing with Co-Q10 in our
body can help us to maintain a healthy cardiovascular
system and general health and wellbeing
Co-Q10 has antioxidant properties that help support the
body's natural protection against free radical damage to
cells in the body
Recommended Adult Dosage:
Take 1-2 capsules daily with food or as directed by your healthcare professional.
Precautions and contra-indications:
Do not take while on warfarin therapy without medical advice
Always ready the label and take only as directed
Vitamin supplements should not replace a balanced diet

Formulated without:
Gluten, wheat, animal products, dairy products, egg, corn, artificial flavours, artificial sweeteners or preservatives.
Active Ingredients:
Each capsule provides
Ubidecarenone (Co-Enzyme Q10) 150 mg
Encapsulating aids, colours.
Frequently asked questions:
Q1 What is Co-enzyme Q10?
A1 Co-enzyme Q10 (Co-Q10 or Ubidecarenone) is a fat-soluble,
antioxidant co-enzyme that occurs naturally in the
mitochondria of every cell in the body. Mitochondria are the
'powerhouses' of the cells – the parts that produce cellular
energy; and Co-Q10 plays an important role in helping them
produce adenosine triphosphate (ATP), the primary source
of cellular energy. All cells depend on ATP for energy and
normal cell metabolism; which makes ATP critical for
healthy muscular activity, including heart activity. In effect,
Co-Q10 acts as nature's 'spark plug' and heart tonic.
Q2 How do Co-Q10 levels relate to cardiovascular health?
A2 The more metabolically active a cell is, the more
mitochondria it contains, which means the more Co-Q10
it will use as it performs its natural function. The cells in
the heart are some of the most metabolically active cells
in the body. If Co-Q10 levels become depleted it can then
affect healthy functioning of the heart and cardiovascular
system.
Q3 What causes Co-Q10 levels to become depleted?
A3 The body produces CoQ10 naturally, but its production
decreases as you age. Aside from getting older, CoQ10
levels are also lower in people with certain health
conditions and those who take certain medications
or have nutritional deficiencies. Supplementing with
Co-Q10 in our body can help us to maintain a healthy
cardiovascular system and general health and wellbeing.