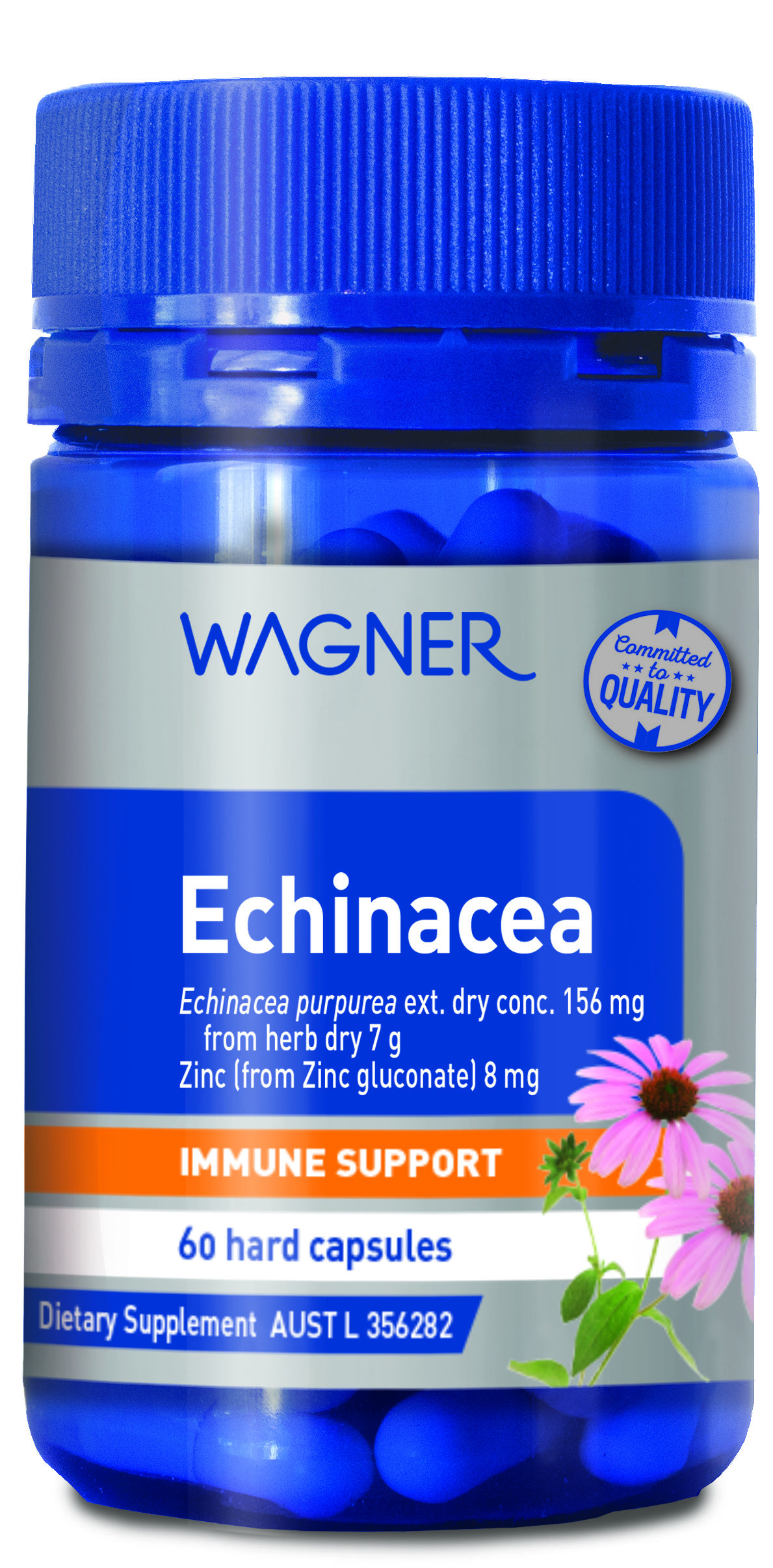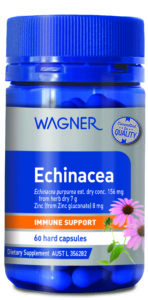 This formula contains a combination of Echinacea and Zinc. The mineral Zinc is essential for supporting healthy immune system function, and immune system health. Zinc acts as an antioxidant, and supports general health and wellbeing. Wagner Echinacea is supplied in the convenience of a one-a-day capsule.
Recommended Adult Dosage:
Take 1 hard capsule with water, once daily. Or as directed by your healthcare professional.
Precautions and contra-indications:
If symptoms persist, seek the advice of a healthcare professional. Always read the label. Take only as directed. Dietary supplements can only be of assistance if dietary intake is inadequate. If taking prescription medication or if in doubt, consult your healthcare professional.
Contains: Sulfites.
Formulated without:
Gluten, wheat, yeast, dairy products, egg, artificial flavours, artificial sweeteners.
Active Ingredients:
Each hard capsule contains:
Echinacea purpurea (Echinacea) ext. dry conc. 156 mg
from herb dry 7 g
Zinc (from Zinc gluconate) 8 mg
Contains encapsulating aids.
Frequently asked questions:
Q1 What is Echinacea?
A1 Echinacea is a plant from North America known as
purple coneflower. It has a long traditional use with native
Americans. Echinacea is best known for the effect it has
on the immune system, particularly in the treatment and
prevention of the common cold, influenza and other upper
respiratory tract infections.
Q2 How does it work?
A2 The active ingredients in Echinacea are called alkamides.
They help the immune system work more efficiently by
increasing the production of lymphocytes (a type of immune
cell) to help the body fight infections and viruses.1-4
Q3 Can Echinacea help relieve symptoms of the common cold and flu?
A3 Clinical research has shown that Echinacea may reduce the
risk on recurrent respiratory tract infections, especially when
taken long-term (one study ran for 4 months).5,6 Further
studies found that taking Echinacea could lower the risk of
developing colds by more than 50% and shorten the duration
of colds by one and a half days7 and that it could help reduce
the symptoms of the flu.8
Q4 Why does this formula contain zinc?
A4 If zinc levels are low, this increases the susceptibility
to infection and the risk on excessive inflammation.9
Supplementing with zinc can thus decrease the risk
of developing an infection and reduce the severity of
the symptoms.
Zinc can also help reduce the symptoms of the common
cold by stopping the rhinovirus (the virus that causes
the common cold) from binding to cells and replicating.10
Clinical research shows that supplementing with zinc can
shorten the duration of a runny or blocked nose, a scratchy
or sore throat and cough significantly.11,12