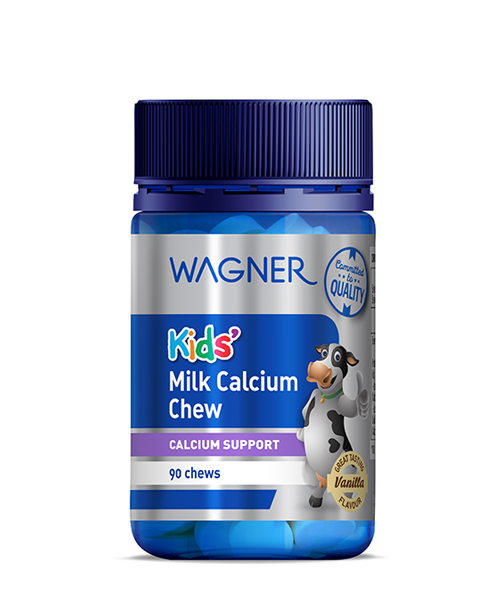 Wagner Kids' Milk Calcium Chews
Contains natural milk Calcium
Provides 20% RDI* of Calcium
Provides Calcium to top up children's diets
Available in: 90 Chews
Delicious vanilla-flavoured chew that is free from artificial sweeteners. Calcium top up.
Directions:
Chew 4 chewable tablets daily.
Not suitable for children 3 years and under.
CALCIUM SUPPORT
NUTRITION INFORMATION
Serving per package: 22
Serving size: 3g (4 chews)
Average Quantity per Serving / Average Quantity per 100g
Energy 40kJ (9Cal) / 1320kJ (315Cal)
Protein 0.5g / 17.8g
Fat, total 0.0g / 1.2g
– saturated 0.0g / 1.0g
Carbohydrate 1.7g / 56.9g
– sugars 1.7g / 55.0g
Sodium 7mg / 240mg
Calcium 163mg (20%RDI)* 5430mg
*RDI – Recommended Dietary Intake
Formulated without:
Artificial colours, artificial sweeteners or artificial flavours.
CHEWABLE
Suggested Companion Products:
Wagner Colostrum Milk Powder: A great tasting powder designed for dispersing into water or milk for a delicious drink.
Skim Milk Powder, Mineral (Calcium), Dextrose, Fructose,
Natural Flavours, Magnesium Stearate, Natural Sweetener
(Steviol glycosides).
Contains Milk.
Q1 What is Calcium and why is it important?
A1 Calcium plays an important role in the body, helping to
maintain healthy bones and teeth. Therefore, it is important
to include sources of calcium in your diet each day.
Q2 How much Calcium do children need each day?
A2 The Recommended Dietary Intake (RDI) of Calcium for children
varies according to their age. The Nutrient Reference Values
for Australia and New Zealand1 include children's RDIs for
Calcium as follows:
• Children aged 1-3: 500mg/day
• Children aged 4-8: 700mg/day
• Children aged 9-11: 1000mg/day
• Children aged 12-13: 1300mg/day
Ideally, most of this intake will come from dietary sources such
as dairy products, bony fi sh (e.g. anchovies or sardines), and
some legumes and nuts. However, some children are fussy
eaters and may therefore not get enough of this important
mineral in their diets.
Q3 Are some sources of Calcium easier for the body to absorb
than others?
A3 Certain forms of Calcium are easier for our bodies to absorb
than others, and many parents prefer nutrients to be as
naturally derived as possible.
Milk and dairy products are some of nature's richest sources
of Calcium, which is why this product contains Calcium
exclusively sourced from milk.
1. https://www.nrv.gov.au/nutrients/calcium