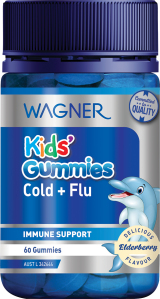 Features
– Vitamin C is well known for its use in immune support and is essential for the proper function of the immune system.
– Contains Zinc which is an important mineral in immune responses.
– Vitamin C is an antioxidant that helps to minimize the effects of oxidative stress in the body
– Vitamin C assists in iron absorption in body and supports wound healing
Key selling points
This formula:
– Support immune system to fight illness
– Maintain general health and wellbeing
– Contains Zinc and Vitamin C that support healthy immune system
– Vitamin C is an antioxidant and reduces free radicals formed in body
– Also Supports healthy bones and teeth
– Great taste
Precautions and contra-indications:
– Always read the label; take only as directed.
– Vitamin supplements should not replace a balanced diet.
– Not to be used in children under two years of age without medical advice.
Formulated without:
– Dairy products, wheat, egg, artificial sweeteners.
Recommended Dosage:
Children 2-4 years: 2 gummies per day.
Children 4+ years: 3-4 gummies per day.
Or as directed by your healthcare professional.
Each Gummy contains:
Honey 50 mg
Ascorbic Acid (Vitamin C) 20 mg
Sambucus nigra (black elderberry)
fruit juice powder 4.7 mg
Zinc 1 mg